Armadilla wins 2020 Queen's Award for Enterprise
Scottish outdoor living company Armadilla has today received a Queen's Award for Enterprise in recognition of its outstanding achievement in innovation.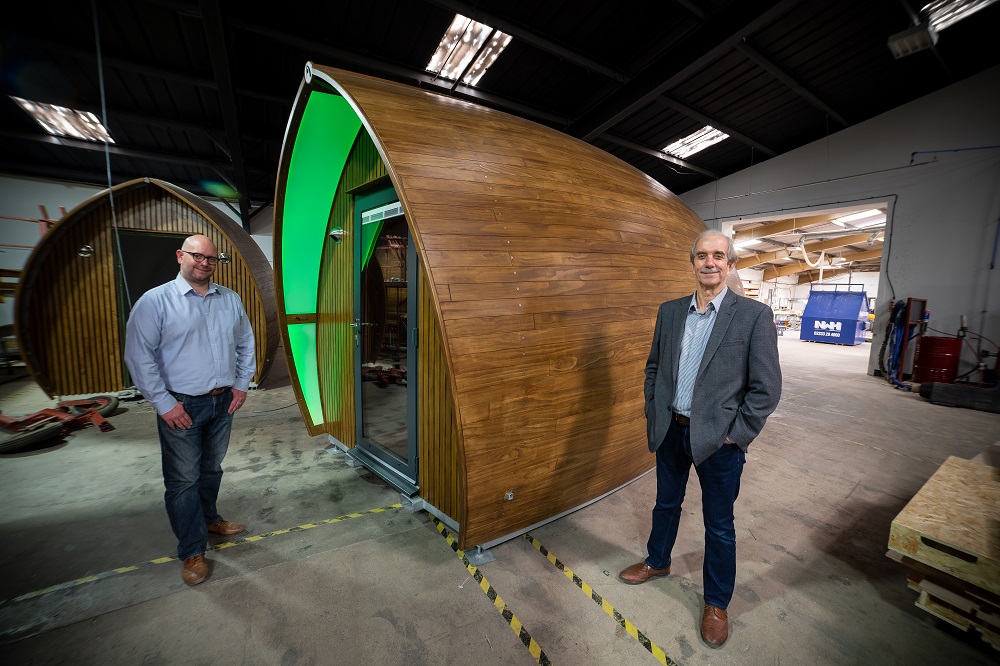 A manufacturer of eco-friendly, outdoor living spaces for hotels and hospitality groups, Armadilla was founded in 2010 by managing director Archie Hunter, who has a background in farming and hospitality, and his son Ross Hunter, chief executive, a design engineer, and it now supplies clients across the UK and overseas.
The company, based in Bonnyrigg, includes the Hotelier Pod in its range of products - a five-star quality accommodation unit that lets venues create and increase outdoor bedroom space. The features of this pod, including its design, integration of technology and modern manufacturing approach, have led to Armadilla winning the prestigious Queen's Award in the Innovation category.
---
---
Now in its 54th year, the Queen's Awards for Enterprise are known as the most prestigious business accolades in the UK, with winning companies able to use the Queen's Awards emblem for the next five years. Previous winners have reported benefiting from worldwide recognition, increased commercial value and a boost to staff morale.
Armadilla describes the Hotelier Pod as perfect for the "fast developing experiential economy". The timber-clad pod is designed to provide guests with a memorable accommodation experience, with features including a wet room, air conditioning, mini bar and multiple lighting, audio and TV components.
The pod arrives at the destination fully assembled and can be up-and-running within an hour, has low energy demands and a lifespan of 50 years with minimum maintenance - all part of the company's commitment to sustainability and the circular economy.
An advanced automation system called Pod Control has been developed by Armadilla to let guests control environmental features of their pod from their mobile phones. The app integrates with the host venue that can provide additional services, offers and booking facilities.
---
---
Armadilla doubled its turnover in the last year to £2 million and continues to expand to meet the needs of clients in Scotland, other parts of the UK, Europe, the middle east, Australia and New Zealand. The business's fastest growth is in the staycation sector which is increasingly popular in the current climate. It employs more than 40 people and has a 25,000 square feet manufacturing facility in Bonnyrigg.
The company is currently exploring two routes to further expansion: sending flat-packed components to new remote assembly facilities that it will set-up and, secondly, a 'factory in a box' concept using standardised material and machinery so that all components could be manufactured in replica satellite factories anywhere in the world.
Archie Hunter, Armadilla managing director, said: "To receive the Queen's Award for Enterprise – the most prestigious business accolade in the country – is a tremendous honour. It reinforces our commitment to ongoing innovation in all aspects of our work. Thinking creatively is key to our growth, and there's a lot more still to come.
"We have a fantastic workforce who have all contributed so much to our success and this award is superb for morale. It also sends a strong message to all our valued customers and to the wider market that the future is in high quality innovative products such as ours.
---
---
"Over the last decade there has been a revolution in the hospitality sector with customers seeking ever-more interesting and unusual experiences. Our Hotelier Pod is perfectly suited to what consumers are looking for as this 'experiential economy' grows. This pod has helped transform our business from a small cottage industry to an advanced manufacturing business dealing with high-end operators."
---