Banchory Academy wins 'Build Your Future' construction challenge
Last week saw almost 100 S2 pupils from across the North East travel to Aberdeen Football Club for the final of the Build Your Future school's construction challenge.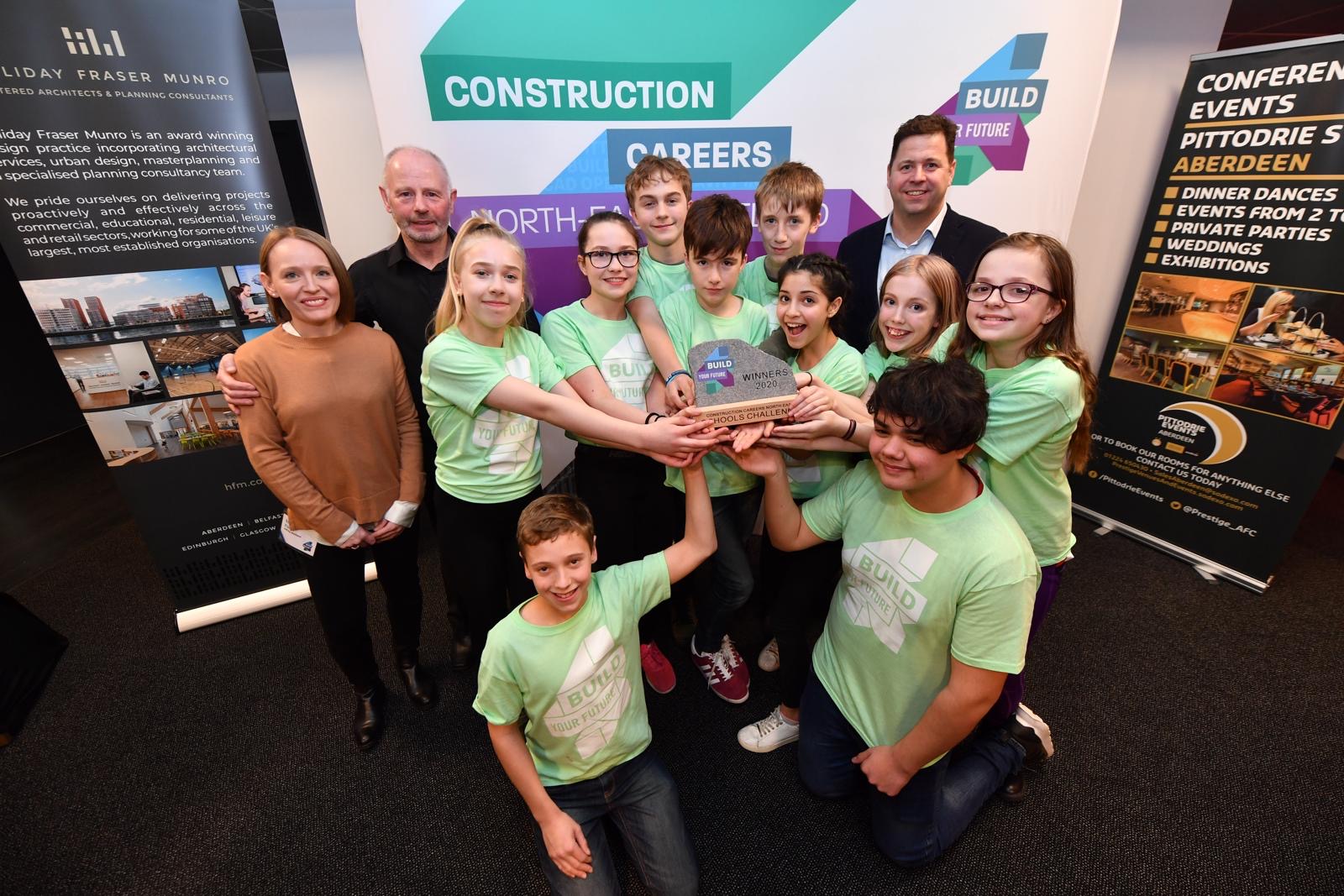 Launched by Grampian Construction Training (GCT) in August 2019 and organised in partnership with the Construction Industry Training Board (CITB), the challenge was inspired by a similar initiative that has been held in Edinburgh for the past 20 years.
It has been designed to highlight the full range of exciting, inspiring and rewarding career choices within the construction industry to pupils, parents and teachers.
---
---
During October and November 2019, over 200 S2 pupils took part in a series of heats held at colleges, universities and construction companies in Aberdeen City and Shire, and the ten top-scoring teams were invited to take part in the final day of construction-based challenges.
CITB was the major funding partner of the Build Your Future challenge, and was heavily involved in gathering industry support for the event.
A range of local businesses also got behind the initiative, ensuring that all schools could take part in the challenge at no cost to themselves. Halliday Fraser Munro was welcomed as main sponsor, with Stewart Milne Group, Glulam Solutions and K R Group also making the commitment to support the challenge in its first year.
Teams from Meldrum Academy, Lochside Academy, Harlaw Academy, Mintlaw Academy, Ellon Academy, Turriff Academy, Kemnay Academy and Westhill Academy made their way to Pittodrie Stadium, to take part in ten tasks, with one school being crowned the winner at the end of the day.
---
---
Professionals from across the industry came together to create a series of tasks designed to inspire pupils, and highlight what a dynamic, exciting and rewarding career choice construction can be. Tasks included spotting health and safety hazards on a staged building site, a task encouraging teams to think about the environmental impact of construction, and a role-play task set in a courtroom to settle a legal dispute between contractors.
After an intense day of challenges, the team from Banchory Academy were crowned the overall winner, with second place going to Kemnay Academy and third place going to Ellon Academy.
Stewart Milne, chairman of Stewart Milne Group, was in attendance across the day and shared some of his own construction experiences with pupils and teachers, before going on to hand out the prizes.
Jim Buchan, chair of Grampian Construction Training, said: "We are absolutely delighted at how well the first Build Your Future challenge has been received by the schools, colleges, universities and businesses of the North East. To have over 200 pupils take part in the first year is exceptional, and we are grateful to every secondary school who signed up.
---
---
"However, our aim is to ensure that all secondary schools in the North East enter a team in 2020/21, which would mean over 300 S2 pupils taking part, and we already well on with the plans for next year's competition."
David Halliday, managing director at Halliday Fraser Munro, said: "We were absolutely thrilled to be the main sponsor for this event and the highlight for us was being able to see first-hand just how enjoyable the experience was for pupils.
"It allowed them to gain a real understanding of the challenges those working in the construction sector face, while also developing key skills in communication, teamwork and problem-solving.
"As architects, we know and appreciate the critical role that the construction industry plays in bringing to life our projects that benefit individuals, the community and the economy. Without them, our ideas would remain just that – ideas on paper. We believe we demonstrated that construction is a highly skilled, rewarding profession with lots of opportunities – and hope that we may well see some of these pupils on our building projects in the future."
---
---
Laura Will, technical teacher from winning team Banchory Academy, said "The pupils thoroughly enjoyed the Build Your Future event. It was a fantastic opportunity for them to experience the variety of professions within the construction industry. From building a steel frame, sustainability considerations, structures to transport water, electronics, construction law and quantity and quality costing.
"As the class teacher it was wonderful to see the pupils all working together and truly valuing one another's skills for each task, and I would highly recommend the challenge to all schools. The pupils and I thoroughly enjoyed the events and the competitive element to the days. Winning only added to the excitement, and the pupils have already fed-back that they are keen to take part in more activities like this in the future.
"We also enjoyed talking to representatives from different companies, which will hopefully help us with how best to direct pupils who wish to apply for apprenticeships or further education. Companies made it clear that they are keen to create links for work experience. As a school. we would like to create more links within industry, so that the pupils can experience first-hand roles that they may wish to pursue for future careers."
---