Barratt Homes wins RSPB award for improving biodiversity at Aberdeen development
Barratt Homes has won a prestigious award for enhancing biodiversity at its Riverside Quarter development in Aberdeen.
The developer received the RSPB Scotland 'Business Award' at its annual Nature of Scotland awards in Edinburgh for reconnecting historically divided habitat corridors and enhancing a natural waterway, thereby increasing and protecting wildlife habitats.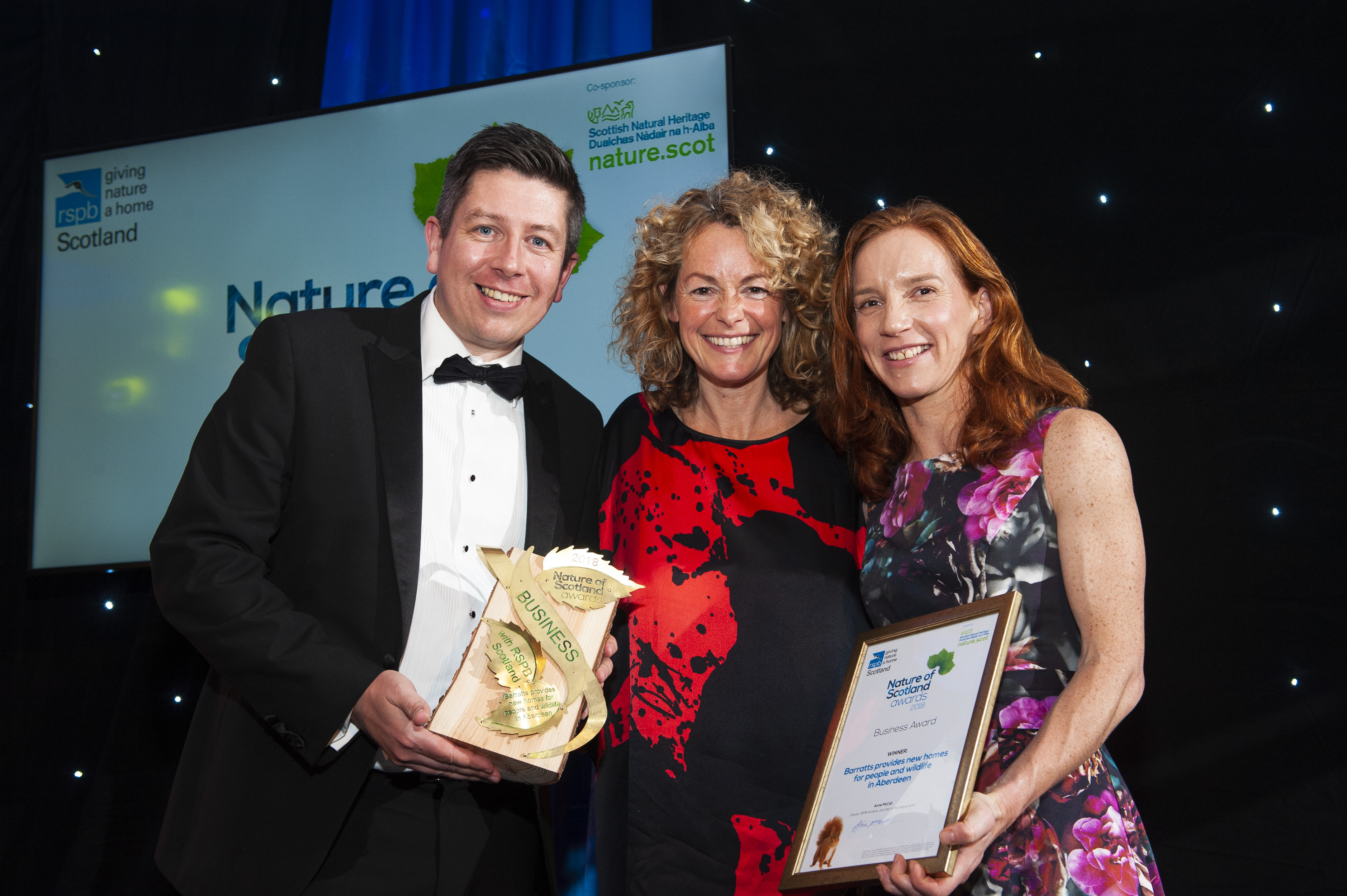 Riverside Quarter was designed to provide a great place for residents to live and encourage healthy and safe living. The community, built at the former Davidson Paper Mill, was designed to reinforce the areas geographical, environmental and historical attributes and protect the various bird, bat, red squirrel and otter populations.
---
---
To safeguard and boost the area's biodiversity, Barratt Homes built new green infrastructure with the aim of reconnecting woodland and historically fragmented habitat corridors, while joining two neighbouring conservation sites together.
Other work included daylighting 800m of a culverted stretch of the Bucks Burn, remediating and enhancing its banks and developing otter holts. Barratt Homes also enhanced bat boxes in surrounding trees and designed artificial lighting to avoid impacting local species.
By working with ecologists, river restoration specialists and experts in controlling invasive species, Barratt Homes has redeveloped a previously inaccessible brownfield site into a community where residents can experience and live alongside a thriving natural and locally appropriate ecosystem.
Gavin Sharp, design manager for Barratt North Scotland, said: "The vision of the masterplan proposal for Riverside Quarter, in addition to forming a new urban village, was the creation of new habitats and homes for wildlife, to deliver not only great places where people want to live, but also great places for nature to thrive.
---
---
"Our Scottish wildlife, and the habitats they depend on, provide the fundamental building blocks for our health and well-being, so we know it's important to grow and protect these within our developments."
Anne McCall, director of RSPB Scotland, said: "Congratulations to all of this year's award winners. It is inspiring to see the range of people dedicated to protecting wildlife and preserving Scotland's unique natural environment. Everyone should be incredibly proud of the work they have done and the achievements they have made. We hope the celebration of this work will encourage an even greater number to take action to protect wildlife and give nature a home in Scotland."
---