Bobcat showcases versatility of snow solutions range
With the addition of new product categories, Bobcat has the largest loader portfolio of any manufacturer in the world, giving an unmatched selection of tool carriers including compact wheel, skid-steer and compact track loaders.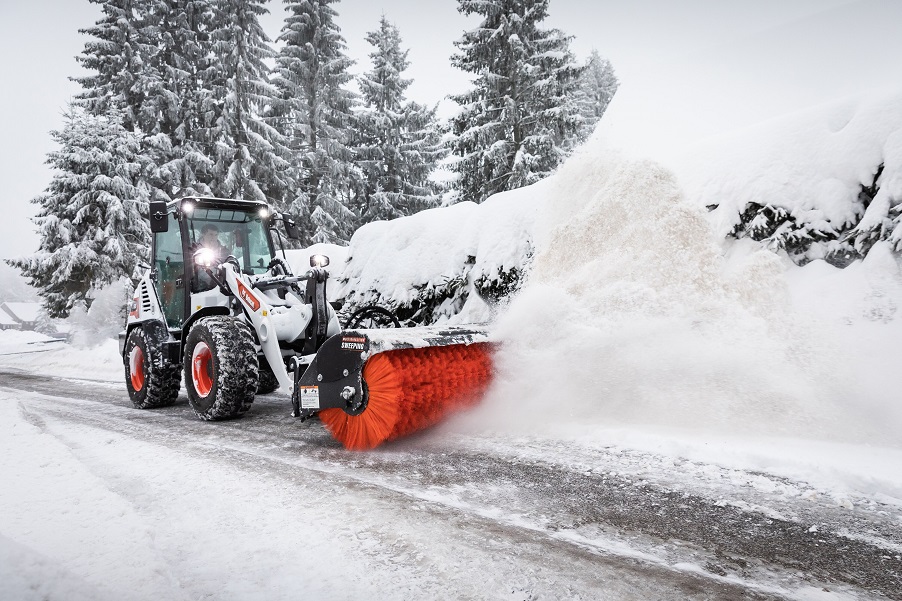 By combining these with attachments such as snow blades, snow V-blades, snow pushers, snow blowers, angle brooms and scrapers, Bobcat now offers one of the market's widest portfolios in the company's Snow Solutions range.
The Snow Solutions range covers every winter application, including clearance of snow and ice on urban and country roads; pavements; car parks and other out-of-town locations. To enhance working on snow, Bobcat also offers optional steel tracks to go over the tyres on the wheeled loaders as well as individual tyre snow chains or snow tracks.
---
---
Katinka Kincses, product manager, attachments for Doosan Bobcat in Europe, the Middle East and Africa (EMEA), said: "There is a growing trend for municipalities and their contractors to use versatile solutions, with powerful compact machinery increasingly taking the place of manual labour. Together, Bobcat loaders and attachments provide truly effective and versatile solutions for dealing with the effects of all types of winter weather, especially snow."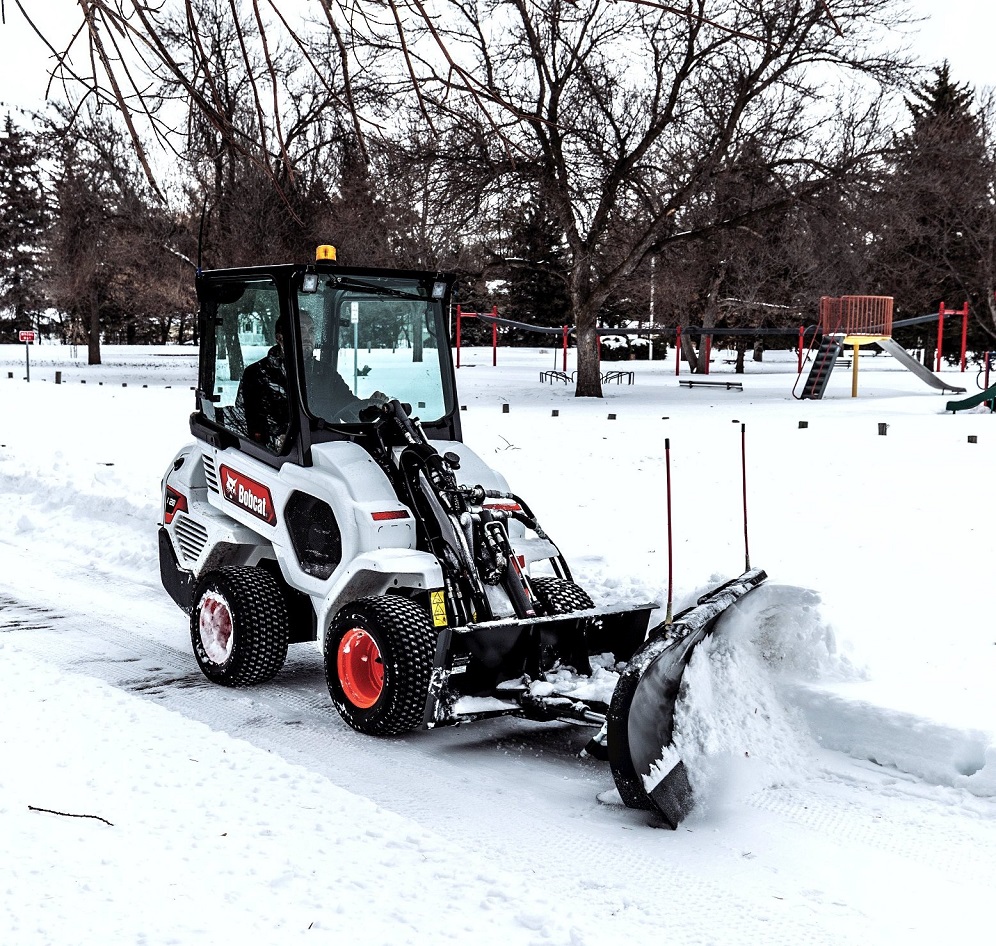 The Bobcat snow blade, available in seven widths from 152 to 274 cm, is designed to quickly remove light or moderate snow from pavements and driveways. The moldboard on the snow blade angles right or left up to 30° and high visibility masts help locate the blade corners. Customers can choose between standard or heavy-duty options, to best suit their application.
The versatile Bobcat snow V-blade, which is available in five different widths from 152 to 274 cm, can be used in five configurations: as a V-blade, scoop blade, straight blade and 30o left or 30o right angle blade, to help operators move snow quickly.
---
---
The Bobcat snow pusher attachment is available in two sizes with widths of 244 cm and 300 cm, respectively. Designed to push snow with speed and efficiency, the flotation and oscillation of the moldboard keeps the snow pusher in contact with the ground without damaging equipment or property, allowing for snow removal even over decorative and uneven surfaces. As the snow pusher has rubber skis and an edge as standard, the operator can clear snow quickly, without damaging the ground.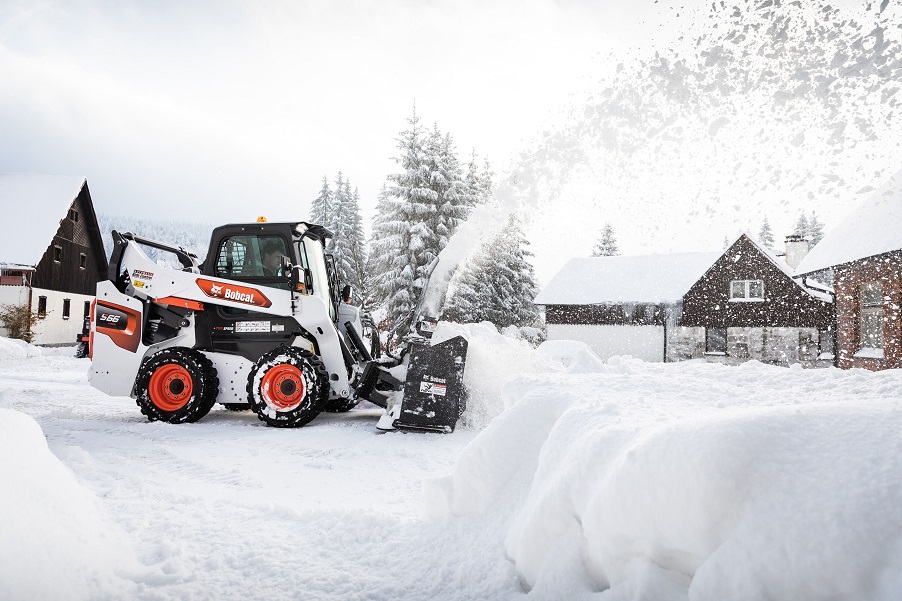 The Bobcat snow blowers are top performing snow removal tools working at maximum efficiency. Bobcat snow blowers can throw snow up to 12 m and have a rotating chute and deflector to point the snow in the desired direction.
There are four sizes of Bobcat angle broom attachment with widths from 132 to 213 cm, designed to sweep away light snow, dirt, dried mud and other debris quickly and efficiently. The angle broom attachment can sweep flush to a kerb or wall on the right hand side. Reversible rotation allows the operator to sweep snow away from garage doors, gutters and other obstacles with ease, using the loader's fingertip controls.
---
---
The Bobcat scraper attachment, available with disk diameters of 46 or 56 cm, is highly efficient at dislodging packed snow and ice, providing an environmentally friendly alternative to the use of chemicals or salt, leaving behind a smooth surface for walking or travelling along.
The hydraulic salt and sand spreader is ideal for spreading in confined areas, such as car parks and pedestrian zones, where larger equipment cannot be used. This attachment has a generous hopper capacity of 330 l. The hopper can be used as a bucket to allow the spreader to be filled from a pile.
Large capacity buckets, with widths from 168 to 254 cm and capacities from 690 to 1530 l, are also available for handling snow. They have high backs to help with pushing snow and straight sides to penetrate snow piles.
---
---
Over the last two years, Bobcat has launched the company's latest generation M-Series skid-steer and compact track loaders, followed by the introduction last year of the new R-Series compact loaders. These adaptable tool carriers represent the most significant redesign of Bobcat loaders in 60 years. In 2021, Bobcat has added the new L85 compact wheel loader (CWL), followed by the arrival of the new L23 and L28 small articulated loaders (SALs).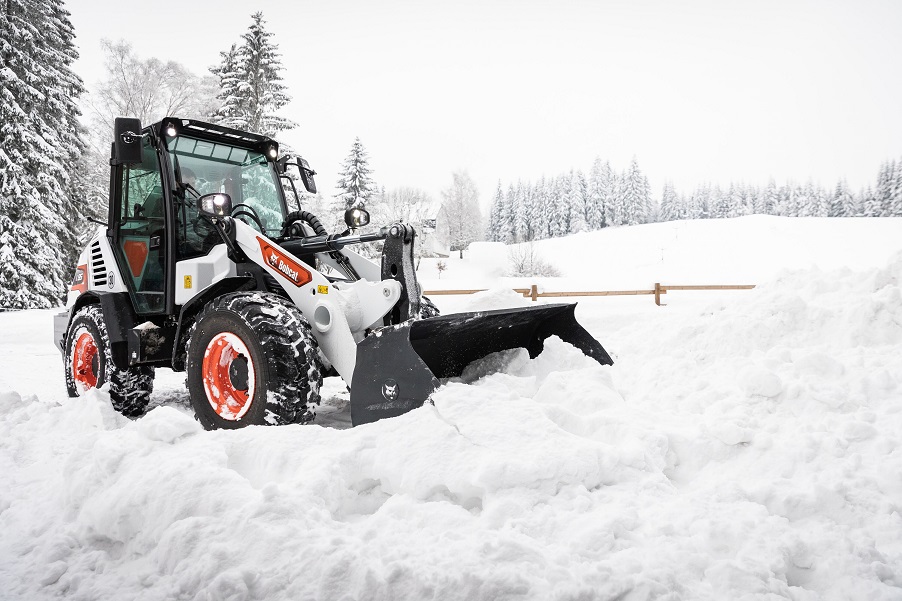 All Bobcat skid-steer and compact track loaders are equipped with the proprietary Bob-Tach® attachment mounting system, facilitating the quick and safe interchange of over 80 different families of Bobcat attachment including the Snow Solutions products.
In the L85 CWL, high output in snow work is assured by the combination of the powerful Bobcat engine and the hydraulics. This is complemented by the high stability, breakout and push and pull forces. The new L23 and L28 SALs are particularly suited to attachment work in confined spaces, driveways or pavements providing high lift capacities, ease-of-use with simple intuitive controls and low ground disturbance for working on any terrain.
---