CALA board takes to Highlands for gruelling charity challenge
The management board for CALA Group dusted off their waterproofs, donned their walking boots and put their best foot forward to take to the Highlands for a gruelling marathon-walking challenge, raising more than £14,500 for charity.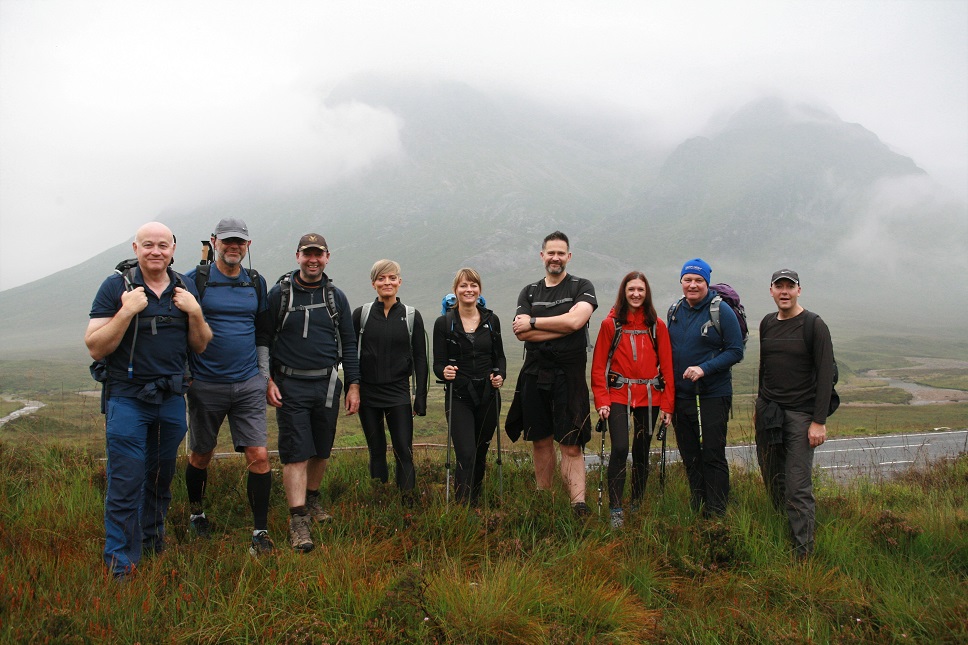 The team of nine from the homebuilder descended on the famous highland Glen from all over the UK and endured the elements to take part in The Glencoe Challenge 2021 alongside young people's charity, the Lord's Taverners.
The Lord's Taverners provide opportunities for young people with disabilities and those from deprived areas to engage in sport and recreational activities in their local communities. Their programmes support some of the most marginalised and at-risk young people in the UK.
---
---
The 26.2-mile walk included some of the most rugged and unforgiving terrain in Scotland. Starting in Glencoe, the route went up through the Glen, over the Devil's staircase through the Lairig Mor (the big pass) to Glen Nevis, finishing at the foot of Ben Nevis, capturing a collective incline of more than 500m.
The team, including CALA's chief executive Kevin Whittaker, were keen to take on the challenge not only to raise vital funds for the worthwhile charity but to bring the team back together following the challenges of the last 18 months. The group travelled from Edinburgh, Stirlingshire, Linlithgow, the Midlands and West Sussex to participate.
Mr Whitaker said: "We were looking for a challenge that could bring us all together and reinforce our strength as a collaborative team.
"The walk was incredibly challenging, but the team kept each other going and it was an unforgettable experience. We were delighted to be supporting the Lord's Taverners and their great work and we are hugely grateful not only to our colleagues but to friends and business associates who have been incredibly generous in sponsoring us.
---
---
"CALA has always been committed to having a positive impact and our people across the UK show an incredible passion for making a difference, from individual fundraising and local community work, to participation in our national schemes and charity partnerships. We are delighted with the funds raised for the Lord's Taverners and hope they will go a long way in supporting them with their vital work."
Nicky Pemberton, Director of Programmes and Growth from the Lord's Taverners, said: "We'd like to thank everyone at CALA Group for taking on such a gruelling challenge to support our work with disadvantaged and disabled young people. It was a phenomenal effort from everyone taking part and to raise so much money is an amazing achievement, and it will make a huge difference to the lives of thousands of young people. On behalf of all the young people who benefit from our life-changing work, we can't say thank you enough."
The Lord's Taverners is a youth cricket and disability sports charity, which works across the UK to give free access to sport for disadvantaged and disabled young people.
Through activity, competition, life skills workshops and festivals they equip young people with the tools they need to help them flourish. They build resilience and confidence and support good mental health by helping young people be part of something positive and make friends, giving them a sense of belonging and inclusion. They also help young people prepare for their futures by developing leadership and employability skills.
---
---
The CALA Group team taking part In the Glencoe Challenge was: Kevin Whitaker (CEO), Neil Stoddart (group finance director), Nick Twine (regional chairman), Piers Banfield (group operations director), Louise Poole (group HR director), Jen Wylie (head of legal), Brian Johnson (group development director), Matt Cavanagh (group IT director) and Claire Hart (director of corporate communications).