City centre housing central to Dundee growth partnership plan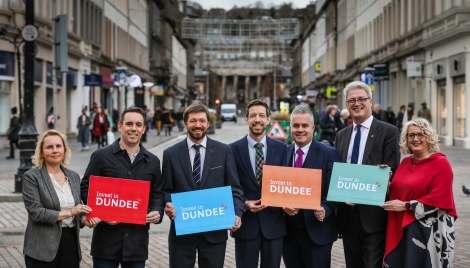 Projects to increase the number of city centre homes in Dundee city centre have been included in new plans for a new strategic growth partnership between Dundee and the Scottish and UK governments to continue the long-term regeneration of the city.
Following a decision not to award Dundee investment zone status, civic leaders have been working to ensure that the city's needs are reflected in national decision making.
Specific asks of the governments include new funding models to attract Build To Rent developers to create city centre housing and a pilot scheme to bring innovative carbon-neutral social rented projects to the city centre.
---
---
Utilising a model of "levelling up partnerships", civic leaders believe that the city can derive benefits that help to continue the journey of economic growth.
Ahead of the Autumn Statement this week, a business case and series of asks will be submitted which will allow Dundee to develop a transformational programme of investment throughout the city which will help to tackle poverty and create new high-quality jobs.
Leaders are proposing a new model to stimulate growth and investment which builds on The Tay Cities Regional Deal and emerging projects such as Eden, the Life Sciences Innovation District and the Abertay cyberQuarter.
Council leader John Alexander was joined by city council chief executive Greg Colgan, convener of Fair Work, Economic Growth and Infrastructure Committee, Councillor Steven Rome, Professor Blair Grubb, Vice-Principal (Education) at University of Dundee, Abertay University principal Professor Liz Bacon, Dundee & Angus College principal Simon Hewitt and Alison Henderson, CEO of Dundee & Angus Chamber of Commerce to launch the case for the city.
---
---
Councillor Alexander said: "Dundee's challenges are well documented, but the opportunities significantly exceed these. To unlock the vision of the city leaders, we are aiming to achieve long-term strategic partnership with both governments.
"We've taken our asks to the heart of both Governments on a broad and ambitious agenda. With recent engagements with the Cabinet Secretary, Neil Gray MSP and the Secretary of State for Scotland, Alister Jack MP, no-one can say that we aren't being proactive as a city.
"Key partners in Dundee have been working hard behind the scenes to further strengthen our case for extra investment to transform not only our city, but the lives of people across Dundee.
"We see the Autumn Statement and any announcements about further levelling-up investment and partnerships as ideal opportunities to state our case for a new relationship with government."
---
---
Other asks of the governments include multi-million-pound capital funding to transform the city centre, including the redevelopment of surplus retail accommodation, tax incentives to support regeneration by transforming vacant and under-used buildings and support for a skills and employability hub, with a specific focus on growth sectors such as digital and data, helping unemployed young Dundonians into sustainable employment.
Convener of Fair Work, Economic Growth and Infrastructure Committee, Councillor Steven Rome said: "Our business case is based around the Our Future City Centre vision to deliver the council's ambitious 30-year City Centre Strategic Investment Plan. This is essential to help attract and retain talent in the city.
"Despite significant challenges over the years, the city has continued it's incredible journey and we are collectively making the case for further investment and support for our city."
Professor Shane O'Neill, deputy vice-chancellor and Provost of the University of Dundee, said, "We are strongly committed to the enhanced Partnership for Growth, and are working ever more closely with Dundee City Council and others around all aspects of the regeneration agenda for our city.
---
---
"When it comes to transforming the city's economy directly, we see our biggest additional gains being delivered by the new high growth health and life sciences companies that will be created and supported by the Life Sciences Innovation District (a partnership involving the University, the City Council and Scottish Enterprise), and by partnering longer term in the development of a booming creative district within Dundee to build on its UNESCO City of Design status."
Professor Liz Bacon, principal and Vice-Chancellor at Abertay University, said: "The regeneration of Dundee has been founded on partnership working and it's vital for the future of the city that this progress continues, but it has to be supported by investment at Government level.
"The Tay Cities Region Deal has shown that truly innovative projects can be delivered when strategic partnerships are shaped collaboratively around the needs of city partners - it is now time to stimulate further growth by backing Dundee with investment required to support industry, tackle poverty and create new opportunities."
Simon Hewitt, principal of Dundee and Angus College, said: "We welcome the opportunity to be part of these proactive and ambitious plans for collaboration and, as the biggest provider of adult skills in the region, we are excited about the prospect of working in close partnership with key stakeholders, including the local authorities and educational institutions, to contribute to the transformational program of investment in the city centre and wider city.
---
---
"This exciting initiative aligns with our collective commitment to fostering economic growth, tackling poverty, and creating high-quality job opportunities. By leveraging our expertise and resources, we aim to play a vital role in providing the appropriate education, skills and training needed to attract more jobs into the city, and ultimately support more Dundonians into these jobs.
"We believe that such collaborative efforts are essential for unlocking the full potential of Dundee and look forward to actively participating in the realisation of this ambitious endeavour."
Alison Henderson, CEO of Dundee & Angus Chamber of Commerce, said: "We are calling on our national leaders to invest in Dundee and the Tay Cities region at a time when we've seen considerable investment packages going elsewhere.
"From missing out on Free Ports/Green Ports, and Investment Zone awards, without the necessary support at national level to address the substantive inequalities and economic challenges, Dundee will continue to languish at the bottom of UK cities in terms of many economic metrics.
"From business start-ups, employment rates that need addressed to see significant improvement, and the right environment to create high quality jobs, we must see investment to stimulate local economies beyond city deal programmes to markedly improve the average earnings of the people who work in our city."