Consultation to begin as Angus Rural Mobility Hub plans progress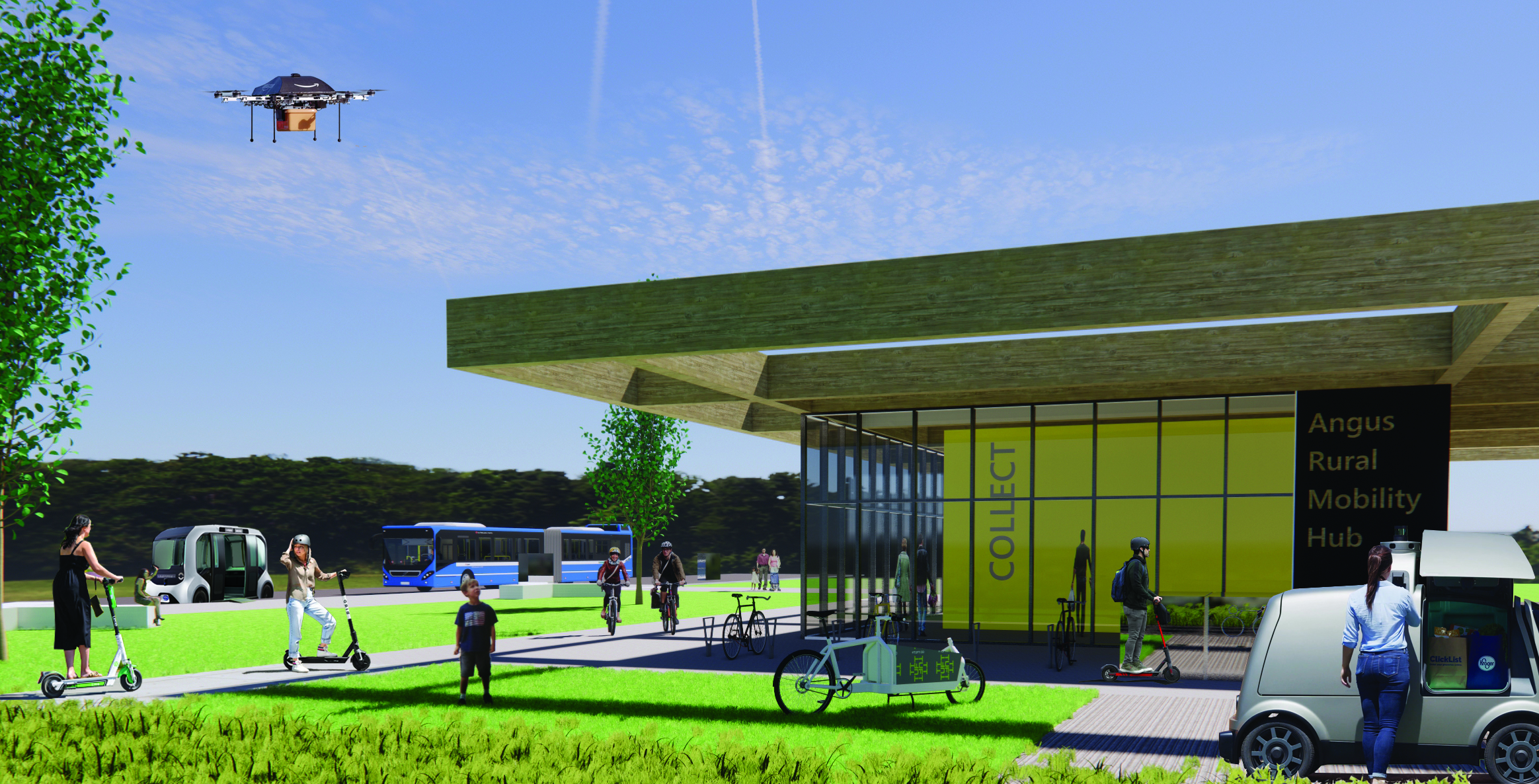 A consultation is set to begin as Angus Council and Dalhousie Estates engage with local community councils, City of Brechin and District Community Council, and Inveresk Community Council to help shape their proposal for the Angus Rural Mobility Hub in Brechin.
Engagement with the community councils will begin over the winter months and will include sessions open to members of the public to inform how the new clean growth business park will integrate zero carbon energy systems with mobility services, particularly for rural service provision and skills opportunities.
The impressive proposal shows how the Rural Mobility Hub will focus on opportunities including an EV charging infrastructure, bus and HGV sustainable fuels (biogas and hydrogen), car sharing, logistics and business space to support the decarbonisation of vehicles, create new, local jobs through skills and training opportunities, and will provide logistics support for Angus and Tayside agricultural businesses and enterprises.
---
---
Receiving funding from the UK Government's £26.5 million Angus Fund, as part of the Tay Cities Region Deal, the proposed Rural Mobility Hub has the potential to deliver a step change in clean transport infrastructure, whilst creating skills and new career opportunities within Angus and the Tay Region.
Angus Council leader, Councilor Beth Whiteside, said: "This is a fantastic opportunity for us to hear the views from the community councils and those who live in Brechin, on the proposals for the new Rural Mobility Hub.
"The proposed development highlights Brechin as the ideal location between Dundee and Aberdeen, and to be able to work with the private sector to explore the possibilities of combining zero carbon energy systems with mobility services is inspiring.
"I hope that as many residents as possible seize this opportunity to see the proposals and offer their views and suggestions."
---
---
Simon Ramsay of Dalhousie Estates added: "Working with Angus Council we are really keen to engage with local communities to ensure the design of the proposed Angus Rural Mobility Hub is shaped by consultation and provides services and opportunities that support the communities of Brechin, Inveresk and the wider Angus Glens. We are particularly keen to develop skills and training that can lead to jobs within the renewables sector as Angus and the wider Tay region adapt to climate change."
The Brechin Business Park expansion site includes 25 hectacres and is set to provide the infrastructure, services and skills program that supports Angus Council's long-term ambition to drive sustainable development, reduce greenhouse gas emissions, improve energy efficiency and create renewable solutions for transportation and energy across Angus and the wider Tay Cities region.
---