Dalhousie Estates signs up to help deliver Brechin mobility hub
Angus Council and Dalhousie Estates have signed a Memorandum of Understanding to work together to develop a clean growth business park, with supporting infrastructure, in Brechin.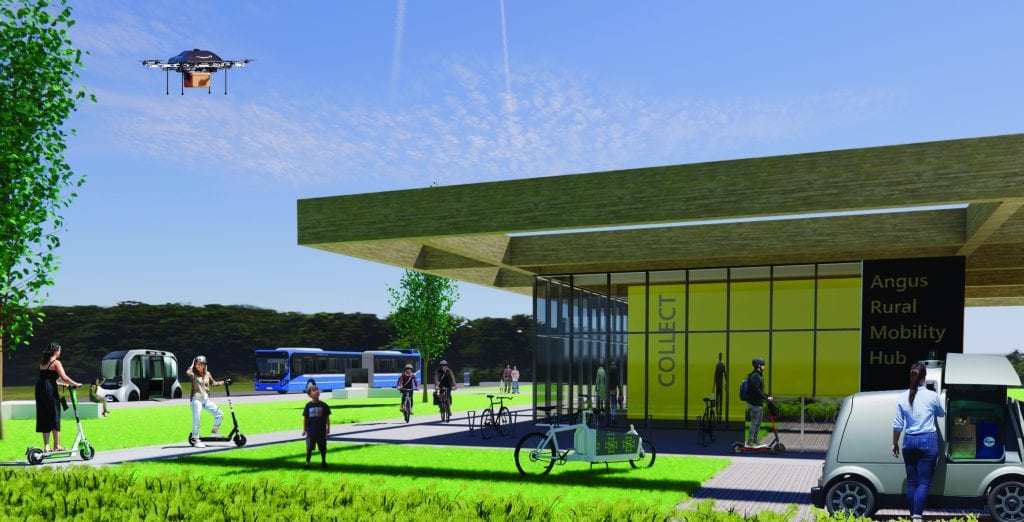 This partnership forms part of Angus Council's long-term plans to drive sustainable development, reduce greenhouse gas emissions, improve energy efficiency and create renewable solutions for transportation and energy across Angus and the wider Tay Cities region.
Angus Council's ambition, along with the private sector, is to deliver an Angus Rural Mobility Hub, within a regional business park to provide the infrastructure, services and skills programme needed to enable the Tay region's transition to a low carbon, inclusive economy through a range of smart mobility and energy services.
---
---
Receiving funding from the UK Government's £26.5 million Angus Fund, as part of the Tay Cities Region Deal, the new Rural Mobility Hub will be located on the A90, half-way between Aberdeen and Dundee, and will integrate zero carbon energy systems with mobility services, enabling a 'smart mobility infrastructure'.
Angus Council leader, Councilor David Fairweather said: "This is fantastic news for Brechin and an exciting opportunity to work with the private sector to explore the possibilities of combining zero carbon energy systems with mobility services.
"This partnership continues to build on the Clean Growth and Low Carbon development and innovation work we are delivering across Angus through the Tay Cities and Mercury programme."
Lord Simon Ramsay from Dalhousie Estates said: "Dalhousie Estates are delighted to support Angus Council in exploring the infrastructure and services that can enable the decarbonisation of energy through solutions that are clean, accessible and affordable.
---
---
"Angus is extremely well placed to showcase how renewable energy can be generated and supplied to our communities, particularly within the area of transportation and the hard to tackle heavy goods and logistics sector.
"This project is closely aligned with Dalhousie Estate's commitment to support rural economy and employment whilst being able to provide net zero opportunities for the local community and wider transport industry, which will help protect and enhance our local environment.
"Through the MoU, we are able to build on a long-standing working relationship with Angus Council and local communities to develop the ambition for the Angus Rural Mobility Hub. The project has the potential to deliver a step change in clean transport infrastructure on the national trunk road network and in doing so, create skills and new career opportunities within Angus and the Tay Region."
UK Government minister for Scotland Iain Stewart said: "The UK Government is investing £26.5 million into projects in Angus to ensure the area benefits fully from our transition to a net-zero economy, and local communities can take advantage of new jobs and industries.
---
---
"Across Scotland, we're investing more than £1.7 billion to help level-up the country and build back better from the pandemic."
The Brechin Business Park expansion site includes 25 hectacres to deliver the proposed Rural Mobility Hub focussing on opportunities including an EV charging infrastructure, business space for sustainable growth, distributed energy generation and storage, clean re-fuelling (biogas and hydrogen), and smart logistics solutions.
---