Cruden gives helping hand to East Lothian mental health charity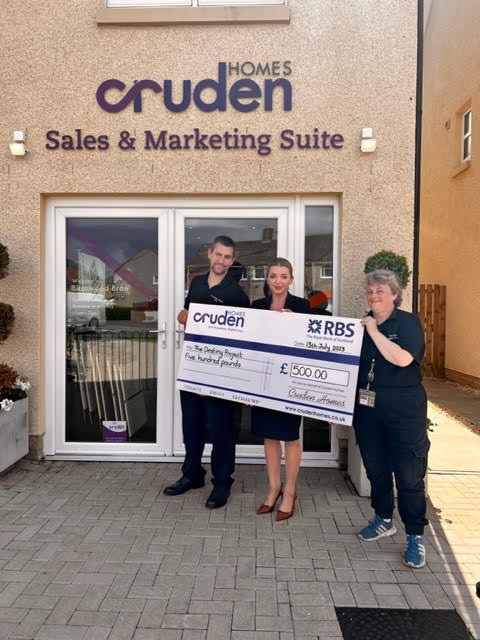 Housebuilder Cruden Homes has shown its support to a local mental health charity with a generous cash donation.
Last week, a £500 cheque was donated to The Destiny Project, which aims to promote the health and wellbeing of children and young people in East Lothian. The charity provides life-changing support to local communities through its engagement with younger generations, helping them to build connections and gain the skills they need to live independently and further their employment.
The donation will be used to support the 'Wallyford In Bloom' initiative - a community-centred project which protects the environment and spreads positivity amongst local residents. The initiative was launched by The Destiny Project last year and aims to bring people that live and work in the village of Wallyford together to create a "bloom of colour". Cruden's generous donation will be used to purchase new planters and shrubs for display at Wallyford Train Station, as well as helping to enhance other nearby locations.
---
---
The gesture marks Cruden's commitment to give back to the community of Wallyford, where it is building 101 new units including 41 stylish private properties and 60 affordable homes.
Louise Bastiani, sales manager at Cruden Homes, said: "Wallyford is a fantastic village with a friendly, close-knit community. The local population has a high percentage of young people, but some don't have access to the resources they need to gain valuable social skills and thrive in their long-term careers.
"The Destiny Project carries out extremely meaningful work to bridge this gap by making Wallyford an attractive place to live and improving educational development to help young people get to where they want to be. We're delighted to be supporting such a deserving cause."
Andrew Stevenson, chief executive officer of The Destiny Project, said: "We are extremely pleased to receive this generous support from Cruden, which will go a long way in supporting our Wallyford In Bloom initiative. This donation will enable us to create a beautiful train station that our residents and all those visiting the area can enjoy."
---