Deal signed to deliver £100m wellbeing destination at Glasgow Waters
Global developer and operator of state-of-the-art wellbeing destinations Therme Group has signed heads of terms with Peel Land and Property for the location of its second UK project on a waterfront site in central Glasgow.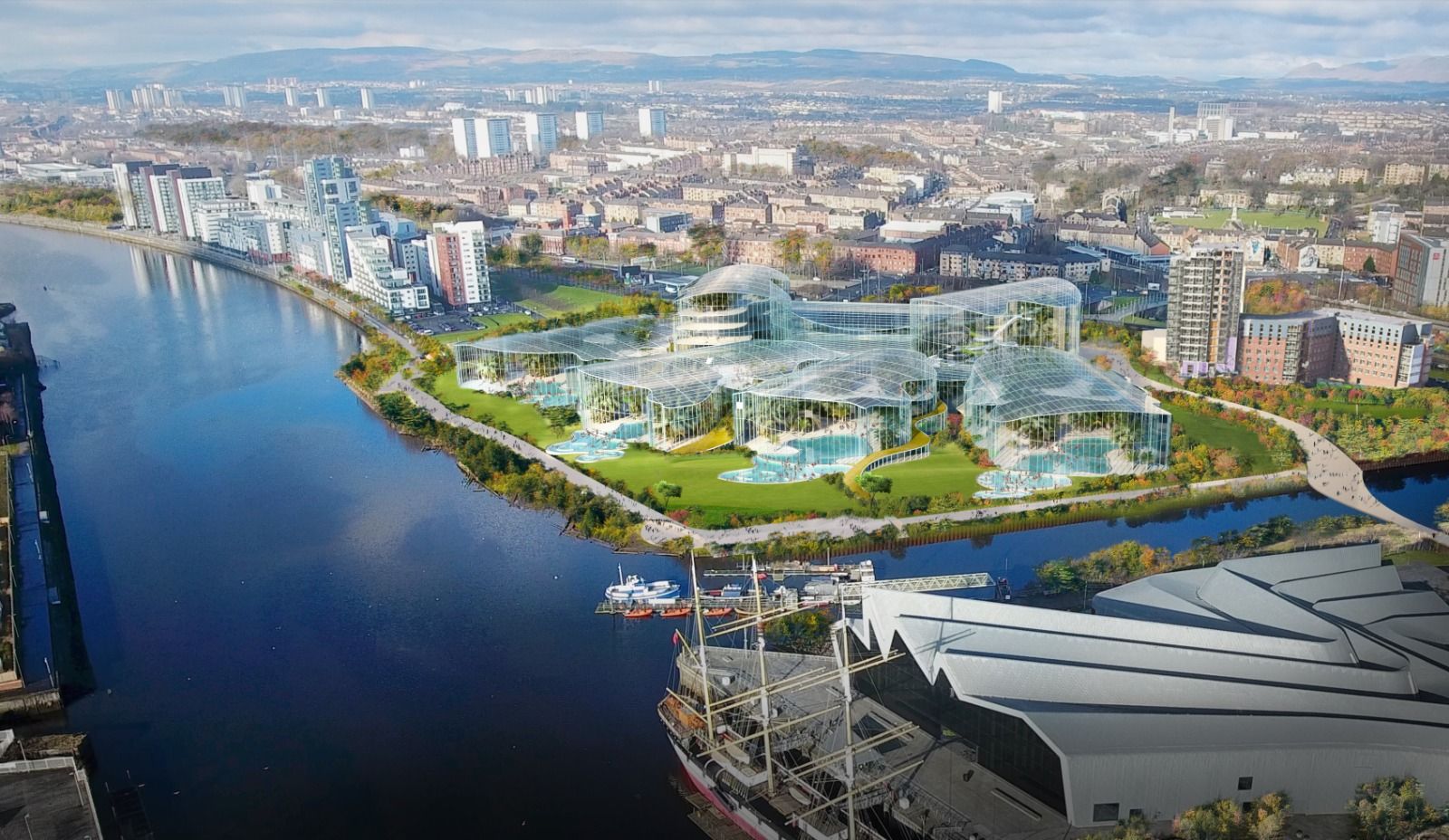 The project will be constructed on the Peel L&P 21.5-acre Glasgow Waters site adjacent to the Riverside Museum, replacing earlier plans for a 'lifestyle outlet' at the site.
Therme is aiming to submit a planning application for Therme Scotland to Glasgow City Council in 2022. The development is expected to be around 320,000 sq ft in size and to cost around £100 million to build. It will include a next-generation indoor water park, extensive thermal pools and spa, and a health and wellbeing centre. Additional elements of the project also include a vertical farm, which will enable sustainable and locally grown, nutrient-rich fresh produce to be available to the millions of guests that will visit every year.
---
---
In addition to the vertical farm and botanical gardens, Therme is looking at how it can introduce renewable heat sources and is considering both geothermal energy and water source heat pumps.
Plans also include a bridge across the River Kelvin, linking the Riverside Museum to Therme Scotland and expanding access to the Glasgow waterfront. A second bridge will be built by Glasgow City Council over the River Clyde, between Govan and Partick which will enable access for all communities.
Therme Scotland will be Therme's second wellbeing destination in the UK after the Therme Manchester £250+ million project, also on a site owned by Peel L&P.
Stelian Iacob, senior vice president of Therme Group and CEO of Therme Group UK, said: "The primary purpose of Therme projects is to benefit the communities they serve. This is achieved both as a direct result of the Therme experience and by acting as a catalyst for wider activities around biodiversity, cultural inclusion, urban greening and more.
---
---
"Therme projects are also key drivers of post-Covid economic, social and environmental recovery. Therme Scotland will create a fun and accessible experience with profound health and wellbeing benefits for all. We look forward to engaging with the Glasgow community as we progress with the design and development of Therme Scotland."
James Whittaker, Peel L&P executive director of development, said: "We are excited to agree heads of terms with Therme Group. This significant health and wellbeing destination will be a unique and sustainable addition to Glasgow Waters, Peel L&P's major waterfront regeneration project. This important facility on the Clydeside, adjacent to Peel L&P's existing and proposed developments, will benefit the whole region as well as attracting visitors from further afield to come and enjoy Glasgow.
"Peel L&P's vision for Glasgow Waters is to develop the waterfront as a key retail, leisure and tourism destination on the Clyde, which will complement, support and revive the surrounding area. Therme Scotland will be an exciting visitor attraction and bring investment into the area. We look forward to working with Therme Group and engaging with local communities and public authorities to progress the design and delivery of Therme Glasgow."
---