Dundee leads on construction course for refugees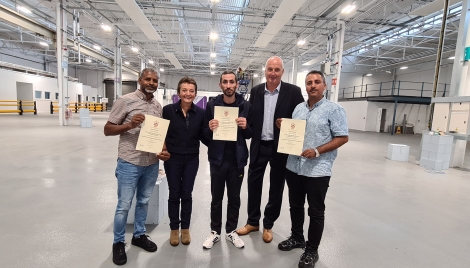 Dundee City Council's neighbourhood services convener Heather Anderson met with a group of twelve highly-skilled refugees at the city's Michelin Scotland Innovation Parc for a Robertson Construction site visit as part of a project which offers training and support for refugees to take a key construction certification test.
The project, led by Dundee City Council in partnership with WEA Scotland, Fife Council and Clackmannanshire Council, is funded by the Scottish Government's New Scot's Refugee Integration Fund and the European Union's Asylum, Migration and Integration Fund.
The scheme prepares participants for the Construction Skills Certification Scheme's Operative's Test which allows them to work on sites in the UK by providing language training and key support.
---
---
As part of the visit, the city's neighbourhood services convener Heather Anderson presented three adult learners with certificates showing their completion of the Institution of Occupational Safety and Health (IOSH) Safety, Health and Environment for Construction Workers course.
The health, safety and wellbeing training delivered by IED Training, in partnership with Dundee City Council which provided supplementary English language training, ensures that the participants are able to safely access a UK construction site.
Neighbourhood services convener Councillor Heather Anderson said: "I am so proud of the part Dundee City Council has played in supporting these skilled and talented people take the first step towards re-gaining employment in their field. The training ensures that people have the language and demanding health and safety skills to enable them to work safely on construction sites.
"We congratulate the first three certificate holders and look forward to supporting more skilled tradespeople back into the workforce."
---
---
Community benefit advisor for Robertson Construction – Tayside, Katy Bald, said: "We are pleased to be able to support the Council in the work being undertaken to encourage entry to the construction industry and are hoping to be able to facilitate more site visits and help identify potential employment opportunities in the region."
The scheme is currently within its pilot phase. However, through Dundee's response to the humanitarian crisis in Ukraine, it is expected that Ukrainians within the city who qualify for the project will undertake the training in its next stages.
---