GDL named Scottish Contractor of the Year by Miller Homes
Ground Developments Ltd (GDL) has secured the top award in this year's Miller Homes Scotland Awards Lunch where, together with the efforts of its supply chain, the team lifted the Contractor of the Year 2019.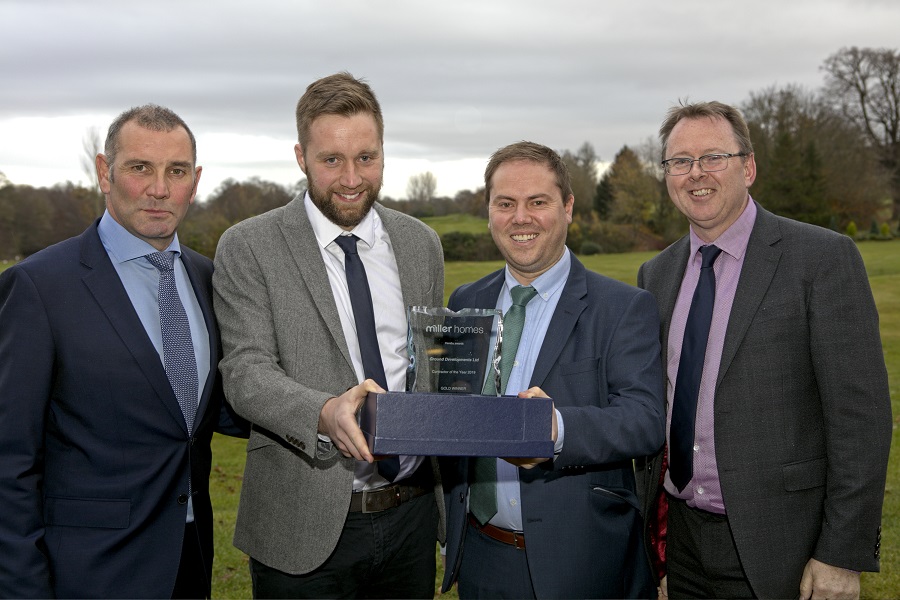 The event, held recently at the Dalmahoy Hotel near Edinburgh, is an annual celebration of the work of the Miller Homes site teams in respect of quality, as well as recognition of their exceptional health and safety standards.
Managing director Kevin Mackenzie said winning the award from one of the largest housebuilders in Scotland is the perfect showcase of the portfolio of ground improvement techniques and the approach that GDL offers its clients.
---
---
He added: "We are really thrilled to have won this award from Miller Homes in Scotland, which reflects their appreciation of how our site team embraces their projects. Our approach allows us to work together with their staff to create one highly effective team that works closely together to deliver the aspirations of their projects.
"It is also a great reflection of the diversity and flexibility of our approach which means we have the ability to value engineer their projects by combining our expertise and techniques from a very early stage in the development process. This allows us to engineer and design the optimum design solution for a development of new homes, which allows us to deliver real project efficiencies."
Gus Fergusson, production director for Miller Homes in Scotland, said: "Working closely with our supply chain and developing great working relationships is key to our operation, and we are delighted to recognise GDL as our 'Contractor of the Year'.
"This award reflects their personal touch with soils and their engineering expertise, as well as their outstanding approach which adds a real value to our business."
---
---
GDL has provided Miller with a range of integrated site-enabling solutions using a wide variety of techniques at several developments in Scotland, which have including earthworks, soil modification, deep soil mixing and piling.
Kevin Mackenzie said an integrated approach to ground improvement and earthworks makes GDL unique in the industry: "We are the only company in Scotland that has the resources and expertise to provide a range of ground engineering techniques, indeed we are one of only a couple of companies with this expertise in the UK."
---