Homes for Scotland celebrates sustainability with annual awards ceremony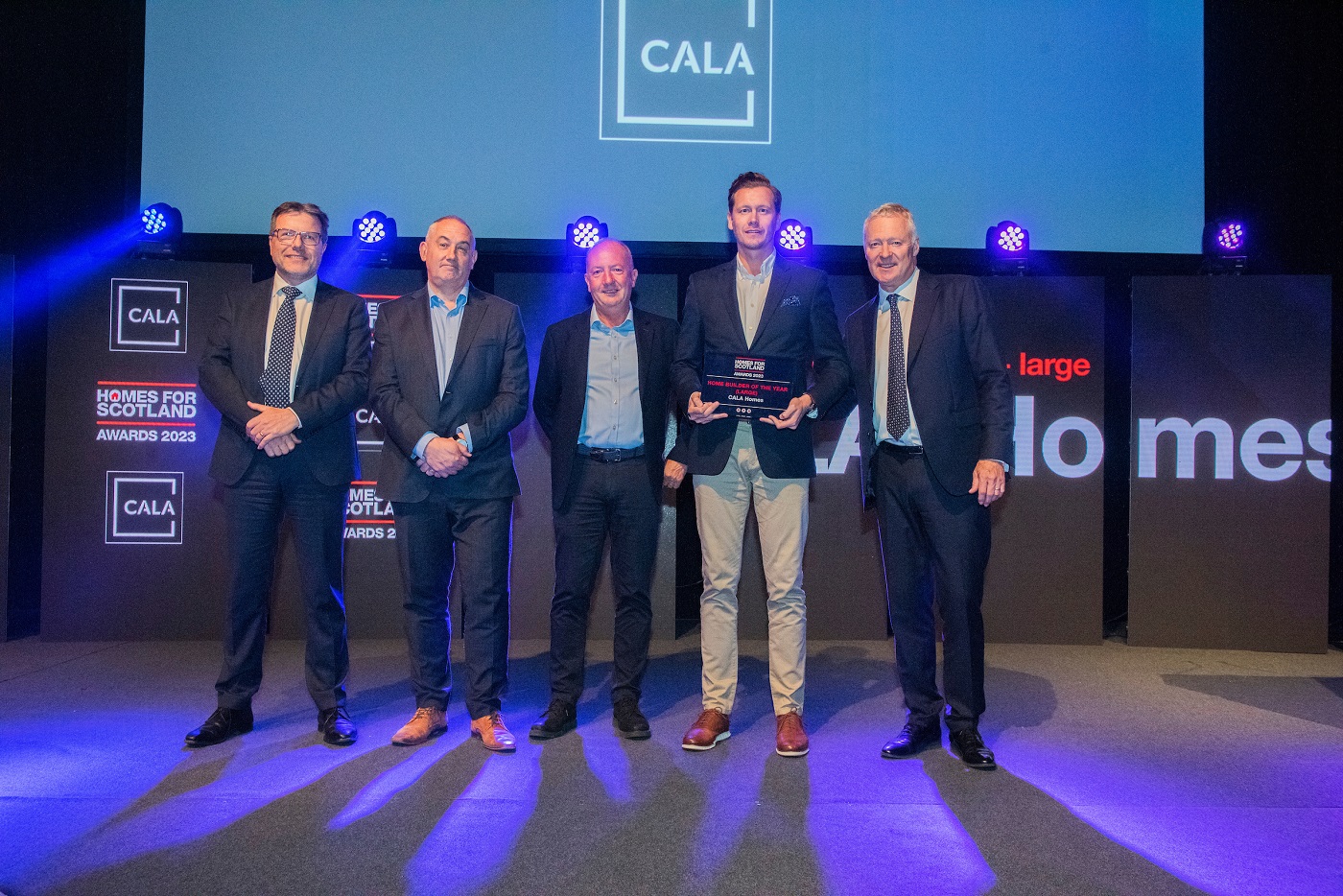 The winners of this year's Homes for Scotland (HFS) awards were announced last week with a special focus on social, sustainable and environmental values.
The event, which was attended by 1,000 senior representatives from across the home building sector and hosted by political satirist and impressionist Rory Bremner, saw three of Scotland's home builders take home the organisation's coveted headline Home Builder of the Year awards, with winners in five additional categories focused on an overall "People, Place, Planet" theme also announced on the day.
Cala Homes took the award for large Home Builder of the Year, with Rural Renaissance scooping top SME and Campion Homes crowned Home Builder of the Year (Affordable Housing Provider).
---
---
Cala also picked up the prize for 'Development of the Year – Medium' for its Newington Residencies development in Edinburgh.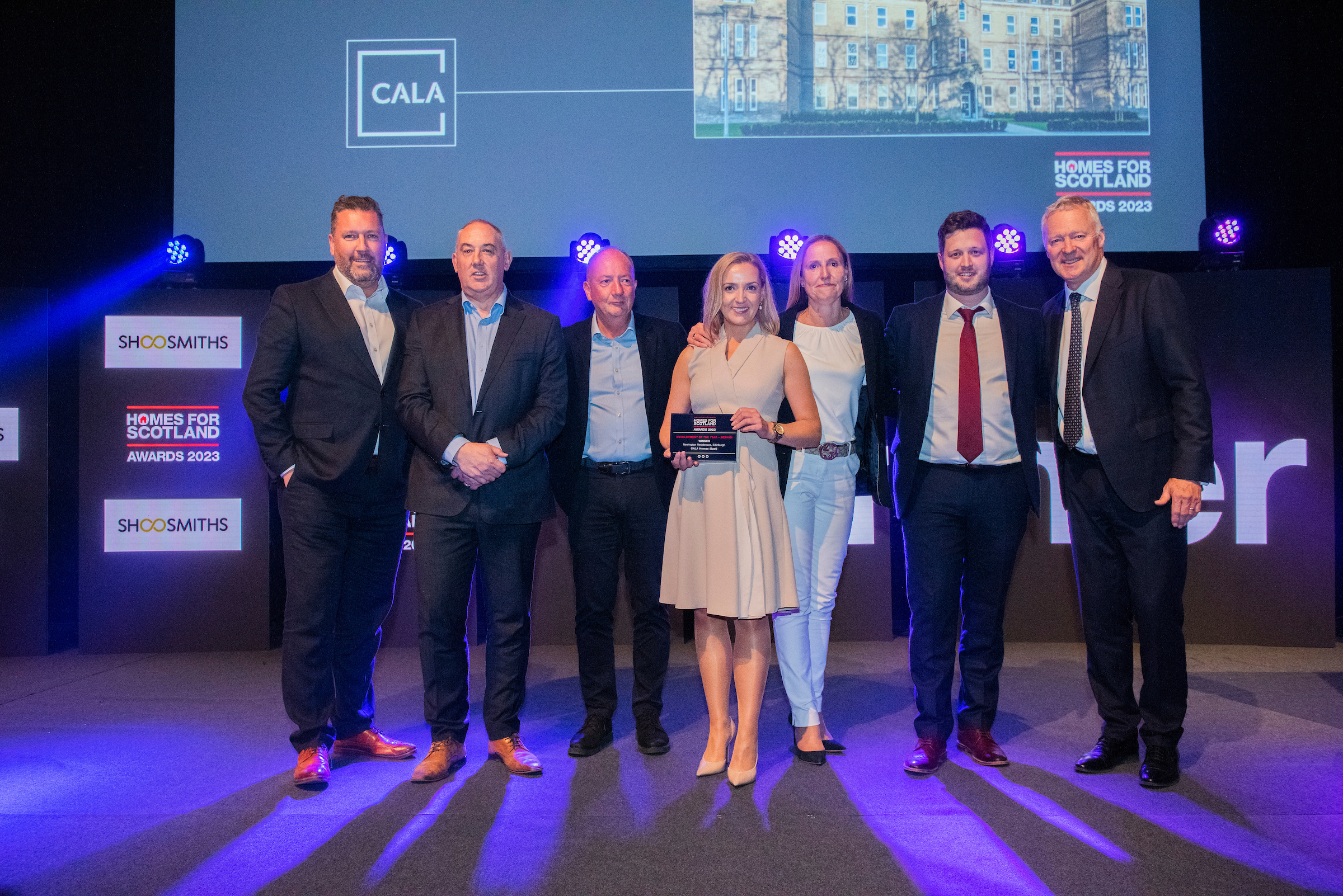 Judges for the awards praised Cala for its overall business approach, and in particular for broadening the range of locations in which it builds. They noted that the Cala team has taken on the complexities and challenges of developing brownfield and city centre sites, broadening their knowledge and experience to achieve "great outcomes for places and communities".
At Newington Residencies, the judges said Cala is "expertly blending the new alongside the restored…preserving character and identity". They noted the development's diversity of house types and applauded the approach to sustainability to achieve new build efficiency levels.
---
---
Jennifer Wylie, regional chair for Scotland at Cala Homes, said: "We are so proud to have won the Home Builder of the Year title once again, and to have been recognised for Newington Residencies, particularly with the focus of this year's event on 'People, Place, Planet'.
"These three tenants absolutely ring true at Cala, running through everything we do. Our Sustainability Strategy continues to guide how we build homes and run our business; building thriving communities – not just homes – is what drives us; and our people are truly what makes us who we are. Their work and dedication are the reason we are an award-winning homebuilder."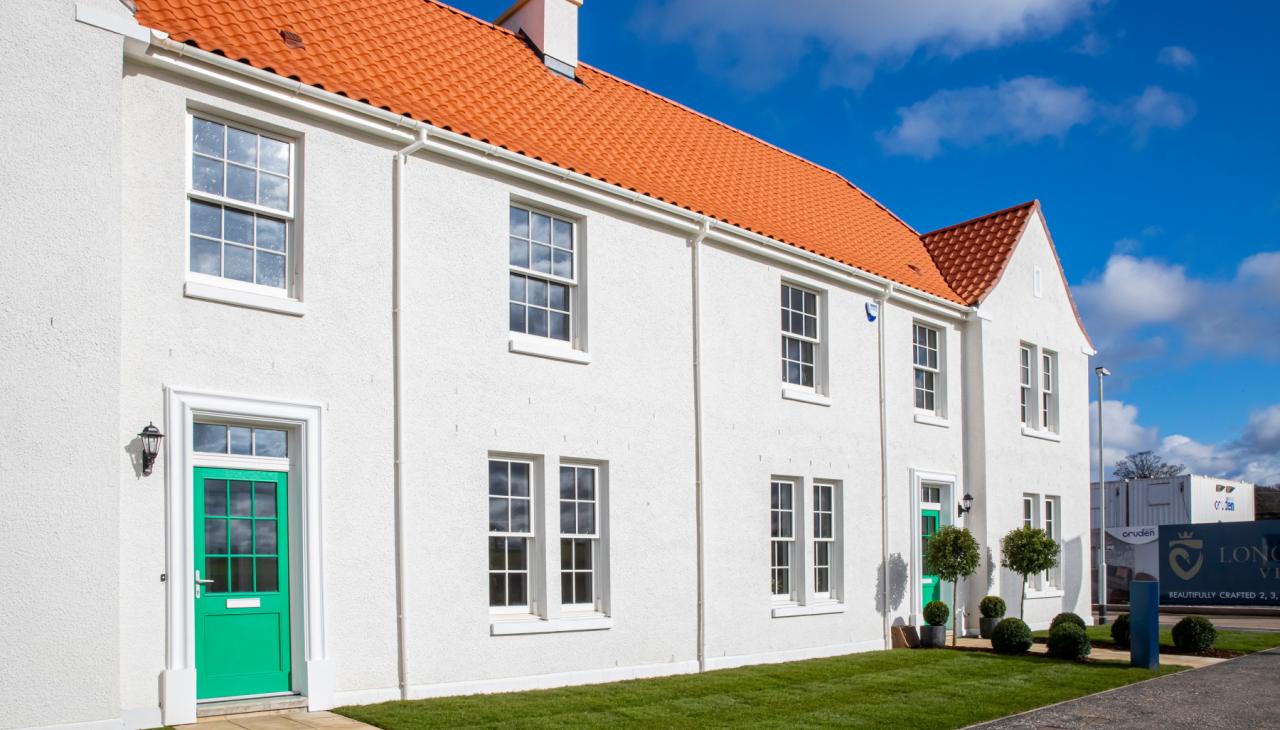 Cruden Homes and Places for People Scotland received the prestigious 'Development of the Year - Large' title for Longniddry Village in East Lothian. The judging panel deemed Longniddry Village as a high-quality place for people to live, exceptionally designed and meeting customer needs, whilst also bringing great economic benefits to the local area.
---
---
Hazel Davies, sales and marketing director of Cruden Homes, said: "After receiving the 'Home Builder of the Year' title at the Homes for Scotland Awards last year, we're thrilled to have received another award this year.
"Longniddry Village is a particularly exciting development which is made unique by its more traditionally designed exteriors combined with modern, spacious, 21st century living. Our aim was to create a fully encompassing neighbourhood which people and families could enjoy together, helping them to build connections and embrace the local area. We're delighted that our community values and attention to detail have shone through in this development."
Allison Sutherland, regional sales and marketing director - Scotland, Places for People, said: "Longniddry Village is a unique development and community that we are incredibly proud of, this award is a testament to the development.
"Longniddry Village is a great example of the benefits of working closely in partnership with organisations who have a shared vision of creating thriving communities. For us, creating homes where community matters – communities with social and sustainable values at their core - is our goal. With Cruden Homes, we have been able to create incredible places for people to call home and give them the opportunity to become part of a vibrant and prosperous local community. We are delighted that this has been recognised at the Homes for Scotland awards."
---
---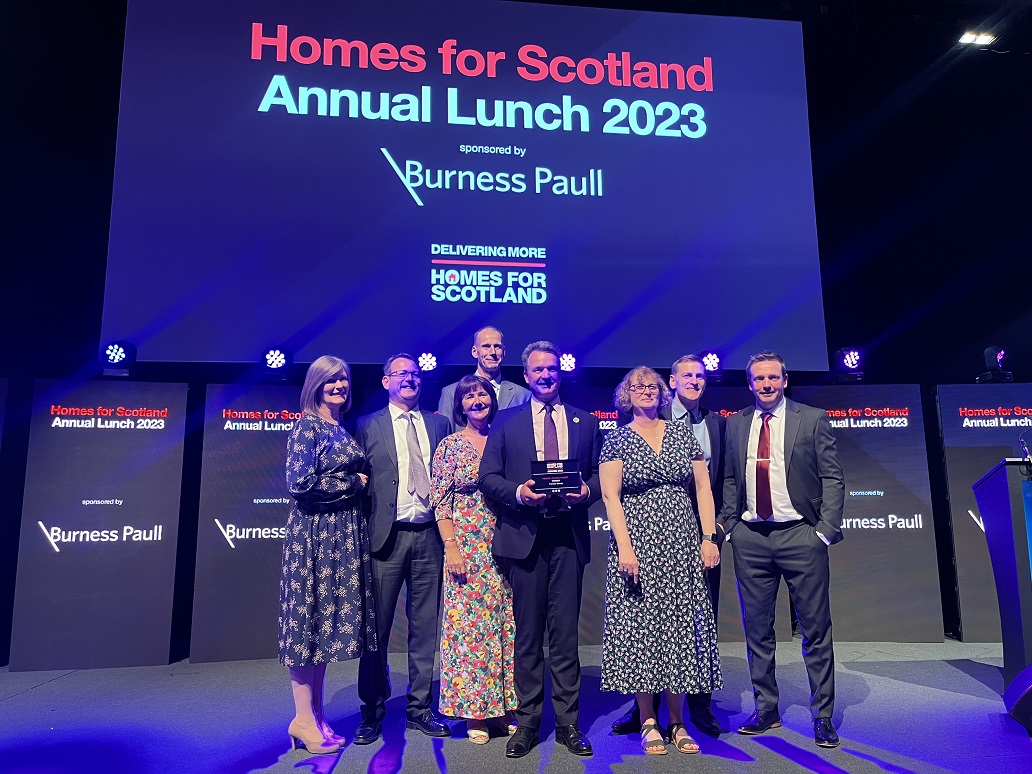 Forster Group was named the first-ever winner of the Homes for Scotland 'People Place Planet' award.
The solar and roofing solutions provider was presented with the award due to its commitment to environmental, sustainable and social values. The company was praised for going the extra mile in its support of the United Nations Sustainable Development Goals - helping to create places that are inclusive, gender equal and sustainable, and proactively driving action to combat climate change.
Forster Group has an award-winning track record spanning over 30 years, providing roofing and solar services to house builders, public sector and community bodies, social housing landlords, commercial landlords and tenants, and the agriculture sector.
---
---
Bringing a much-needed innovative solution to the market to tackle the ongoing energy crisis, Forster Group is supporting the country's ambition to achieve net zero by 2045. The company has installed solar photovoltaic (PV) in more than 5,000 new homes in Scotland over the past five years alone, resulting in an approximate carbon reduction of over 3500 Tonnes CO2e.
Over the last three decades, Forster Group has helped to encourage fresh talent into the sector and continues to support the next generation of roofing professionals through its Skills Academy, which was the first of its kind to exist in Scotland.
John Forster, chair of Forster Group, said: "Environmental, Social and Governance (ESG) values lie at the very heart of our business. We are committed to playing our part in creating and rolling out innovative technologies which can help to tackle the climate and energy crisis, while supporting the construction sector to deliver much-needed new homes.
"We are passionate about delivering the very best service and quality for our customers. We want to empower them to take control of their energy usage, harnessing the power of solar, so that they can have a better impact on the planet and reduce their energy costs.
"To be recognised by Homes for Scotland and to be given this award for making a difference to our people, place and planet, is an absolute honour. It is a real testament to the work we do and I look forward to sharing this success with the entire team who all play a crucial role. This award renews our commitment to creating more sustainable, healthy and inclusive places for years to come."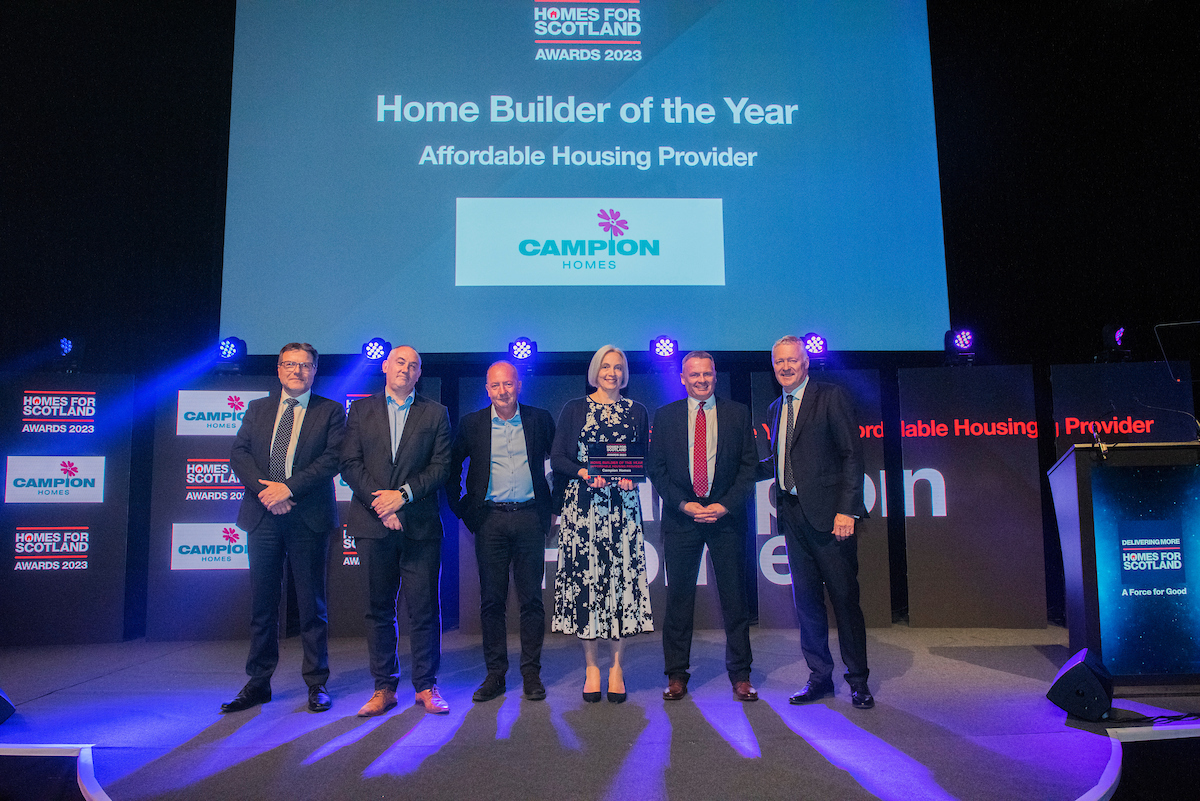 The headline awards were decided by an independent judging panel following site visits and senior management interviews, with the panel probing on areas such as company ethos and approach, innovation and development, customer satisfaction, health and safety indicators and the way in which the organisation supports the key objective of positioning home building as a force for good,
Chair of the independent judging panel David Knight, former managing director at Avant Homes, said: "I was delighted to be asked to chair the judging panel for a second year and was hugely impressed and encouraged by both the volume of entries received – up almost 30% on last year – and the quality on show throughout submissions.
"With a particular focus this year on social, sustainable and environmental values, my fellow judges and I were struck by the many ways in which these key criteria were brought to life at the site visit and interview stage as well as the clear passion demonstrated by those we met.
"We are grateful to all who entered, congratulate all members making the 2023 shortlist and applaud those taking home awards."
A full list of winners can be accessed HERE.