Hub West Scotland hands over Glasgow's largest Passivhaus-certified housing development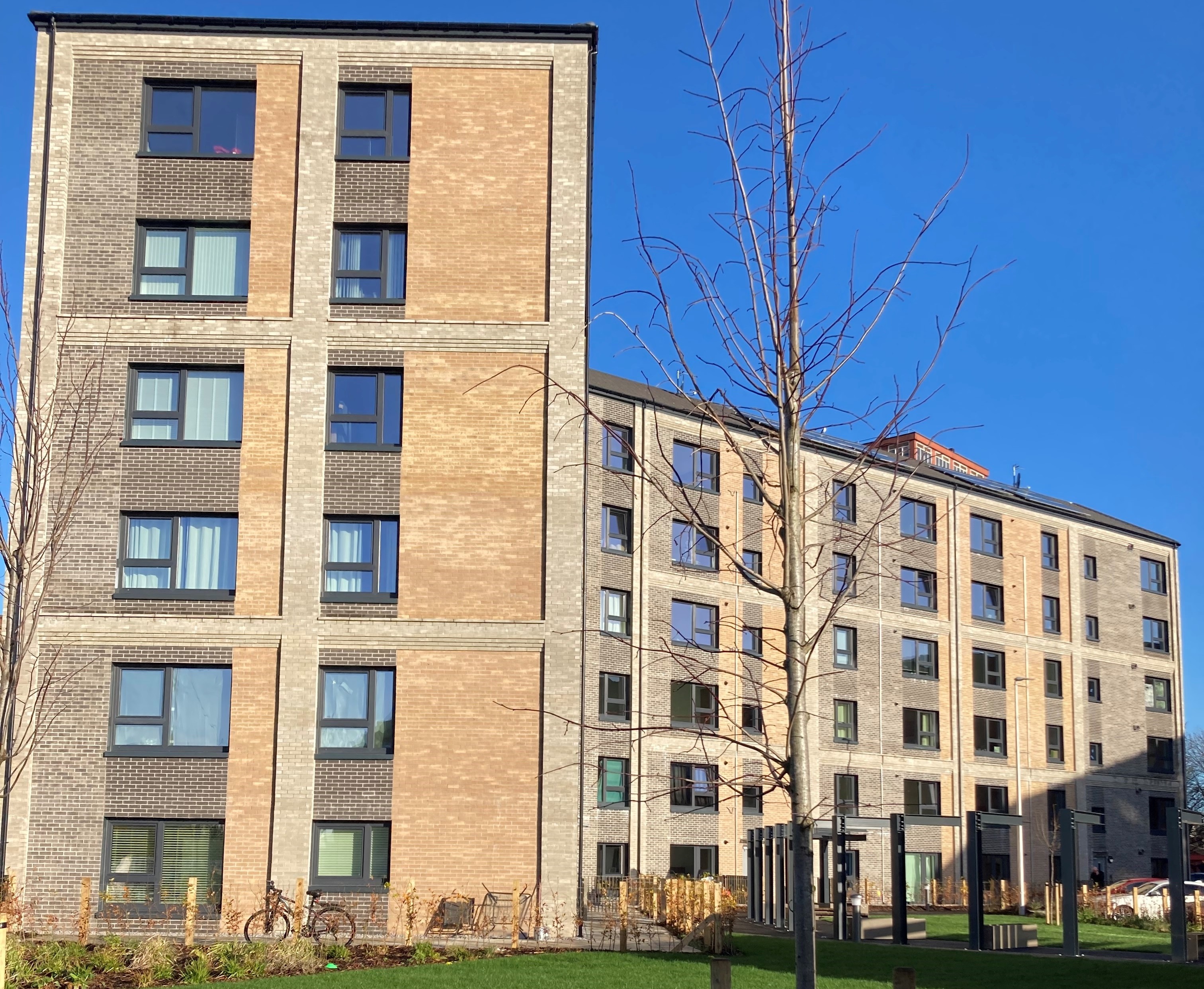 Practical completion has been achieved for Glasgow's largest Passivhaus-certified housing development at Springfield Cross.
Hub West Scotland said it has "been a privilege" to deliver the leading-edge social housing development in partnership with West of Scotland Housing Association and with CCG (Scotland).
Springfield Cross is located in Glasgow's East End, at the junction of London Road and Springfield Road with the building designed to follow the natural curve of the site. The development comprises a total of 36 two and three-bed homes and provides comfortable, sustainable living for the tenants.
---
---
Buildings, when being constructed and in use, generate significant carbon emissions and the opportunity to take a significant step toward to achieving Scotland's Net Zero Emissions target and reduce tenants' energy costs led our client to an early decision to adopt a Passivhaus-certified approach.
Passivhaus is a standard of build that is designed to significantly improve airtightness in order to minimise the need for energy. It is very well established in other countries and brings many benefits including substantially lower energy bills; improved air quality, and a very comfortable internal temperature, whether it's cold or warm outside. A pioneering project, Springfield Cross has successfully tackled the challenges that come with being at the forefront of sustainable housing delivery in Scotland; these include upskilling the supply chain; achieving very demanding airtightness requirements, and rigorous quality standards.
The Hub West community investment programme has also delivered three apprenticeships and two work experience placements as well as support for the adjacent Silverdale Nursery on various projects.
Iain Marley, chief executive of Hub West Scotland, said: "The completion of Glasgow's largest Passivhaus housing development at Springfield Cross for West of Scotland Housing Association (WSHA) reflects WSHA's innovation, leadership and commitment to provide high quality affordable homes. This is a landmark development and the experience gained from its planning and delivery will be shared with other hub West clients as we support their journey to a net zero carbon future.
---
---
"Hub West is at the forefront of designing and delivering affordable low energy and zero carbon solution for our clients. Our portfolio includes Passivhaus accredited housing and education developments; projects in construction that will achieve the 2045 net zero emissions targets including Scotland's largest health and care centre; estate decarbonisation strategies, and advice on enerphit and refurbishment strategies."
Andrew Kubski, director of development & asset management, West of Scotland Housing Association, said: "We are delighted to have now welcomed tenants to our first Passivhaus development. We continue to support our tenants as they settle in and get the best out of the energy efficient systems within their homes. The successful delivery of this landmark project is testament to the partnership approach and I am sure that Hub West, CCG and WSHA have learned a lot through this development.
"The homes meet the gold standard of energy efficiency and tenants will benefit from lower fuel usage at a time when energy costs are unprecedented. Our Passivhaus developments are a key part of our Green Strategy which highlights how we will achieve a greener and more sustainable future in the coming years."
CCG managing director, David Wylie, said: "To achieve practical completion at Springfield Cross is a momentous milestone. The largest development of its kind in the country, the project partners have worked tirelessly in its delivery and to achieve this certification with the end result being the significant benefit to the new tenants who will have drastically lower annual fuel bills.
---
---
"The homes were manufactured by CCG less than 2 miles from the site and this, alongside the creation of jobs and this long-term support for tenants makes us extremely proud to have played such a significant role in the future of housing delivery in Scotland."
---