Hub West Scotland lends helping hand to Mental Health Network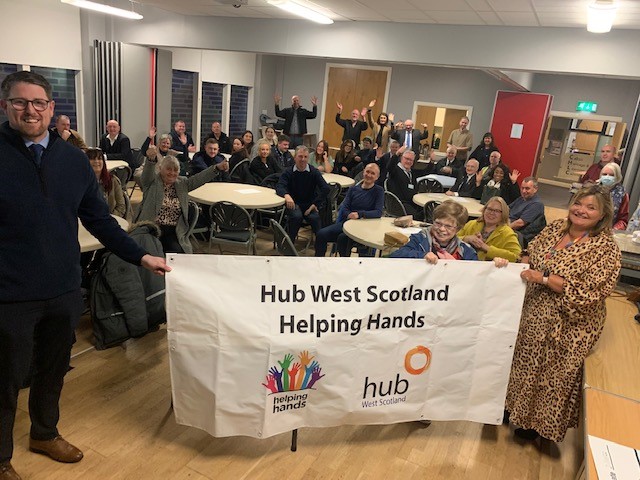 A Greater Glasgow mental health charity, Mental Health Network Greater Glasgow, has held an office showcase and thank you event for those consultants and contractors who came together under Hub West Scotland's Helping Hands initiative to completely revamp the organisation's aged premises as part of the social value being delivered on the NHS Greater Glasgow and Clyde's £70 million Parkhead Hub Health Centre build in Glasgow.
The charity opened the doors to their newly refurbished premises allowing over 60 companies who took part to see the transformation that their time, materials and donations have achieved. The Mental Health Network Greater Glasgow went on to explain to those attending about the impact the new surroundings are already having on staff, existing members and now also new members who are making use of the new café room facilities.
Iain Marley, chief executive of Hub West Scotland, took the opportunity to thank everyone for their involvement and contributions, particular appreciation was given to the contribution from BAM Construction for their overall project management of the transformative works.
---
---
Ann Jones from Glasgow Mental Health Network said: "Hub West Scotland's Helping Hands initiative has been amazing for the Network! Initially we asked for a new kitchen, flooring and new blinds in our members café. After having been chosen as Hub West Scotland's charity we were asked to create a wish list for other items we would like to have. We were overwhelmed when everything on our list was donated. We can't thank everyone involved in this project enough for making our dreams come true. It has provided a new modern office for our staff to work out of and for our members to attend and participate in our groups.
"Our members have commented on how much more welcoming and valued they feel about coming to our groups. As like most charities we have a very limited budget, and we use this as much as possible for the direct benefit of our members therefore we have not been able to update our office environment in the past 15 years! This refurbishment has allowed us to relaunch the Network, welcome new members and raise awareness of mental health in general."
Iain Marley, Hub West Scotland, added: "The hub West Helping Hands initiative responds to the needs of local communities and forms part of our acclaimed community investment programme, providing an opportunity for the hub West team and our partners to play a 'hands on' role. The Glasgow Mental Health Network was chosen because of its linkage to the largest health and social care centre development in Scotland – an investment that we are delivering on behalf of NHS Greater Glasgow and Clyde.
"This year's response has been amazing and we have completely transformed the MHN's workspace. Staff and service users are absolutely thrilled by the results: we have exceeded their most optimistic expectations and it has been wonderful to hear how the changes have already made a hugely positive impact."
---
---
Andrew Baillie, assistant head of capital planning, said: "It's great to see the focus on additional community benefits at the Parkhead Hub, the result is fantastic, and we're delighted to have played a small part in supporting Hub West in delivering this. Our team even got involved by rolling up their sleeves and picking up paintbrushes!
"The work at Glasgow Mental Health Network has provided important additional investment that will benefit local service users and staff. This is the latest in a series of exceptional community-based new-build health and care projects our Property and Capital Planning team have delivered in over recent years."
Jim Ward from BAM Construction said: "The Helping Hands initiative is a fantastic opportunity for BAM and our supply chain to give something back to the communities we work in. It also brings us closer to the community and allows us to leave a very meaningful lasting legacy."
The Helping Hands initiative allows organisations local to Hub West Scotland's construction projects to apply for support by way of labour and materials to aid their operations. The Mental Health Network isn't the only organisation to benefit from construction of the nearby Parkhead Hub for NHS Greater Glasgow and Clyde. Hub West Scotland, BAM and supply chain members are working with the @TBF_Glasgow team; local school pupils and youngsters to aid them in the path to obtaining apprenticeships in construction, and with local employment agencies to support individuals from priority groups into paid work on the project and with the local supply chain.
---