Joint venture unveils £390m investment in sustainable homes at Glasgow's former Diageo distillery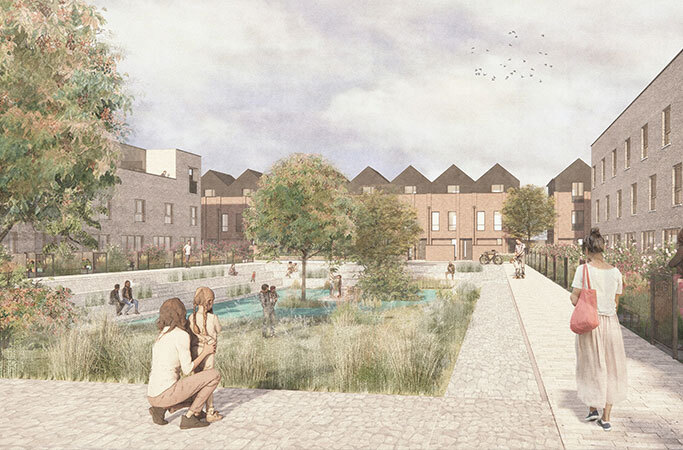 Housing Growth Partnership and PfP Capital have announced a £390 million joint venture (JV) which will see 400 sustainable new homes built at a former Diageo distillery in Glasgow.
The venture is part of a larger plan to tackle declining new home delivery, ageing stock, and ongoing underinvestment in UK regions by constructing up to 1,200 highly sustainable homes across cities such as Glasgow, Newcastle, and Nottingham over the next 3-5 years.
igloo Regeneration, the BCorp developer acquired by PfP Capital in January, will be responsible for developing the schemes, masterplanned by PfP igloo, a long-term partnership between PfP Capital and igloo Regeneration in collaboration with local authority counterparties. The JV will leverage igloo Regeneration's proprietary Footprint methodology, an internationally recognised comprehensive and holistic model for reviewing the environmental impact of design and investment decisions.
---
---
The first scheme to be brought forward is the initial phase of a 400-home development at Dundashill, in Glasgow. The development, a mix of two- three- and four-bedroom homes for sale, will be highly sustainable across the design, construction and operational stages, being of panellised modular construction with materials sourced from the local area.
An EPC A rating will be targeted by 80% of the low energy properties, with additional features including photovoltaic roof panels, as well as air source heat pumps and EV enabled parking. A cycle path, linking the site to Glasgow city centre will encourage healthy living habits and improve accessibility.
Rachel Miller, investment director at Housing Growth Partnership, stated: "In PfP Capital and igloo, we have a partner that shares both our social impact and sustainability values, and our desire to accelerate the much needed delivery of quality homes across the UK.
"The JV reflects HGP's ambition to support the UK's diverse housing need through strategic partnerships with experienced developers and will see significant capital deployed into the transformation of urban brownfield sites in regional cities."
---
---
John Tatham, finance director, at PfP Capital, said: "This partnership will accelerate the development of over 1,200 highly sustainable homes across the UK, at a time when the pace of new home delivery is rapidly declining.
"Residential regeneration, and above all, community-led regeneration is key to revitalising parts of the UK that have suffered from underinvestment
"Through bringing together a highly established equity investor, fund manager and award-winning developer, and leveraging long established local authority relationships, the JV will deliver tangible social value alongside competitive and stable long term investment returns from day one."
Peter Connolly, CEO at igloo, added: "Dundashill is an excellent example of the low carbon, sustainable homes that should be a blueprint for the UK's future housing delivery.
---
---
"Connected to local ecology, cycle and walkways and nearby amenities, the JV will bring forward these schemes in partnership with existing communities using the igloo footprint methodology to ensure that they enrich people's lives and the planet."
---