Just a Minute with Robert Beagley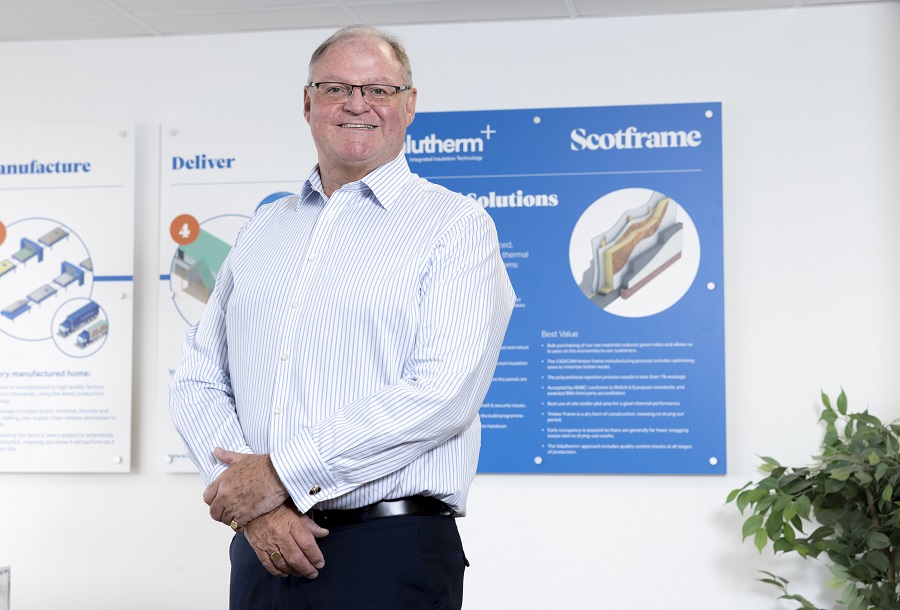 Robert Beagley, Scotframe's business development manager – self build, Scotland South and West, is the latest participant in our Just A Minute feature.
How did you get started in the industry? Like many people when I left school I didn't know what I wanted to do and the thought of a career in construction hadn't occurred to me. Luckily I had a cousin who worked for Leech Homes in Falkirk (now part of Persimmon). She was able to pull some strings and I interviewed on a Friday and started as a Trainee Buyer on the Monday - recruitment was a lot faster in those days!
Before joining Scotframe I spent 26 years with Wolseley PLC, the last 10 of which as regional director for Scotland and Northern Ireland. Across my career I have made it, fitted it, built it, stocked it and sold it.
---
---
Best advice you received? The best piece of advice I got was actually very early in my buying career from a colleague who was about to retire. He said "always remember to treat others as you'd like to be treated yourself". This has always been very important to me and is a motto I've lived and worked by ever since.
What do you like most about your job? I really believe this job was made for me. I have experience of building several houses myself and I love being able to give customers a real personal touch. Being able to see a project from the very beginning right through to fruition is so rewarding. I get a real buzz of being able to help people achieve their dream home.
And the least? With every job there are parts you inevitably like more than others. However, if I had to choose something it would be trying to keep up with the sheer pace of change across the industry whether its technology or changes to policy and regulations.
What is the most important part of the industry? For me, the future is most important. We can learn from the past but we can't change it so it's important to focus on the future. It's no secret that there is a huge skills shortage across the industry so we need to be prioritising filling the gap and encouraging young people into apprenticeships. Sustainability is also going to continue to be a key factor so we need young, fresh minds to join the industry and help drive this forward.
---
---
If you could change one thing in construction, what would it be? I would ensure there is a consistent planning process across all local authorities.
What are the biggest challenges your firm has faced since the beginning of the Covid-19 pandemic? By the time I joined Scotframe in June 2021 we had already endured more than a year of the pandemic. It was difficult for everyone and businesses had to adapt quickly whether that be adapting to flexible ways of working or investing in new equipment. Going from a really hands-on customer-facing role to working from home was a real challenge but we embraced it and have come out the other side more appreciative of the time we get to spend together as colleagues.
Has anything changed for the better? The fact that so many businesses have accepted flexibility is definitely a good thing and I think this is here to stay. I think there are huge advantages in companies operating a flexible model for staff.
How do you receive your industry news? I don't subscribe to any paper publications anymore as I have embraced social media so I tend to get all of my industry news online.
---
---
How would you change Scottish Construction Now? I find the website really comprehensive so there wouldn't be anything I'd change.
Which social media sites do you find the most useful? For me it's LinkedIn. I also use Facebook a bit.
Favourite holiday destination? Barbados. We visited a few years ago and fell in love with the place. The beaches remind me of those on the Isle of Harris…but a bit warmer!
---