Just a Minute with Sue Darbyshire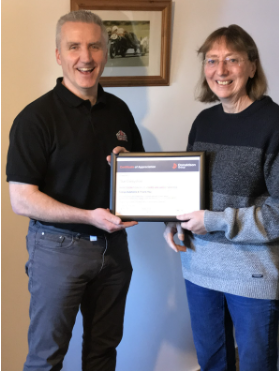 Donaldson Timber Engineering design manager Sue Darbyshire shares her thoughts for SCN's Just a Minute feature
Q: How did you get started in the industry?
I started my career as a buyer for a building company and then made the change to learn about roof truss design with Donaldson Timber Engineering. Since joining the truss design team, I quickly learnt that it was a great career path for me. Fast forward 25 years later, I am a design manager and have just received the industry's first award for roofscape design.
---
---
Q: Why did you want to become a timber roof designer?
The amount of creativity that can be brought to a roofscape and the challenge of working within technical, engineering and planning constraints really appealed to me. I enjoy solving problems, and in my award-winning project for a care home, I had the challenge of finding a way to accommodate lots of mechanical and electrical plant equipment within the roof space too, all of which needed to be concealed from view while allowing for future maintenance. It was essential to adopt a roof design that would answer all of our client's needs.
It is rewarding to know that my design not only meets the client's requirements but also very satisfying to see my design constructed as a finished building.
Q: What do you see as the advantages of building with timber engineering?
---
---
Designing roofs with a timber structure instead of steel, for example, is more environmentally sustainable. As a material, timber is natural, replenishable and good at capturing and storing carbon. It has low embodied energy, and is very versatile. Using timber can reduce the mass materials needed for construction and can reduce the environmental impact of buildings.
Q: What do you like most about your job?
As a designer in the timber engineering industry, I can apply my creativity and technical expertise to create functional and visually appealing roofs. Each roof design can be tailored to meet the client's needs. Safety is also a really important aspect of any design project. Such as can the roof be built safely? And can it be accessed safely for future maintenance, bearing in mind the risks of working from height?
It is exciting to work on projects that demonstrate the highest standards of design, innovation, and sustainability in roofing. It is also satisfying to know that the roofs I design provide shelter and protection for someone's home. This is a remarkable feeling.
---
---
Q: What made you want to submit your entry to the Trussed Rafter Association's Roofscape Design Awards?
The Trussed Rafter Association is the recognised body of the industry and their award scheme provides an opportunity to designers to be rewarded for good work. The awards recognise the technical skills required to design trussed rafter roofs, joists, and panels and celebrate outstanding projects.
There are a lot of women working in the building industry now as a whole and an increasing number in truss design. I was one of two female winners at the Roofscape Design Awards, and I'd love to see more female designers in the industry.
Q: Tell us something about yourself that makes you stand out in this industry.
---
---
I recently celebrated my 25th anniversary with Donaldson Timber Engineering, having worked in the building industry all of my working life.
I work exclusively on care home and retirement living projects for a range of clients, Including Lawrence Baker, and I am very proud to have won the Commercial Project of the Year in the TRA's Roofscape Design Awards for 2023.
When I'm not designing roofscapes, I enjoy rebuilding and racing historic cars, particularly my 1929 Morgan, which I race very successfully in the UK and Europe.
---