New affordable homes delivered for Leith during lockdown
Port of Leith Housing Association (PoLHA) is marking Scottish Housing Day by celebrating the opening of 51 homes at Shrubhill following staggered sign-ups to allow for socially distanced moves during the COVID-19 pandemic.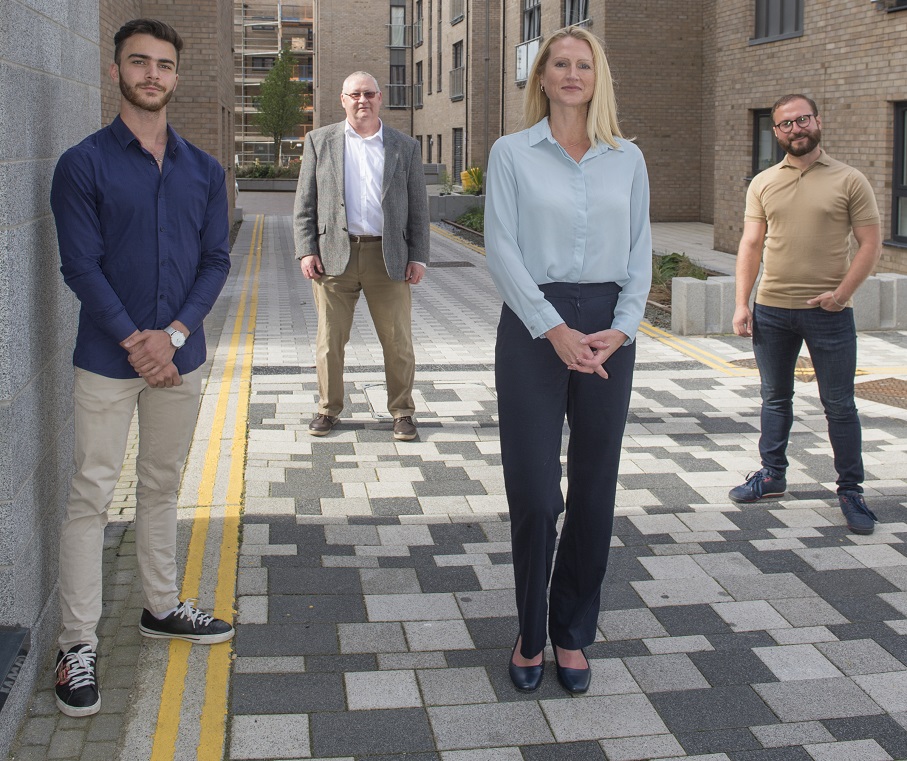 Built on the site of Edinburgh's former tram depot, the one to three-bedroom homes enjoy striking views of Leith and Calton Hill and are just off Leith Walk with its many shops and restaurants.
Heather Kiteley, group chief executive, and Gordon Cameron, director of group operations, visited the new development which has become one of the association's most diverse communities with a wide variety of ages, backgrounds and household sizes and met two new residents.
---
---
Born and raised in Damascus, Syria, Amr is a fashion and textiles student and part-time waiter who has been living in Scotland for two years. Amr is thoroughly enjoying his new home and said: "I never felt at home anywhere since I left my home in Syria but now, after 8 years of moving from place to place, I feel safe and secure. I now feel I can focus on my life and my studies. Leith is one of my favourite areas in Edinburgh. It has many good shops and restaurants and it's a really convenient location. It has strong cultural diversity which makes it feel like home."
Ahmad, also from Syria, arrived in the UK two years ago as a refugee. He loves the location of his new home at Shrubhill and said: "I was really happy because I didn't expect to get a nice flat like mine now. Leith is a great area in Edinburgh and there are lots of nice neighbourhood places to go…. restaurants, bars, cafes etc but for me I'm happy to have Starbucks and Pilrig Park nearby for some exercise."
Heather Kiteley said: "Our priority during lockdown has been the safety and wellbeing of all our tenants, and I admire the perseverance of not only our new residents during these uncertain times, but everyone involved in ensuring the warm welcome and safe arrival of all of Shrubhill's new community.
"My socially-distanced meet up with Amr and Ahmad, two of Shrubhill's new residents, was very enjoyable and a great way to mark Scottish Housing Day. I wish them all the best in their new homes."
---
---
Paul Henderson, senior housing officer at Port of Leith Housing Association, said: "Despite the various challenges presented by lockdown, we can be proud of the development and the positive impact the Association has in providing quality homes in Leith. I have been overwhelmed with the positive feedback received from our customers who are delighted with the quality of the new homes, the local environment and the sense of community that is already evident."
Port of Leith Housing Association has ambitious plans to deliver more than 600 affordable homes by 2025 as part of its strategic plan.
---