And finally… RGU architecture students engage community to 'Keep Bon Accord Baths Afloat'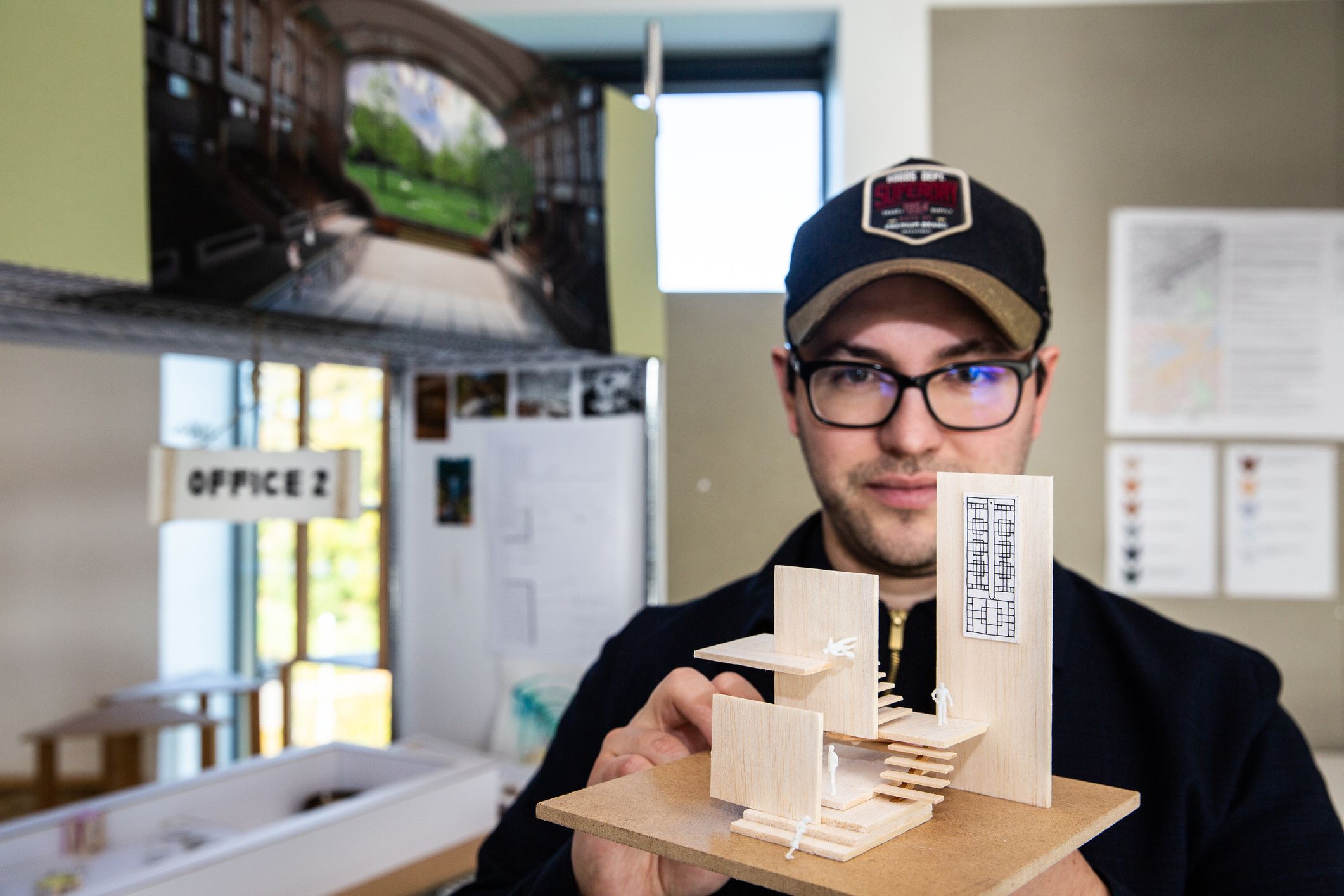 A team of architecture students from the Scott Sutherland School of Architecture & Built Environment at Robert Gordon University (RGU) has created an innovative project to support the restoration of the Bon Accord Baths.
The third-year students have created eight innovative ideas to reuse and breathe new live into Bon Accord Baths on Justice Mill Lane.
Their ideas, which include fictional concepts of what the baths could be, include transforming areas within the Baths into a performing arts centre, a hub for health treatment & exercise and a seasonal market for food and beverage from the north east.
---
---
The restoration project has been ongoing for a number of years, and the group is working with the local community to develop their ideas. As part of the project, the group has gathered feedback on their proposals at an open forum with members of the public and professionals from Aberdeen City Council and Bon Accord Heritage.
An exhibition, 'Keep Bon Accord Baths Afloat', is also on display and open for members of the public to visit at the Scott Sutherland School of Architecture and Built Environment at RGU's Garthdee campus.
It's hoped a future exhibition could be held at the Bon Accord Baths to encourage more conversation about how to bring back the Baths as a community-led facility.
Course co-ordinator and RGU lecturer, Silvia Bassanese, said: "It has been really impressive to see the students' enthusiasm and passion for the Bon Accords Baths Afloat project and their engagement with the wider community including Aberdeen City Council Planning department and Bon Accord Heritage.
---
---
"The Bon Accord Baths play such an important part in the history of Aberdeen, and it is so important to restore a building which houses one of the few remaining pools of its type in the country.
"The city of Aberdeen is full of empty spaces and buildings, public and private and awaiting a new future. Every regeneration must begin with public acknowledgement of the potential and social value of these spaces. These ideas are often experimental, but Aberdeen can lead the way with its regeneration and perhaps the rethinking of Bon Accord Baths as a public space, will lead to further ideas and actions on how to reclaim "lost" and other remarkable public spaces across the city."
Bruce Strachan from Bon Accord Heritage, added: "Bon Accord Heritage is always keen to engage with local interest groups that share our passion for Bon Accord Baths. The enthusiasm of the students and output from their project provided a number of interesting ideas that could be incorporated as uses or design elements in the final project. Ultimately we must look to restore the pool once again with a wide range of complementary activities to provide a sustainable future".
Third year student, Oliwia Urman, who is originally from Poland but has lived in Aberdeen for the past 13 years, says the 'Keep the Bon Accord Baths Afloat' project is giving her practical experience on a community-based project.
---
---
She commented: "It's very easy to look at an abandoned building or a building that is no longer in use and think that it would be best if it was just demolished and replaced with something new. However, taking a step back and really analysing why a building was built in the first place really opens up opportunities for understanding the history and why it is so significant.
"When I stepped into the pool hall for the first time, it felt like I was taken back in time to the 1930s. The Baths have an incredibly pleasant atmospheric quality despite not being in use for years and I would recommend anyone and everyone to visit and educate themselves on how our local communities can and will restore this beautifully designed space for future generations to enjoy."
Mackenzie Jackson from Fife, a third year student also working on the Bon Accord Baths project, added: "I've been really lucky to have the opportunity to work with such an iconic piece of architecture as the Bon Accord Baths, which many in the community seem to have a real connection with. It's been fantastic to see the enthusiasm – particularly during the exhibition – of the local community engaging with this project.
"My group suggested adapting the Bon Accord Baths to become a performing arts centre. The Baths would be reimagined into a multifunctional performance venue where the former swimming pool hall would become a flexible performance space that could host a variety of events. By keeping the space flexible in use, we hope to ensure the Bon Accord Baths' future viability as a major civic building."
---
---
Marco Antonio Paz Garcia, from Tenerife in Spain, says he never had the chance to use the Baths himself but has several older Scottish friends who did.
He said: "For many, the Bon Accord Baths represent decay and perhaps stagnation, for others "a price worth saving". On one hand, there is the view of completely changing the character of the building into something new, but this implies an enormous amount of CO2 emissions being let into the atmosphere and affecting our environment.
"On the other hand, the old is also viewed with a certain respect, and we should acknowledge that the ageing process is something that happens to everything on this planet. For the Baths to have survived almost 100 years involves survival on the verge of difficulties and this should awaken a sense of reflection that can help us value our cultural identity."
The Bon Accord Bath's project supports the Scott Sutherland School of Architecture's social ethos and commitment to facilitate the design of sustainable and well-considered spaces and Robert Gordon University's commitment to support the economic and social regeneration of the north east.
---
---
Plans to reopen the Baths fully were boosted last November when a motion to officially support the restoration efforts was backed by Aberdeen City Council.
It's hoped the campaign to save Bon Accord Baths could see the pool reopened to the public and transformed into a vital community facility for future generations, for the first time in over a decade.