Scottish Plant Owners Association unveils Apprentices of the Year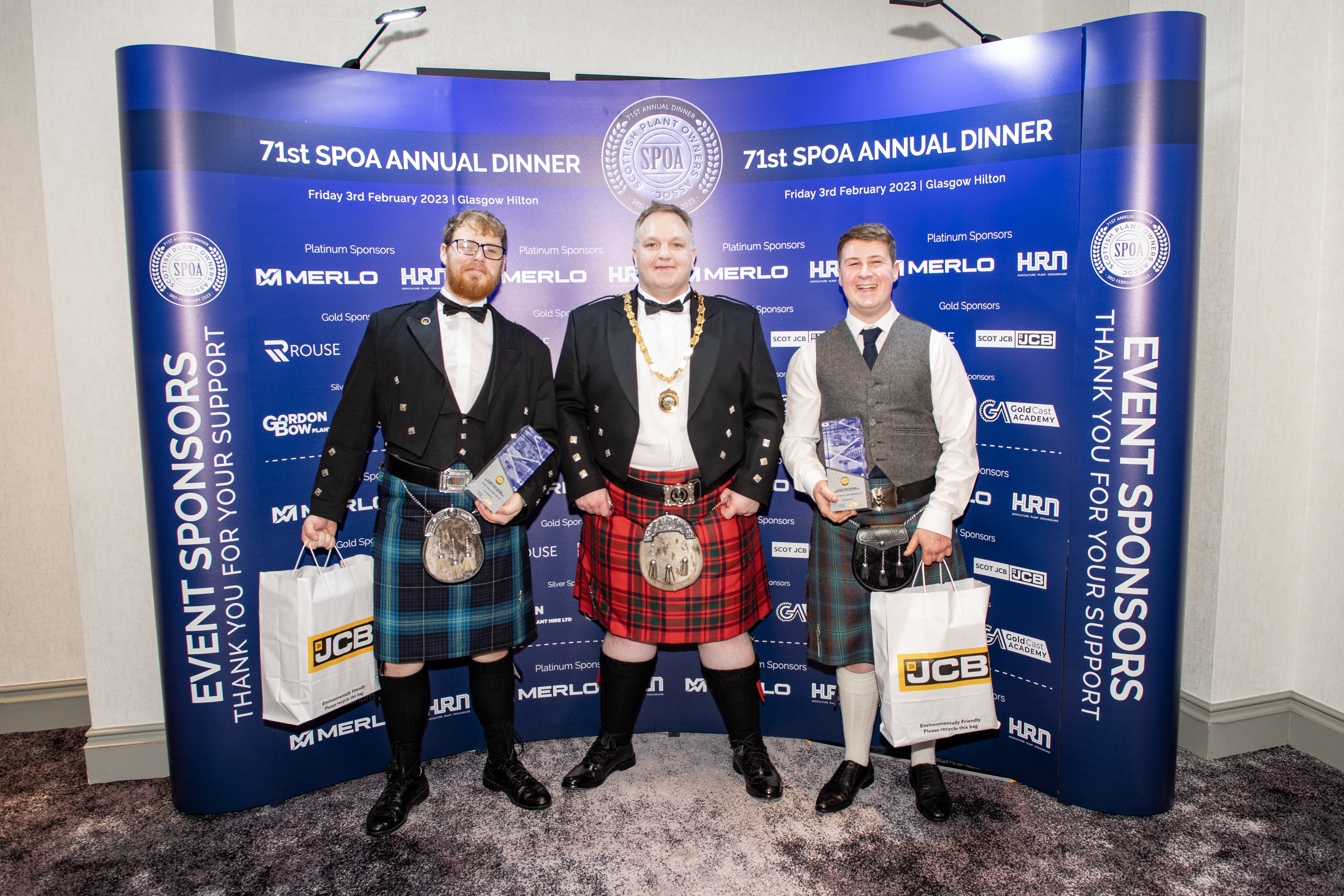 Deklyn Feather and Andrew Manson have been recognised as Apprentices of the Year 2022/2023 by the Scottish Plant Owners Association (SPOA).
The announcement was made at the trade association's annual dinner held earlier this month.
Deklyn Feather, who works for EMN Plant Ltd in Shetland, was awarded Plant Operator Apprentice of the Year and Andrew Manson, who works for A & D Sutherland Ltd in Caithness, was named Plant Mechanic Apprentice of the year.
---
---
The awards, co-sponsored by JCB and CITB, recognise the achievements of Deklyn and Andrew as they progress through their CITB apprenticeships.
Christopher Blake, curriculum manager CITB Plant, put forward Deklyn and Andrew due to the hard work, commitment and dedication they have demonstrated. Christopher explains: "The 2022/2023 award winners Andrew and Deklyn were unanimously chosen by their respective tutors in both England and Scotland. Both award winners displayed a real desire to not only succeed but to succeed at the highest possible level.
"Both apprentices also showed a willingness to support their peers, good timekeeping, enthusiasm and respect for fellow apprentices. All tutors and the wider CITB team felt the nominations were richly deserved."
As well as the recognition, a complete surprise on the night, Deklyn and Andrew were also given a fantastic package provided by JCB. The package includes a two-day red-carpet VIP experience where the apprentices will visit JCB's World headquarters in Staffordshire and learn about the history of JCB and see how the iconic JCB Backhoe is built. They will stay at the JCB Golf and Country Club and on the second day will be given the opportunity to learn some extra skills relating to their roles.
---
---
Jason Wyatt, global aftersales and technical training manager at JCB, added: "JCB is delighted to sponsor these awards. It is so important to inspire more young people to consider a career in construction and initiatives like this by the SPOA deserve to be supported. Deklyn and Andrew are worthy winners and I hope that their time with us at JCB later this year will help set them up for a successful future in the industry."
Deklyn was humbled by the award win: "I think it's fair to say that this has been emotional for me. I've never experienced anything like this before, so many people have taken the time to congratulate me since it was announced, it means a lot. The apprenticeship training with the CITB at the college at Bircham Newton is so good it is mind blowing.
"At 31, I am an older apprentice, so I am grateful to my manager Ellis Nicolson for giving me the opportunity and believing in me. I hope to do my bit to encourage young people to join construction by doing some school visits."
Ellis Nicolson, general manager at EMN Plant, is very proud of Deklyn: "I am extremely delighted for Deklyn as he is a very conscientious employee and has taken his training very seriously. This award is very well deserved.
---
---
"We are keen to get more young people into our industry as it's the only way of addressing the shortage of labour. We have a small number of pupils from our local high school visiting us this month to get an insight to what we do and the different job opportunities available. It's a great industry to be in. There are different roles available from management to on the ground with good remuneration to reflect this. There is always career progression available, and the skills can be transferred all over the world."
Andrew was totally surprised by the award: "I was buzzing to have been nominated and was absolutely shocked when I heard them call out my name on the night! I've always liked fixing things. I've got uncles who are both mechanics and I was often found tinkering with cars as well. I actually started at the company as a stone splitter, so I'm very grateful to Mark Mancini for giving me the opportunity to do this apprenticeship to become a plant mechanic. I enjoy the balance between time at the college at Inchinnan. and learning on the job and hope to complete the apprenticeship within three years."
Mark Mancini, managing director at A & D Sutherland, is full of praise for Andrew: "Andrew started as a labourer, then he showed an aptitude as a mechanic so we decided to put him through this apprenticeship. It is the best decision we could have made – there are always glowing reports about him, and I believe that the apprenticeship has been a good experience for the company as well as for Andrew."
The Two Apprentice of the Year awards are now a permanent feature at the annual dinner of the SPOA, as President Callum Mackintosh concludes: "This is the second year we have featured the Apprentice of the Year awards at the SPOA's annual dinner and people really look forward to it. Deklyn and Andrew are genuinely two of the nicest and most humble young men. They have both made a really good impression on the college team, their employers, me, and even the guests at the dinner. I cannot think of a better pair to win this year."
---