Stewart Milne Homes helps Midlothian community to flourish
Residents in Danderhall have welcomed a donation from Stewart Milne Homes which has been used to enhance the area with the creation of allotment space, flowering gardens and wildlife habitats.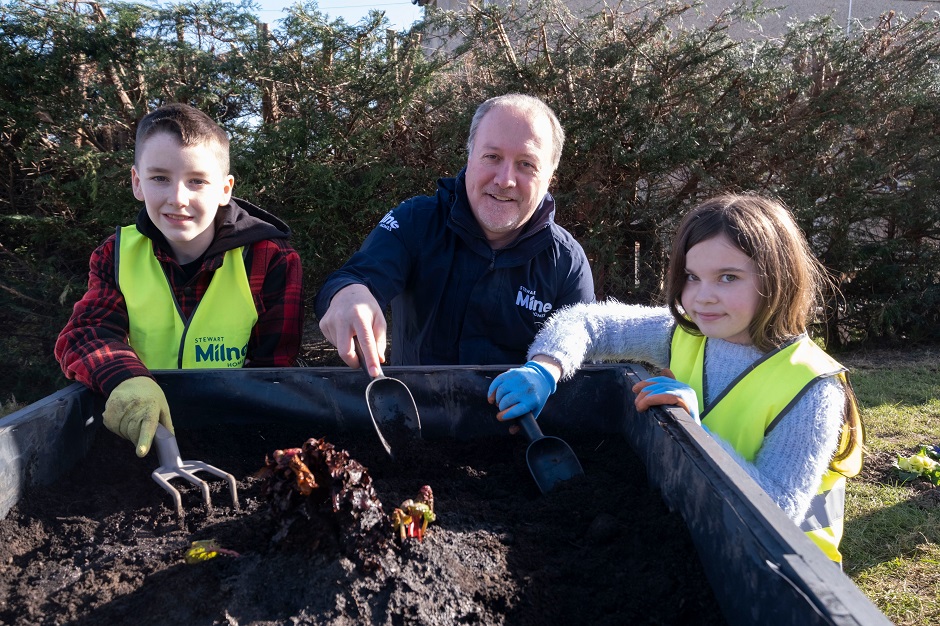 The £1,000 funding for Danderhall Primary School has been used to support community-wide initiatives, implemented in partnership with local gardening club Danderhall & District Guerrilla Gardeners.
The group, which has already made a range of outdoor community improvements over the last year, is currently working with the school to take groups of pupils outdoors each week in a bid to encourage them to get green-fingered and engage them in protecting nature and the environment.
---
---
This month primary five pupils are planting a variety of fruit trees and making bespoke planters from recyclable pallet wood in a nearby allotment space that was previously unused land before the gardening team began the transformation. The work undertaken by the group and pupils is helping to revive the space whilst encouraging children to enjoy the outdoors and adopt healthy lifestyle choices.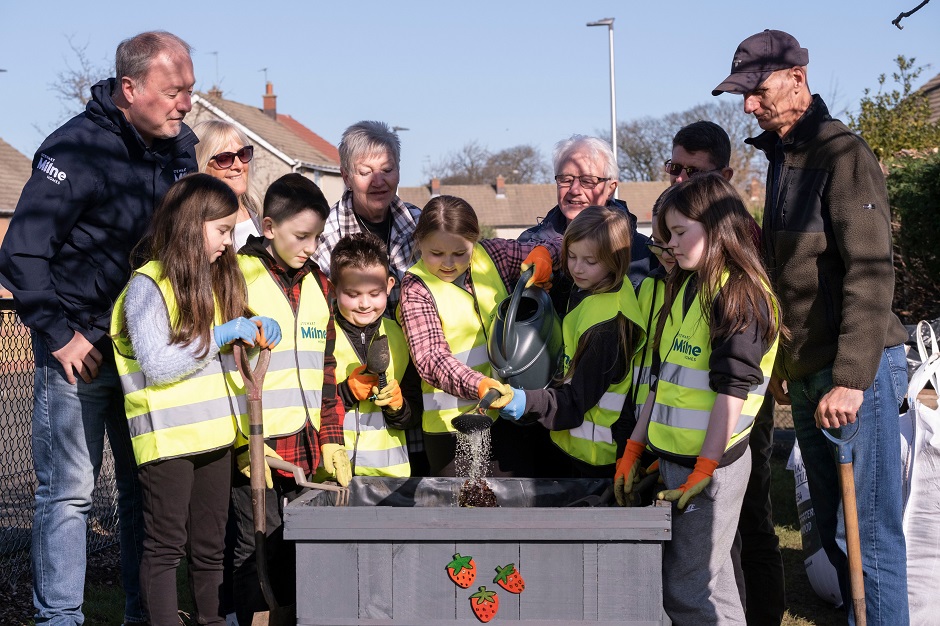 The Stewart Milne Homes funding has been used to purchase starter gardening packs for pupils including gardening gloves, trowels and forks, pots, hyacinth bulbs and compost, craft materials and litter grabbers It has also gone towards the purchase of wildlife habitats including hedgehog homes and bird boxes which have been installed across the village.
As well as the funding, Stewart Milne Homes also provided hi-vis jackets for the school children to wear when they are out and about in the village, helping to keep them safe.
---
---
As Stewart Milne Homes progresses the development of its new Shawfair community, a collection of three, four, five and six-bedroom homes nestled on the edge of The Wisp and the village of Danderhall that will create 115 homes for the growing neighbourhood, the housebuilder plans to continue to support the school and work with local community groups on a range of different initiatives.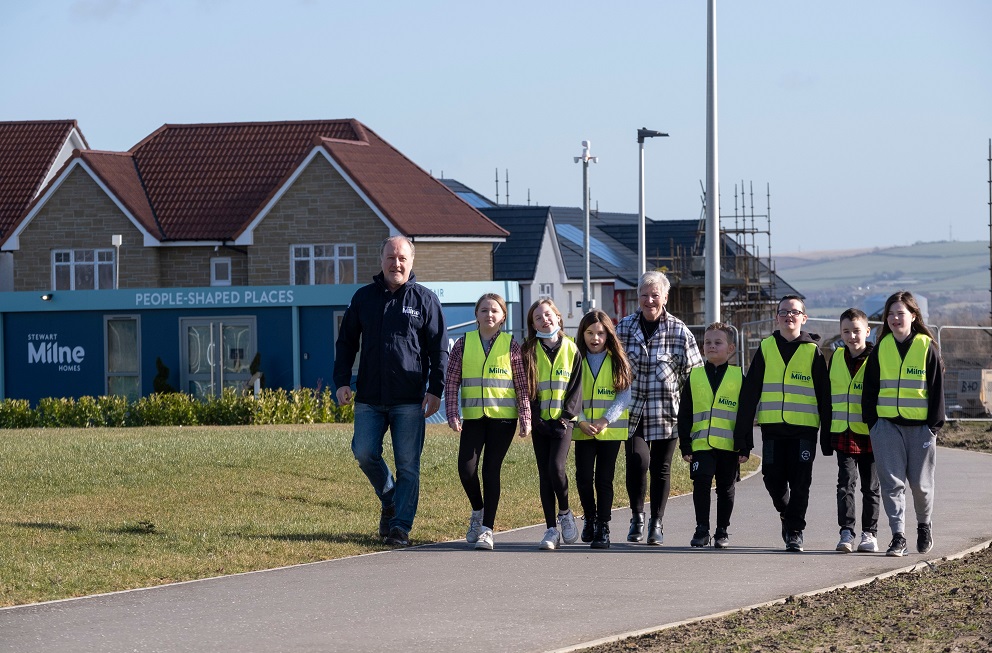 Kevin Moreland, marketing manager at Stewart Milne Homes, said: "The level of work undertaken across Danderhall by the Guerrilla Gardeners and youngsters is fantastic, and it is clearly creating a positive impact for the multigenerational local community.
"Stewart Milne Homes is committed to supporting the communities where we build in and we are very proud to support the school with funding to enable a range of outdoor initiatives, which are integral to creating thriving neighbourhoods. It was great to get out and meet some of the keen gardeners to see first-hand the change they're making which will complement our nearby Shawfair development which has been built with a people-first approach, with active travel links connecting the site to the wider village."
---
---
David Halliday, principal teacher at Danderhall Primary School, said: "Encouraging and capitalising on the opportunity to experience learning and new challenges in the outdoor environment is integral to our curriculum, and the funding from Stewart Milne Homes is a brilliant boost to the opportunities that we can offer our pupils.
"The hi-vis vests will be used year-round as we encourage our pupils to get out of the classroom and allow themselves to experience new hobbies, such as gardening, as much as possible. We are looking forward to continuing our partnership with the Danderhall & District Guerrilla Gardeners as it is now a weekly highlight for the pupils who have developed a love for gardening and creating new areas in the village that they can be proud of. It really is a great example of a community coming together to create a force for good."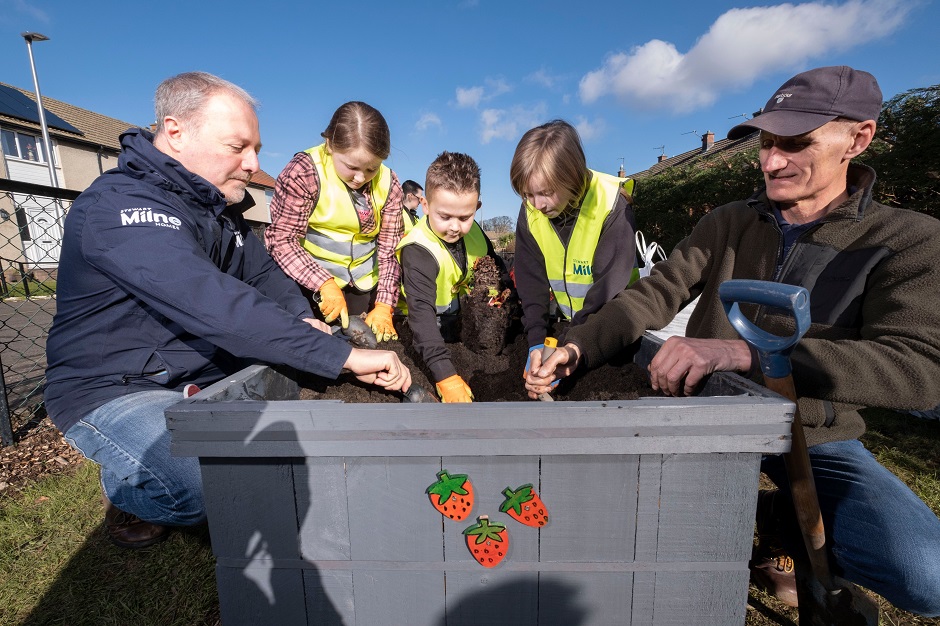 Helen Graham, member of Danderhall & District Guerrilla Gardeners, said: "It has been a pleasure to meet local youngsters and encourage them to get outdoors to learn more about the garden, plants and wildlife.
---
---
"The Guerrillas have been busy working across Danderhall and surrounding villages to enhance the area with bright plants and foliage, and in turn it has brought together a number of likeminded individuals and created friendships and social opportunities, which is an added bonus.
"We have big plans to continue the revival of the village and we invite anyone in the local area with a passion for gardening or the outdoors to get involved as we work together to create a vibrant and inclusive neighbourhood."
---