Taylor Wimpey East Scotland donates lifesaving defibrillator in Bathgate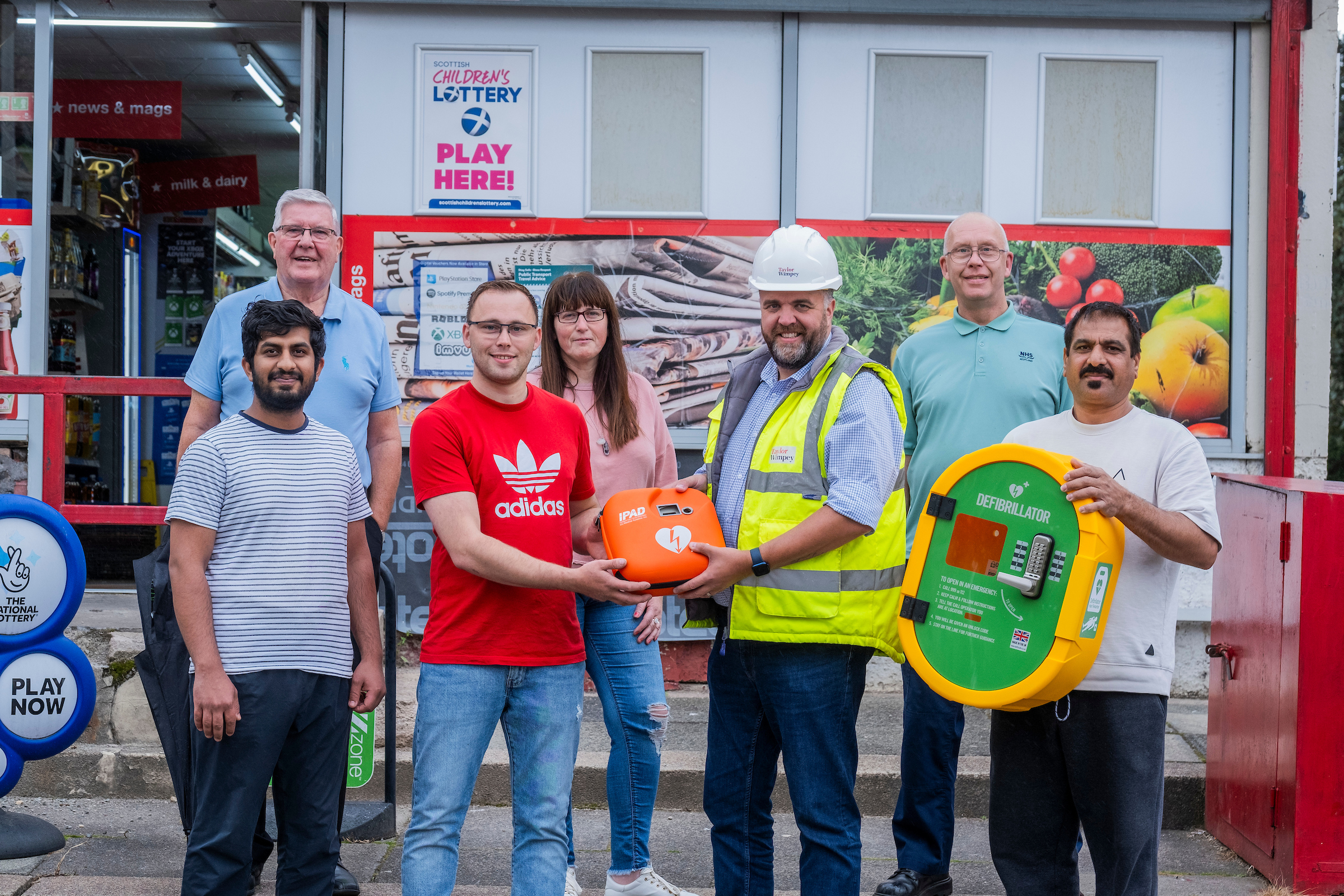 Taylor Wimpey East Scotland has donated a public access defibrillator (PAD) to a convenience store in Bathgate and its customer Cameron Clark, who around 12 months ago started a campaign to install and maintain an external defibrillator outside the Usave Shop on Falside Crescent to benefit the community in the immediate local area.
This latest defibrillator will become the guardianship of Cameron and the owners of Usave who will look after and maintain the equipment to ensure that it is available to anyone who needs it.
Cameron initially started raising funds via a collecting tin in Usave as he explained: "I've felt for a long time this area needs access to a defibrillator – it's something you hope that we never have to use but it would be great to have available. With permission of the owners of Usave, I set up a collecting tin to raise the funds that we would need for a new defibrillator and until Taylor Wimpey stepped in, we had raised £280. I'm blown away by the generosity of Taylor Wimpey to provide a defibrillator and external cabinet – we just can't thank them enough. Their help has brought my dream into reality about 18 months sooner than I thought.
---
---
"The money that customers did donate has been used to facilitate 10 First Aid courses with local provider Alba Care – ensuring that we have local first aiders trained on what to do in the event of an emergency. While we hope the defibrillator is never used it's fantastic to know that we can access it at Usave in the event of an emergency and hopefully help to save someone's life."
As part of a joint initiative with the British Heart Foundation (BHF), the homebuilder is donating potentially life saving PADs to communities around the UK to help people who suffer from an out-of-hospital cardiac arrest.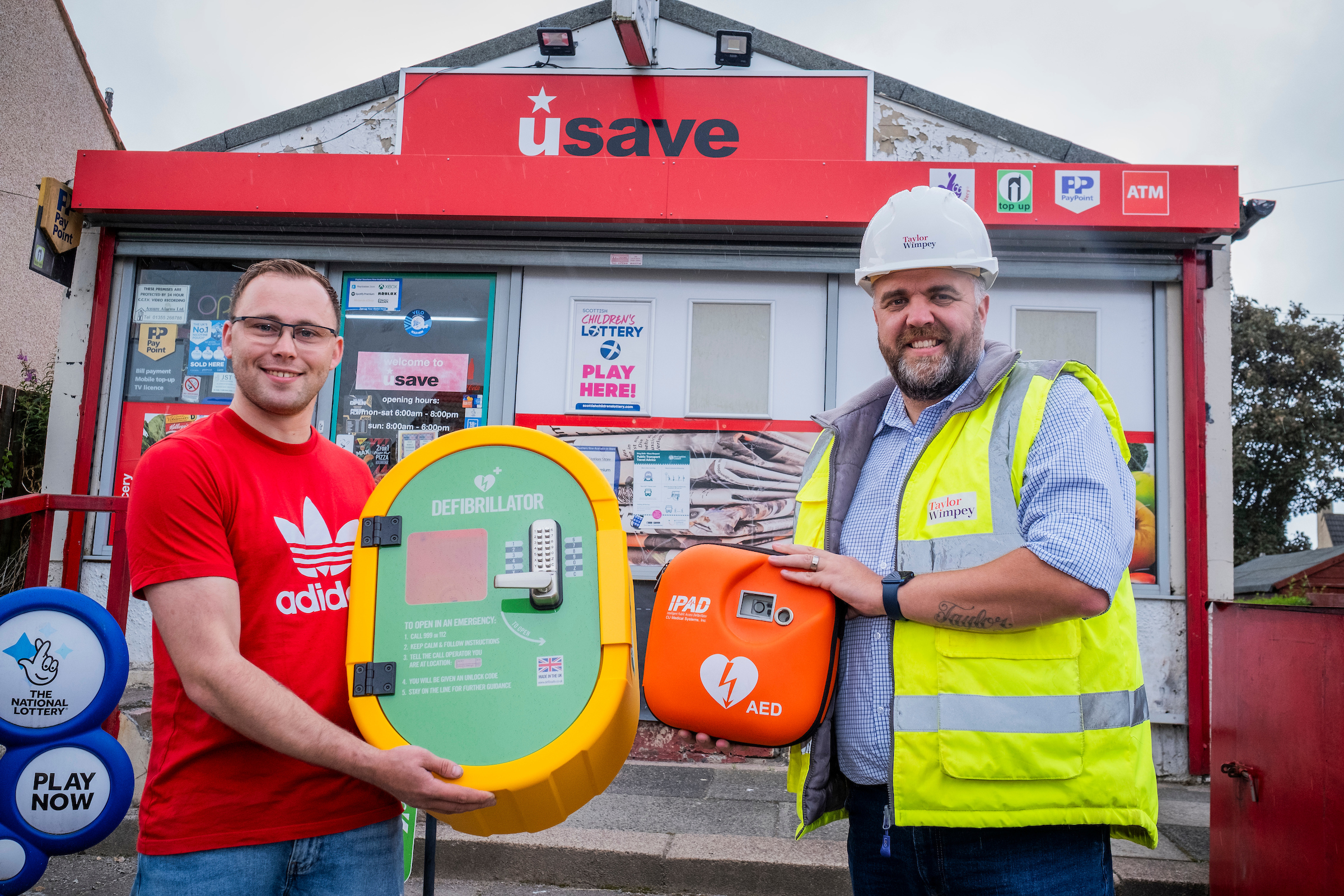 During 2019, the BHF worked with Taylor Wimpey to train its employees in CPR skills and to provide every one of their building sites in the UK with a defibrillator. As part of its commitment to leaving a lasting legacy in the areas in which it builds, Taylor Wimpey is donating the defibrillators to local communities when their developments are completed.
---
---
On this occasion, Taylor Wimpey was able to provide an additional defibrillator and external cabinet to help out Cameron's local campaign, as work gets underway at its local Sibbalds Wynd development. A site defibrillator will also be installed on-site as normal and donated to another local community group when construction has been completed at the development in a few years' time.
Taylor Wimpey has also committed to ensuring all of its defibrillators are registered on The Circuit, the national defibrillator network, which is a joint venture from the British Heart Foundation, the Association of Ambulance Chief Executives, the Resuscitation Council UK and St John Ambulance. Data on defibrillators registered on The Circuit are visible on the despatch systems used by 999 call handlers. So, when a cardiac arrest occurs, the dispatcher can direct bystanders straight to the nearest defibrillator. This increases the chances of defibrillators being used quickly and significantly improves the chances of a successful resuscitation.
Deryck Schendel, regional health and safety advisor for Taylor Wimpey in Scotland, said: "It's so important to us that we give something back to the communities in which we're building. Our partnership with the BHF is vitally important in helping to ensure that more defibrillators are available for people who might need them and we are proud to be able to make this equipment readily accessible in Bathgate – on this occasion as work starts at our nearby development Sibbalds Wynd."
David McColgan, head of BHF Scotland, said: "Every second counts when someone has a cardiac arrest, and we know that prompt CPR and defibrillation can double the chances of survival in some cases. Increasing the number of publicly accessible defibrillators in our communities – alongside more of us learning CPR skills – can play a vital role in these critical moments. That is why we are delighted that Taylor Wimpey has contributed to the aims of the BHF by making a public access defibrillator available in the Bathgate area as part of their wider local campaign. It could help save a life."
---
---
A defibrillator is a portable device that can be used by anyone to help restart the heart when someone suffers from a cardiac arrest and has stopped breathing. No specific training is needed and the device will only deliver a shock to the heart if necessary. When someone has a cardiac arrest, every second counts. For every minute that passes without defibrillation and CPR the chances of survival decrease by around 10%.
---