Tenants move into Scotland's first community-owned Passivhaus homes
Three families have moved into Scotland's first community-owned Passivhaus homes which have been developed by Nith Valley LEAF Trust (NVLT) in partnership with Dumfries and Galloway Small Communities Housing Trust (DGSCHT).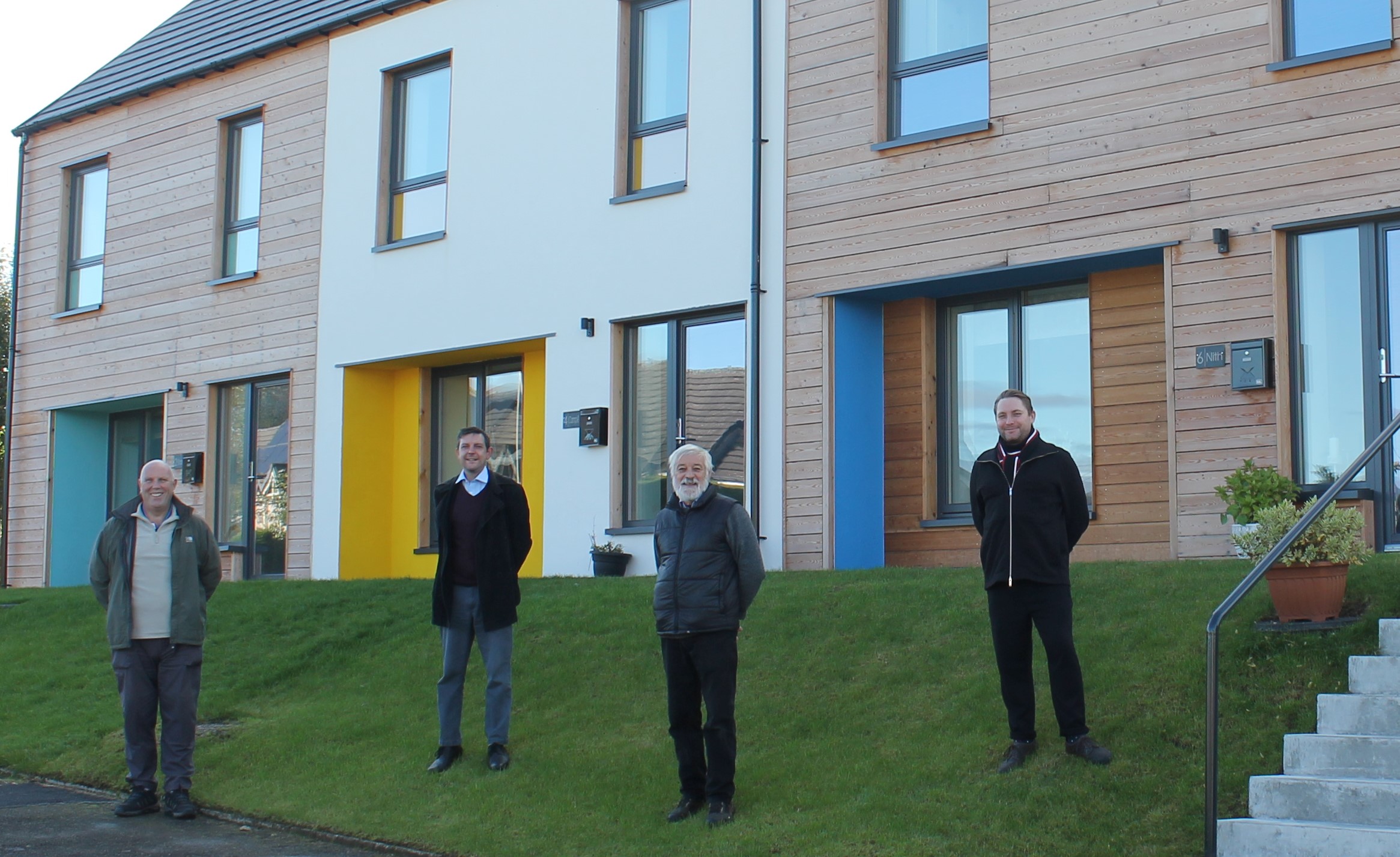 Representing the community of Closeburn in Upper Nithsdale, NVLT is a Community Development Trust whose objective is to help sustain and grow local population, support local services and address climate change. The project – funded by the Scottish Government's Rural Housing Fund - has delivered three safe, secure, energy efficient, affordable homes which have now been shortlisted in the 2020 SURF Awards in the Housing and Regeneration category.
Working with the support of DGSCHT since 2017, the community organisation identified a demand for family housing in the village but were also determined to address issues of fuel poverty and climate change and set the ambitious goal of delivering new passive homes. This goal has been realised with the help of the Rural Housing Fund and the Scottish Land Fund.
---
---
Having identified a gap-site in the village in the ownership of Dumfries & Galloway Council, NVLT secured ownership of the land via Community Asset Transfer and the support of Scottish Land Fund, who also provided funding for NVLT to employ and train a project officer. In addition to capital grant from the Rural Housing Fund, the group also unlocked grant from Windfarm Community Benefit Funds (ANCBC and SSE Clyde) and a loan from Ecology Building Society.
Levels of fuel poverty in Upper Nithsdale are some of the highest in Dumfries and Galloway, with no access to mains gas and traditional stone properties being reliant upon solid fuel, electric storage heating or other inefficient heating sources. Based on this NVLT worked with Stewart & Shields and John Gilbert architects to deliver three Passivhaus standard homes.
Passivhaus buildings provide a high level of occupant comfort, while using very little energy for heating and cooling. Passivhaus homes are built with meticulous attention to detail, rigorous design and construction according to principles developed by the Passivhaus Institute in Germany and can be certified through an exacting quality assurance process. These homes generally need 90% less energy for heating and hot water than standard buildings and have very low running costs.
NVLT offered tenancies to three families who met criteria established within their localised Allocations Policy, developed in line with identified needs and demands. The three houses are now home to eleven new residents who will help sustain the local primary school and support other businesses and services within the community, all contributing to local resilience.
---
---
NVLT and all of their tenants are extremely happy with the outcomes of the Closeburn Passivhaus and discussions have already commenced with DGSCHT to plan their next community-led housing project.
Kevin Stewart MSP, minister for local government, housing and planning, said: "This ambitious project shows what a community can achieve when empowered to take local decisions. Supported by over £300,000 from the Scottish Government's Rural Housing Fund, these new homes will grow and sustain the community as well as providing safe, warm and affordable places to live.
"I recognise that good quality, affordable housing is essential to help attract and retain people in Scotland's rural and island communities. This parliamentary term, we have committed over £3.5 billion to deliver our target of 50,000 affordable homes, including 35,000 for social rent."
Mike Staples, chief executive, Dumfries and Galloway Small Communities Housing Trust, said: "This project is immensely important to us in terms of testing what community-led affordable homes can achieve within the context of climate emergency and with the support of the Scottish Government's Rural Housing Fund. We've enjoyed an enormously productive relationship with NVLT and the design team and look forward to working together in the future."
---
---
Jakob Kaye, project officer at NVLT, added: "Working on the Closeburn Passivhoos project has been an incredibly positive experience on so many levels. There is a real sense of pride amongst the community that we are able to provide environmentally friendly and economically warm homes to local families at affordable rents.
"We hope that this project will prove to other similar rural communities that this is a game changing solution to various issues. The fact that these homes owned by the community Trust not only gives a sense of security to the families living there but bolsters the sustainability of the local amenities such as the primary school."
Jon Lee, community and business manager, explained why Ecology Building Society supported the Closeburn development: "We were excited when NVLT asked us to help establish Scotland's first community-owned 'Passivhoos' given we're a long-standing champion of the Passivhaus standard and provider of finance for community housing groups and their members.
"Ecology specialises in supporting projects which respect the environment and enable sustainable communities to flourish. We're especially proud to have played our part in realising NVLT and DGSCHT's joint vision to provide the families from the local community with high quality affordable homes. The sustainable energy efficient design helps deliver comfortable warmth all year round with lower bills, while addressing the climate and ecological crisis.
---
---
"The Closeburn development is our first project working in tandem with the Scottish Government's Rural Housing Fund and we're looking forward to collaborating on similar schemes in the future."
---