Thomas & Adamson to participate in Kiltwalk for Alzheimer Scotland
Construction and property consultancy Thomas & Adamson (T&A) will put its best foot forward in support of Alzheimer Scotland by taking part in the annual Kiltwalk in Glasgow, on April 24.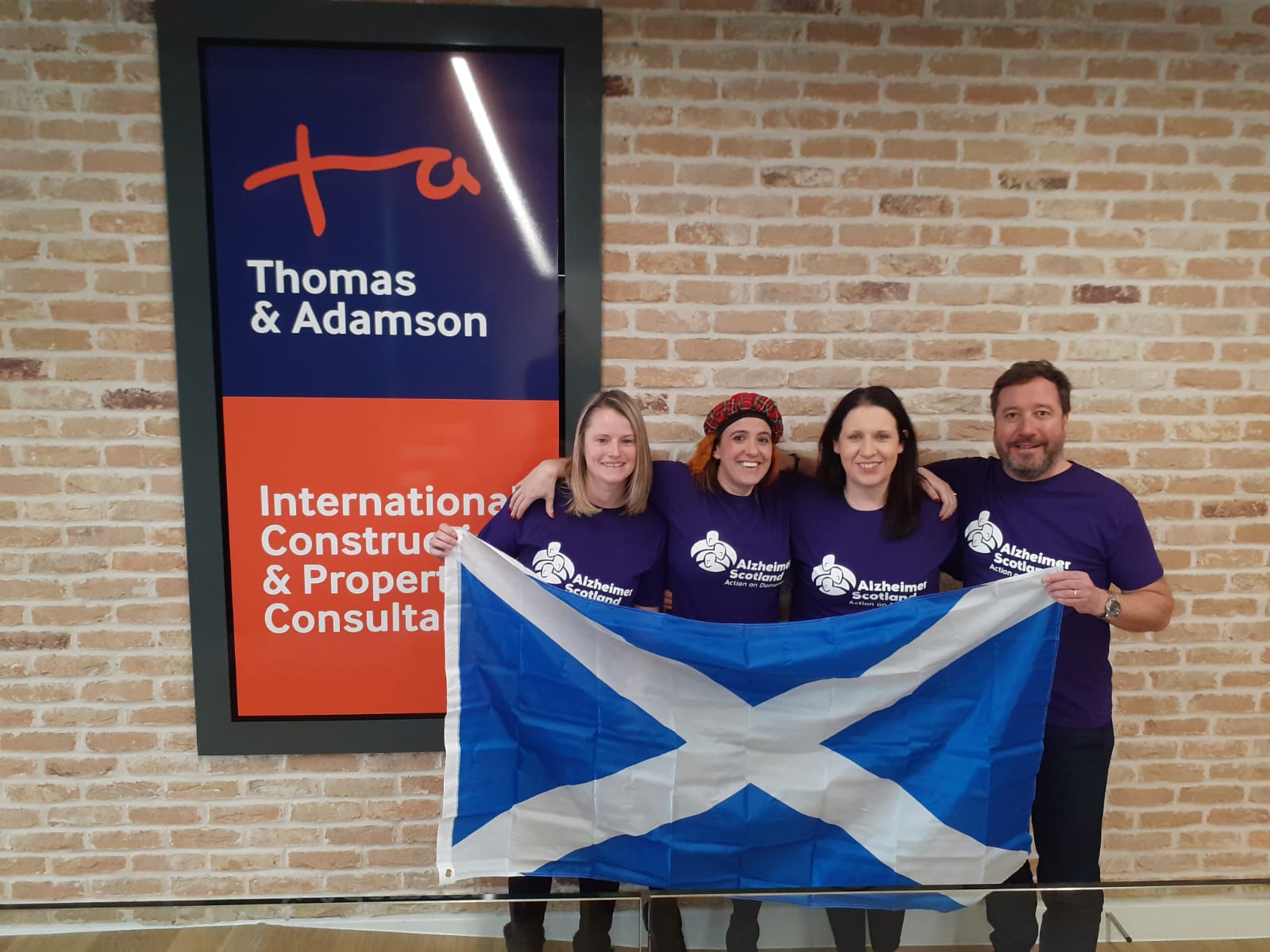 A 12-strong team from T&A will take on the Mighty Stride, setting off from Glasgow Green and finishing at the scenic village of Balloch, joining thousands of other fundraisers in the 23-mile charity walk.
The T&A Kilt-walkers have been training rigorously in between client site visits and project managing some of the city's most prestigious prime office accommodation to ensure they are Kiltwalk-ready, with the target of raising £2,500 for a charity close to their hearts.
---
---
With several staff members having dealt with the illness first-hand with members of their family, the team at Alzheimer Scotland have been working with T&A to raise awareness and understanding of the condition and how they can help support and ensure those affected are able to live as independent as possible, for as long as possible.
The Kiltwalk is the first of many fundraising events the team will take part in this year to support Scotland's national dementia charity.
A Team T&A Kiltwalker explains: "Dementia is not something I had any personal experience of until about 10 years ago when we began to notice changes in my dad. In our family's case it was a gradual deterioration, initially nothing major and the tendency was to ignore or explain away. However, as time went on, we began to realise that this was a very real disease that he was living with, and over which he had no control. We were on a journey which would only have one outcome - there is no cure.
"My response has been to learn as much as possible about the disease, to gain an understanding and some sort of explanation as to what was happening to my dad and to do what I could to support any research being carried out. I am now involved in a research programme at the University of Edinburgh which is part of the PREVENT project; a national research programme which will identify mid-life risks for later life dementia and early neurological changes. It's clear from research to date that changes to the brain start occurring far earlier in life than you may think, so any data from younger generations is invaluable.
---
---
"I know now that there are many kinds of dementia, and it affects people in many different ways; not just loss of memory but sometimes other things such as loss of speech and behavioural issues. These can be hugely isolating for the person and their families, and they need all the support they can get. Alzheimer Scotland offers support for all types of dementia, and I am grateful that we can support this hugely worthwhile charity."
Alastair Wallace, senior partner at Thomas & Adamson, added: "We have been dedicated in supporting Alzheimer Scotland since 2020, however due to the pandemic we have been limited in our fundraising ability. We're lucky to work with a great team who are hugely committed to supporting this fantastic charity, and we are looking forward to donning our walking boots and coming together to show our support for those affected with dementia. We would also like to thank Hamberley Care who have kindly sponsored our team and kitted them out with clothing on the day."
The team is also being supported with sponsorship from Hamberley Care Homes on the day.
Jayne Muir, home manager of Newton House in Newton Mearns, said: "We provide care and support for a number of people living with dementia, and so this is a cause very close to our hearts. This is a wonderful opportunity to raise awareness of this fantastic charity and their efforts to ensure that nobody in Scotland faces dementia alone, and we're thrilled to have been able to support this annual event."
---
---
The mass participation charity event will take place in Aberdeen, Dundee, Edinburgh and Glasgow, with a virtual version also going ahead to ensure the Kiltwalk is as accessible as possible. Every penny raised by Kiltwalkers is topped up 50% by The Hunter Foundation.
---