Two more councils sign up to shared buildings repairs app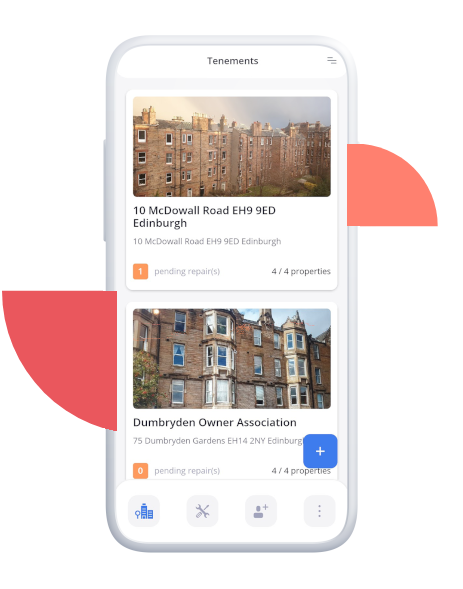 An app to help the owners of shared properties in Edinburgh repair their buildings has been so successful in its first year it is already being rolled out by two other local authorities in Scotland.
Developed by the City of Edinburgh Council with tech company Novoville, a new app launched in April last year has been helping more than 500 tenements with nearly 5,000 properties across Edinburgh in carrying out £700,000 worth of much needed repairs to improve their buildings.
The app has been so popular that Perth & Kinross and East Ayrshire Councils have announced they are launching it as well.
Born out of the Scottish Government's CivTech Accelerator programme, the app was designed to make it easier for residents living in shared properties to keep their buildings in good condition. It's attracted twice as many privately owned tenements in a year as the council usually deals with in that time frame.
---
---
The repairs carried out range from £50,000 for extensive roof repairs down to £200 for new door locks, through to £20,000 improving stonework, £5,000 repainting stairwells to £2,000 on new gutters. Around 150 trusted traders are listed on the app but you can use it with your own trader as well.
Councillor Mandy Watt finance and resources convener said: "Edinburgh is leading the way in this work in Scotland and it is great news that two other councils are now about to launch it in their area as well. Our Shared Repairs Team is doing a fantastic job helping people who live in shared buildings through the steps they need to take to carry out repairs to their properties.
"The app helps people take greater control of the process. It's very accessible and easy to use.
"Edinburgh has around 170,000 tenement flats and other shared buildings with multiple owners. It's great to see so many property owners already engaging with the app, as many of these buildings are in need of urgent repair.
---
---
"The feedback I'm getting is that without the app, some people say they wouldn't have had the confidence to approach neighbours and get the repairs done, or the process would have taken a lot longer due to communication breakdowns and uncertainties about the correct course of action."
Louis Daillencourt from Novoville said: "It's been a pleasure to work with Edinburgh proprietors in the last year to help them fix often longstanding issues, keep their buildings safe, and make them more comfortable. Thanks to their feedback, we've learnt a lot and invested towards making the app ever simpler to use.
"This year, we're progressing on multiple fronts. First, we're deploying in more local authorities, collaborating with their private sector housing teams to make the app available to more and more owners around the country. We're also continuing to work with consultants, architects and surveyors to ensure proprietors get the programme of work and maintenance plan their building needs. But in the wake of COP26, we're also working on an absolutely critical development: making energy-efficiency upgrades accessible through the app."
App user Julia Morrison said: "Truth be told, our stair is quite analogue - particularly older landlords! Despite my best efforts, I was only able to get a few folks signed up directly to the Novoville app. However, the app is designed so that you can use it with owners who don't want to sign up to the app directly. This means you can still use it to download a suite of template letters, organise your processes, and - most importantly - your payment collections.
---
---
"And for those that did sign up, it was a really smooth process and easy to use. Very few glitches/fixes for a new product. I work in digital communications and I know how rare this is, Novoville have done excellently! The best thing about the app was feeling really supported in doing something that felt quite difficult and that didn't come naturally to me. The team at Novoville had my back the whole time."
App user Lizzie Crawford said: "I started using the app for one property in a tenement block where I am the landlord, and now I've got all three of mine in there! It's much, much easier to look after the tenements where I own and let out a flat. The app is helping me create a bit more of a community feel in those blocks as well. I really recommend it to any proprietor. Apps can be daunting, but this is actually easy to use."
---