Two new directors appointed at WRC Recycling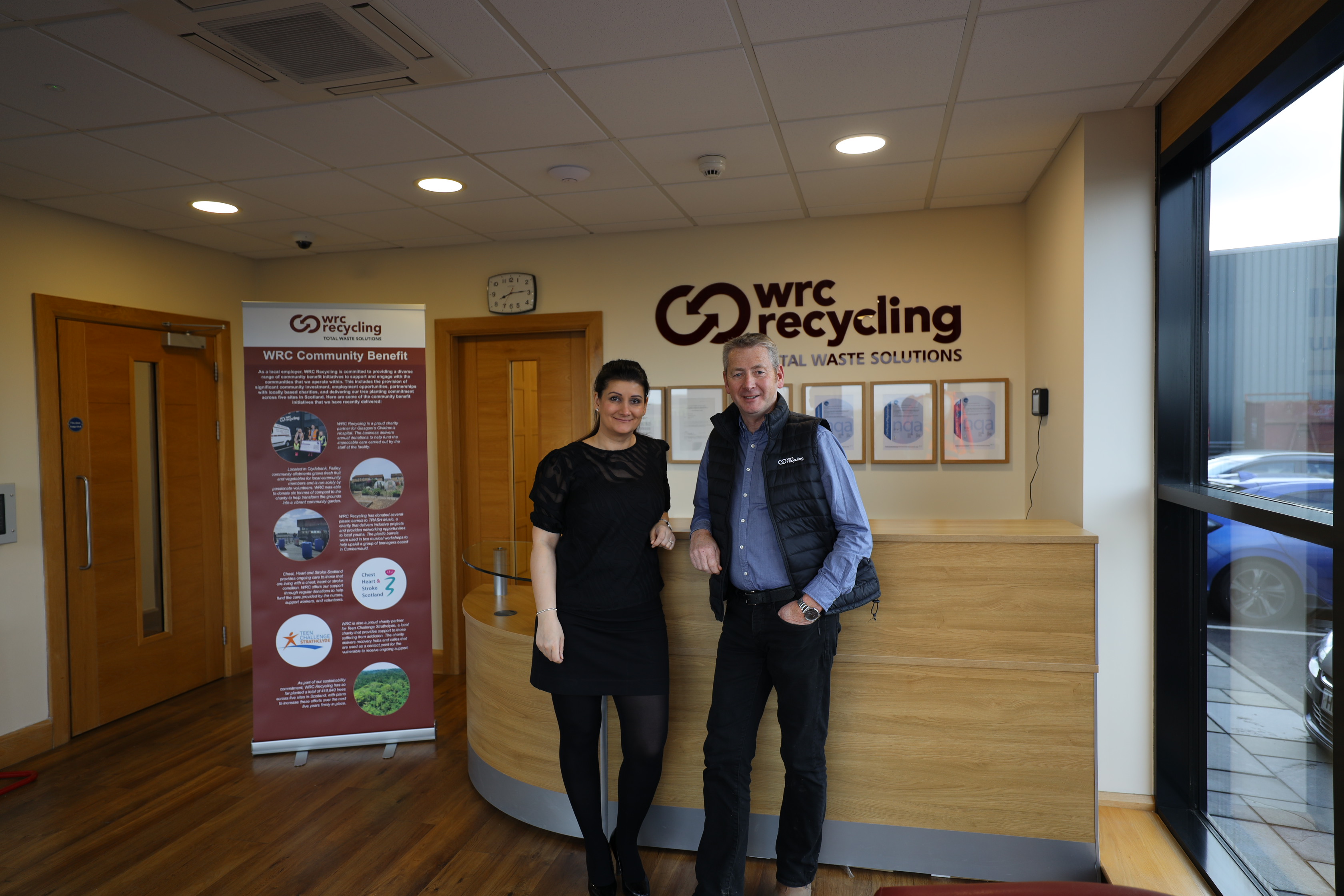 After a successful 2022, in which WRC Recycling opened the doors to a £4 million Material Recovery Facility (MRF) to bolster business performance, the business has put its mark on 2023 with the appointment of two new directors ahead of the firm's 25th anniversary celebrations this summer.
Since its inception in 1998, WRC Recycling has expanded into one of Scotland's leading providers of recycling and material recovery solutions for commercial customers across the country. The family-run operation has grown exponentially over the last five years, with staff figures increasing by 80% and the business now boasting an annual turnover exceeding £18m.
Appointed as commodities and operations director for WRC Recycling, Colin Blakely plays a central role in overseeing and managing the entire fleet of operations to ensure maximum productivity is continuously achieved. Since joining the business in 2010, Colin has been a key driver of several business improvements that have been catalysts in WRC's rapid growth journey.
---
---
In addition to Colin's appointment and after five years with the business, Andrea Scott has been appointed to lead the finance function at WRC Recycling in her new role as finance director. Previously WRC's financial controller, Andrea has a vast knowledge of the firm's finance function and has been a key player in producing WRC's positive financial results.
Looking ahead, Andrea will be instrumental in financial planning and will be responsible for evaluating and reporting on future business acquisitions to the board of directors.
The first directorships appointed outwith the Capper family, Colin and Andrea's new roles will be key to the internal decision-making process as it prepares for future expansion.
Colin Blakely said: "In my time with WRC, I have seen the operation transform into one of the most forward-thinking operations in the Environmental landscape which is a testament to the continual drive of the Capper family and their willingness to create a workforce of experienced professionals."
---
---
Colin will play a vital role in executing WRC's growth strategy to improve overall business performance and productivity.
He added: "I have enjoyed every minute of my time at WRC since joining in 2010. We have achieved a lot over the last thirteen years, and we project our success to continue in the years to follow as a result of our drive for innovation and recovery.
"Last year (2022) saw us open the doors to a £4m material recovery facility (MRF) which has revolutionised our internal operations and allowed us to assume a market-leader position in the recycling landscape. I look forward to seeing what we can achieve in the next few years as we adapt to major changes in Scottish regulations that put increased pressure on circular operations and material recovery."
Andrea Scott said: "I am delighted to be appointed as the finance director for WRC Recycling and would like to extend my thanks to Robert and the Capper family for their continued support throughout my time with the business. It has been extremely rewarding to watch the business grow at the rate it has over the past five years, and I look forward to being part of its promising future."
---
---
Managing director, Robert Capper, said: "Colin and Andrea's appointments are a huge step forward for the business as we continue to champion internal promotion and career advancement. Each of the new appointments brings with them skill sets that span operational performance, commercial awareness, and accountancy, which will be invaluable in aiding our strategy for continual growth.
"I am delighted to welcome Colin and Andrea into their new roles ahead of our 25th year anniversary this summer and wish them every success in their future careers at WRC Recycling."
---