Developers top out Holland Park build-to-rent neighbourhood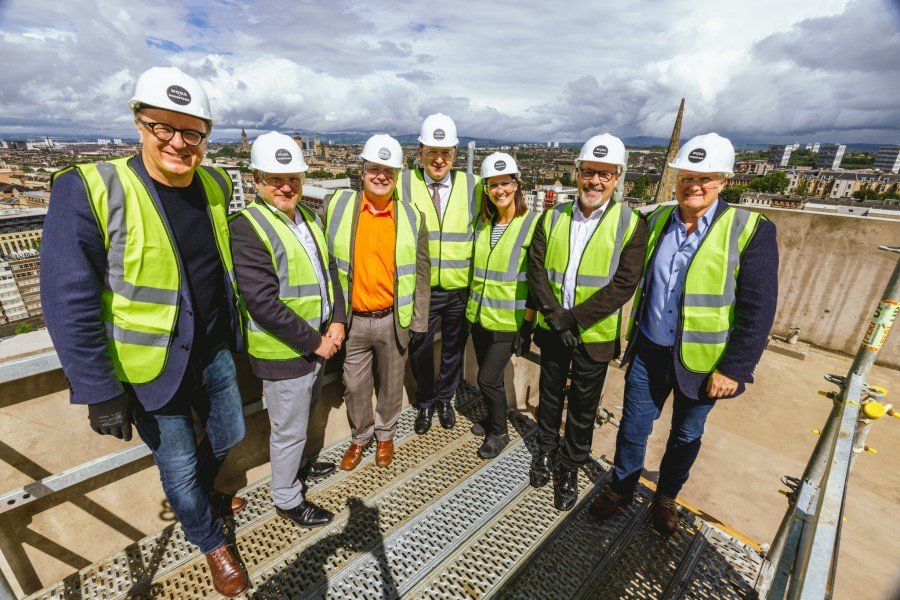 Developer and operator of rental communities Moda Living and contractor Robertson Construction have marked the topping out of the final block of Moda, Holland Park, a new build-to-rent neighbourhood in Glasgow city centre, with a celebration of the city's artistic heritage.
Stakeholders and key local press attended a special breakfast event to revel in the latest Moda Living scheme, before moving up to the top of the Holland Park building and witnessing the milestone topping out ceremony.
Moda marked the topping out ceremony with a true celebration of Glasgow's arts heritage. Renowned local artist and Glasgow School of Art alumni Ida Henrich live drew a stunning interpretation of Moda, Holland Park, bringing the neighbourhood to life in digital form whilst guests attended the special breakfast event. The developer operator also cemented an artists' paintbrush into the top floor of the neighbourhood to ensure Glasgow's artistic heritage will always be a physical part of the neighbourhood.
---
---
Converted from the former Strathclyde Police headquarters, Moda, Holland Park will accommodate a mix of 433 high-tech studio, one, two, and three-bedroom apartments for rent and will be home to a new community of nearly 1,000 people spread across four buildings and ranging from 6-22 storeys in height.
Designed to enhance residents' wellbeing, the neighbourhood will also include a host of best-in-class facilities and amenities including a 24/ gym and fitness centre, private dining rooms, cinema and gaming rooms, sky lounges with panoramic views over Glasgow as well as roof terraces with green space and BBQ areas. Smart technology installed throughout the building will monitor its sustainability performance and allow Moda and its residents to ensure they are running the neighbourhood as sustainably as possible.
Moda, Holland Park will also target three-star Fitwel accreditation, the highest level of recognition from the world's leading wellness certifier. With four Fitwel-certified buildings open to date, Moda is the most Fitwel accredited residential operator in the world. The four buildings are also certifiably run exclusively on energy from renewable sources, which Moda, Holland Park will also target.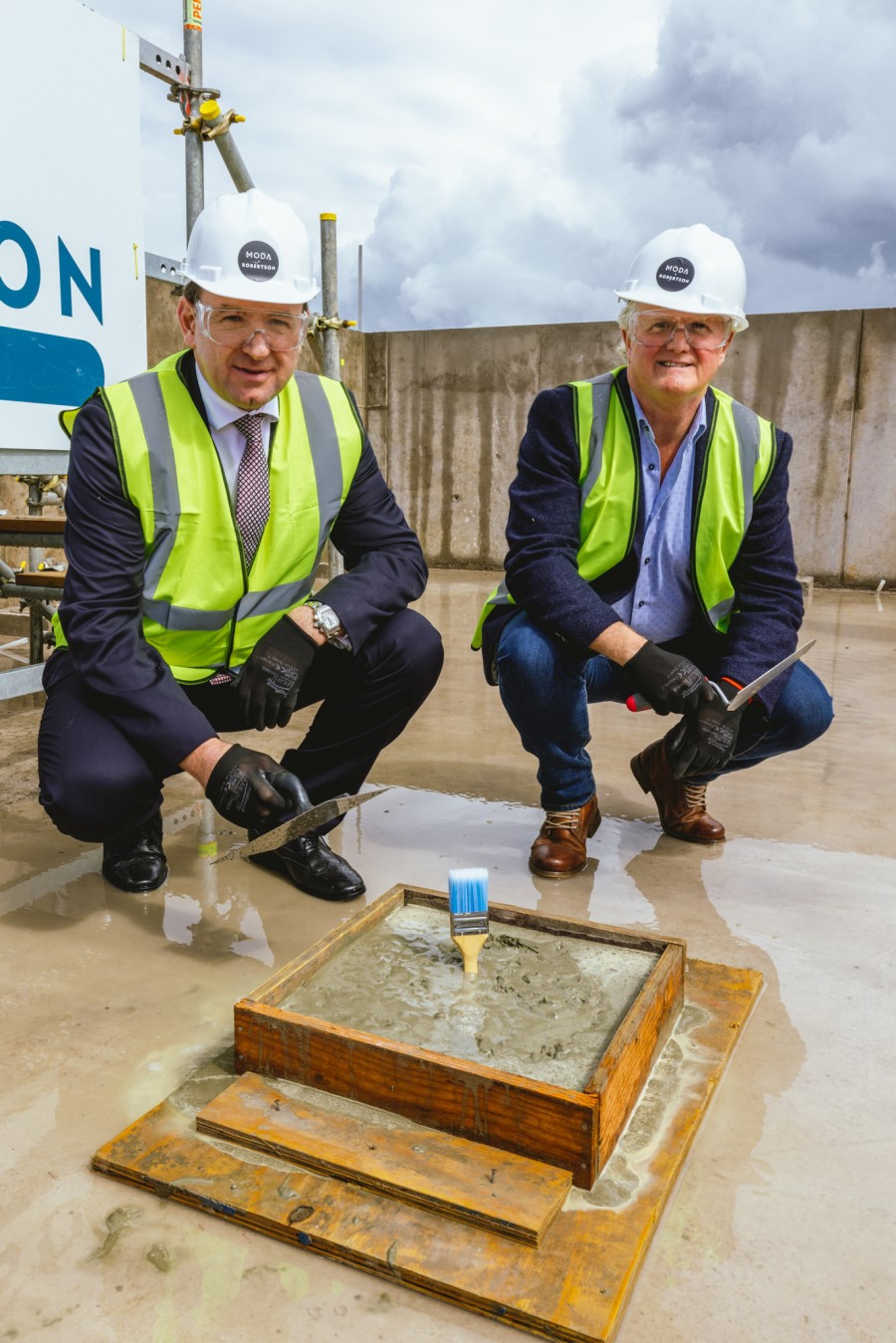 ---
---
New public realm, green space and community amenities will open up the neighbourhood for all so that Moda, Holland Park can be truly integrated to the surrounding communities. Shops, bars and restaurants at ground floor level will encourage increased footfall to the area, creating a new must-visit city centre destination and driving increased footfall to the Pitt Street area.
As the long-term operator of Holland Park, Moda is committed to integrating its neighbourhood into the surrounding area; the operator will prioritise boosting the skills, employment and education in its surrounding communities to contribute to the long term economy of Glasgow's city centre. To date, Moda has committed more than £18m directly to community projects in the areas around its neighbourhoods.
The neighbourhood's contractor Robertson currently has 123 local people working on the site, and has completed more than 60 weeks of apprenticeship training. It has also dedicated more than 132 hours to supporting young people into employment, and has injected almost £40 million into the local supply chain through using local services, providers and contractors.
When the neighbourhood is operational, Moda will continue to prioritise employing people from the local area and partnering with independent businesses and suppliers. Moda, Holland Park will open in 2023.
---
---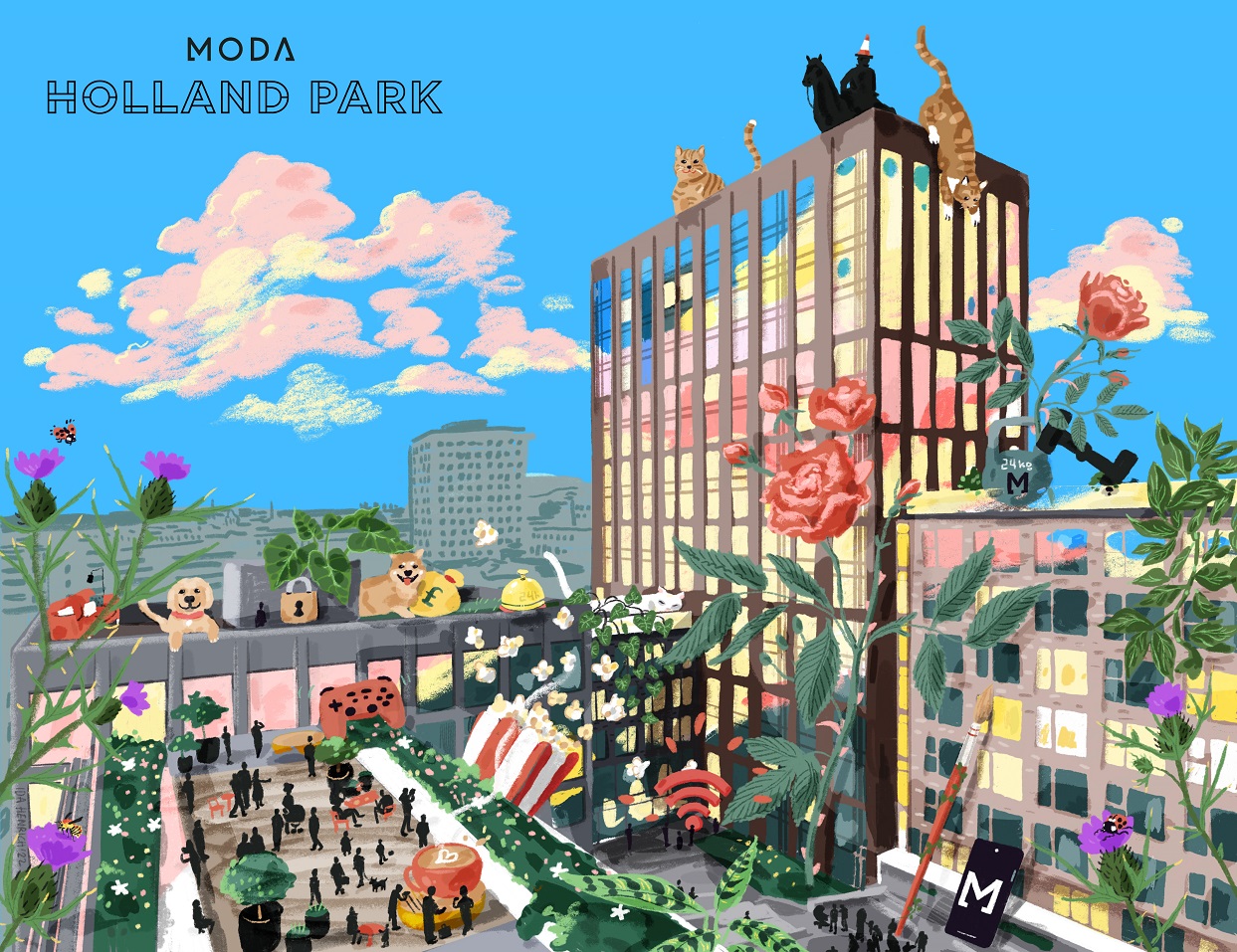 Tony Brooks, managing director at Moda Living, said: "We are proud to have topped out Moda, Holland Park, in an exciting milestone for our first rental neighbourhood in Glasgow.
"We were particularly thrilled to welcome a number of senior members of Glasgow City Council to the event. We've been working closely with the council for several years to deliver a neighbourhood that regenerates not just the former police HQ but the areas around us, so to have them celebrate this landmark moment with us was testament to how we have worked collaboratively to realise our shared vision."
Annemarie O'Donnell, chief executive of Glasgow City Council, added: "Redevelopment is really important, particularly in the city centre, because it is not only a catalyst for regeneration; but creates an opportunity to rethink what parts of our city are for and how they add value to the wider community. In this case, we have been very clear that we want to see more people living in the city centre in the future – in addition to the established retail, leisure and hospitality sectors that people expect. Moda is playing a big part in that process of reimagining and revitalising the city centre. They have made a long-term commitment to the city and I'm very happy to see that continue."
---
---
Elliot Robertson, chief executive, Robertson Group, commented: "It was our pleasure to host the Moda team and guests at today's event. Moda's commitment to enhancing and creating local communities starts long before the first residents take occupancy and as a responsible business our responsibility to the communities where we work is equally important. Our work at Holland Park has ensured local employment opportunities alongside additional economic benefits delivered through local supply chain and suppliers. Today marks a further step in our close working relationship with Moda as its first Glasgow neighbourhood takes further shape."
---