First phase of affordable housing in Montrose handed over to Hillcrest
The latest significant milestone in the regeneration of Sunnyside Estate has been achieved with the transfer of the first affordable units to Hillcrest Homes.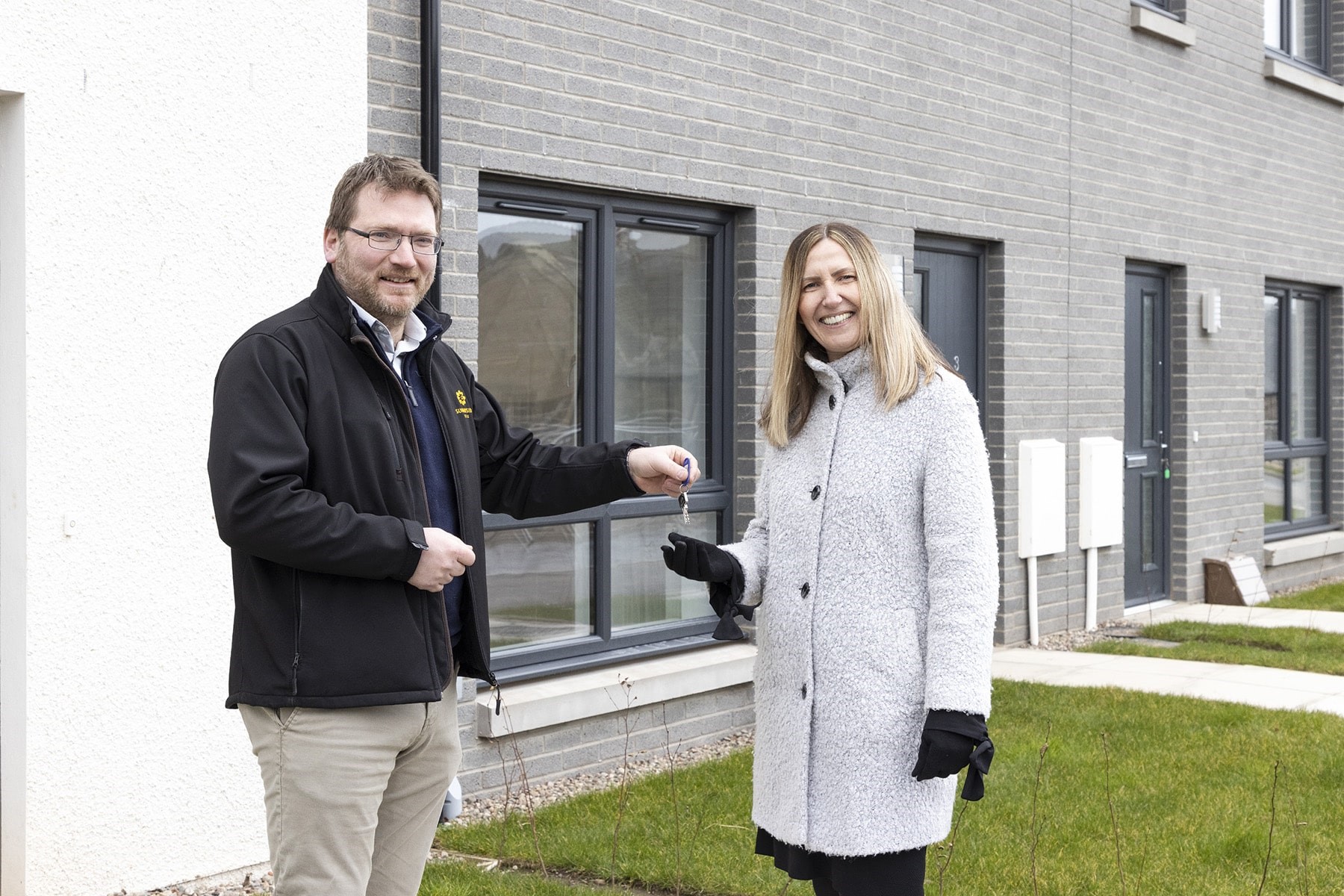 Representatives from Sunnyside Estate and Hillcrest were joined by the Scottish Government to mark the occasion of the handover of the first 12 affordable housing units.
These 12 homes are the first properties completed of a first phase of 35 affordable homes and will comprise eight houses and four cottage flats.
---
---
Work on the £4.5 million first phase was started in December 2019 in partnership with the Scottish Government, which contributed over £2.6m towards the project.
The homes offer a range of property types, including terraced houses, flats and unique flats developed within the hospital's former Water Tower, complete with specially adapted wheelchair accessible properties. The homes offer one, two and three bedrooms, providing good quality housing for a range of household needs.
A second phase of homes is already underway, which will deliver an additional 59 homes and is set to be completed in early 2024.
The second phase also includes the renovation of the site's former Ward Building into a number of apartments and terraced cottages. Both phases of 94 homes in total will be for social rent.
---
---
With energy bills set to rise dramatically, the new properties also benefit from a range of energy-efficiency measures such as gas central heating, solar panels and high-performance insulation.
Amounting to an overall £12.5m investment by Hillcrest and the Scottish Government, both phases include the retention and extensive refurbishment of two of the original listed buildings – the Category C listed Water Tower and the Category B listed Ward Building, dating back as far as the late 1880s. The first tenants are expected to move in by the end of March.
Sunnyside Estate is also working in partnership with Angus Council to provide new-build shared equity properties on the development, under the government-backed New Supply Shared Equity Scheme.
A spokesperson from the Scottish Government said: "We want everyone to have a safe, warm affordable home that meets their needs. I am delighted that we've been able to provide over £2.6m funding to support the delivery of this first phase of 35 new high-quality homes for social rent on the historic site of the former Sunnyside Royal Hospital. These first 12 homes will help meet the housing needs of the people in the Angus area as well as making great use of this brownfield site."
---
---
David Stewart, director of Sunnyside Estate Ltd, commented: "We are delighted to be handing these much-needed affordable homes over to Hillcrest Homes, who we have been working in partnership with and which marks the latest chapter in the development of Sunnyside Estate.
"In what has been an unprecedented and particularly challenging time for us all in relation to the difficulties posed by the pandemic, which, coupled with spiralling material costs, supply issues and the skills shortage, has made the achievement all the more satisfying.
"We are very proud of our local team who have worked extremely hard and diligently throughout this time, to provide a high-quality residential development, not just for Hillcrest but also for our clients in the Orchard and Woods developments in the Estate.
"We feel fortunate to be part of transforming this site back to its former glory as a prominent feature in the local community. The development continues to create and sustain local jobs, both directly and through the wider supply chain, benefiting companies around Angus and beyond."
---
---
Fiona Morrison, deputy chief executive, Hillcrest Homes, said: "It is fantastic to be taking handover of the first of the new homes and we look forward to welcoming the first of many families moving into what is truly a very special place.
"With welcome funding from the Scottish Government, we have been able to support the delivery of housing for this prestigious and unique project. We look forward to continue working together with the Scottish Government and our local authority and developer partners to deliver many more much-needed homes across Scotland."
Forming the centrepiece of the Estate is the impressive Category B listed Mansion House, which will be converted and refurbished to the highest standards into spacious luxury apartments and townhouses. Sunnyside Estate has donated part of this building, the original Recreation Hall, to Montrose Community Trust who will transform it into an exciting multi-use space for the local community.
Peter Davidson, chief executive, Montrose Community Trust, added: "We are extremely grateful to Sunnyside Estate for this donation. Together with a group of local volunteers we are now working to create a community hub that offers a range of facilities and services that can be enjoyed by all age groups. Consistent with our Trust's other activities and projects, the aim is to create a hub that helps improve the physical and mental wellbeing of all who use it."
---
---
The group of local volunteers consists of a diverse mix of individuals from professions including healthcare, elderly care, finance, legal, communications and marketing. Plans are now underway to secure funding for the project with an anticipated opening in 2025.
The development is set in magnificent 64-acre mature estate grounds and will form part of a community of around 400 new homes to be built.
Jaclyn McKenna, Sunnyside sales manager, remarked: "In what has been a very exciting time for Sunnyside Estate, our first clients took the keys to their new home in March 2021 in the Orchard, marking another significant milestone in the development. The Orchard and Woods developments are now well established, presently with 15 homes now completed and occupied by a mixture of families, couples and young professionals."