Gavin Hastings tries his hand at new role within the Scottish construction sector
Rugby union legend Gavin Hastings OBE talks to SCN about his playing career, being a qualified surveyor and his new role as a business consultant for The Shore Group in Scotland.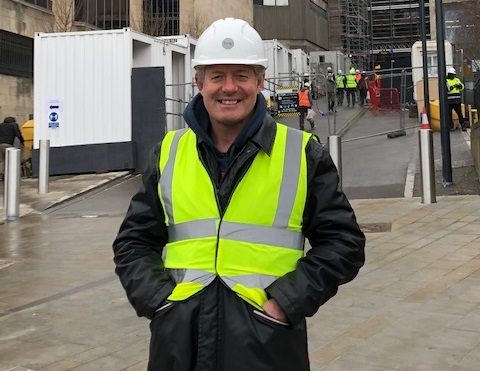 For the uninitiated, and possibly SCN's younger readers, Gavin Hastings is recognised as one of the outstanding rugby union players of his generation winning 61 caps for Scotland and captaining the side on 20 occasions.
During his career, he played for Watsonians, London Scottish, Cambridge University and Scotland. He toured with the British & Irish Lions to Australia in 1989 and also four years later as the Lions took on the All Blacks in New Zealand, this time as captain. At the time of his retirement, Gavin had won more caps than any Scottish player and held the national point-scoring record.
---
---
Having been friends with The Shore Group's senior business lead Chris Ransom since meeting as parents watching their sons play rugby together, Gavin was asked to follow former English rugby union player Simon Shaw in becoming a brand ambassador for The Shore Group as it was thought that he could add value to the company's business plans.
Now as a business consultant, Gavin is looking to use his contacts and knowledge of the construction industry to help launch the company into Scotland.
"At The Shore Group we help construction companies source temporary labour," he explained. "This is primarily blue-collar workers, though we do supply white-collar workers too, as and when construction jobs require excess labour to get the job done. Being a surveyor a number of years ago, I still keep in touch with a number of my surveying friends and, given that I have been around for quite some time now, I have managed to build up a wide range of contacts."
He added: "Chris Ransom asked if I'd be interested in helping him get Scotland up and running. We've had an office in Glasgow for more than five years and its probably fair to say we haven't got up to any sort of speed in terms of The Shore Group and their prominence in Scotland but we're hopeful that we can get some traction when things get back to some sort of normality and start building the business properly."
---
---
Understanding the transient nature of the construction sector is key to the company's route to success and Gavin is keen to hit the ground running when current restrictions ease.
"In the middle of winter when conditions are not exactly conducive to working outside, particularly in Scotland, then its tough," he said. "But of course, coming into Easter time and onwards then there's a lot more going on and people are looking to get jobs done. So we need to build up our labour force here in Scotland, and need to build a network of contacts and that's essentially what I am here to do."
Gavin's involvement with the construction industry doesn't begin here. He gained qualifications in surveying almost 30 years ago and has a history of working in commercial property in Edinburgh, Glasgow and London.
"Property is always something I've been interested in," he explained. "Back in the day I was maybe interested in being an architect but I was drawn to surveying and I enjoy the people that work in that field. The surveying profession is very interesting and diverse and while its been a long time, in many respects, since I've worked in the profession, I still retain a lot of friends and contacts in the surveying world, some who have moved on to bigger things with big companies in the sector. So its a question now of hopefully me using my name and influence to knock on a few doors."
---
---
Knocking on doors is one thing, but Gavin knows you've then got to back that up with the quality of workforce.
"When we say we're going to come in and help provide a solution to a challenge or a problem then we have to make sure we deliver it and it's no different whether you're doing that on a construction site or you're doing it in any other piece of work," he said. "I like to think that my name and reputation go before me and with the confidence I have in the ability of The Shore Group to deliver then I have no doubt that we are in a good place to go the distance in Scotland and move forward."
Having played rugby union before the game's evolution into professionalism in 1995, Gavin said he was never faced with a tough decision between sticking to commercial property or continuing with the sport.
"Not at all," he explained. "I actually played rugby at an amateur level so I always had a job. I went to university then started working while playing rugby at weekends and it just so happened that I was picked for my country. Everyone who played then was back in the office again on a Monday morning after playing in front of 50,000 or 60,000 people at the weekend. That's just the way it was for me at the time I played my sport so I've no regrets because I've been used to working my whole life."
---
---
Not that many would regret the playing career enjoyed by the Edinburgh-born fullback.
"Looking back we used to go on tours just about every year from playing the World Cup in South Africa to touring both New Zealand and Australia with Scotland and the British & Irish Lions," he recalled. "Going away for five or six weeks, or eight weeks in some instances, and just having a laugh with your mates, it was just a great big adventure. We had smiles on our faces, we trained hard, we worked hard and occasionally we managed to win a rugby match as well. In the middle of lockdown, I was getting a bit bored so I found a lot of old photographs and I enjoyed looking back through them. Memories are deeply personal to all of us and what's in them are important family, friends and experiences and for me, that's what it's all about."
After his retirement from rugby, a transition of sorts was required when Gavin made the unusual move into the world of American Football, culminating in winning the World Bowl in 1996 at Murrayfield with the Scottish Claymores. This is a personal memory of SCN's very own editor who attended the game as a fresh-faced 12-year-old, so the opportunity to mention it to the man himself was too good to turn down.
"I saw it as a challenge," he admitted, graciously. "The NFL had embarked on getting half a dozen teams in Europe up and running. It was just after I retired from rugby and I basically had set myself up in business and there was an opportunity to work with the organisation and get paid for playing the sport. I don't consider myself to have been a professional American Football player because essentially I was getting paid just to lend my name to the organisation and be involved in the marketing, but the way things panned out we won the championship that season so we were quite lucky."
---
---
With a number of business ventures and other interests to keep him occupied since hanging up the boots altogether, Gavin explained that his position at The Shore Group is not full-time, but one that he is very much looking forward to.
"I tend to get involved in something because of the people that I'm working with," he revealed. "And Chris Ransom and Lewis Yorke-Johnson (one of three founding members) fit into that category. If no-one has heard of us then the phones at The Shore Group offices are not going to ring so we just need to invest some time and effort to go out and meet people, explain what we're capable of doing and when we get the opportunity then making sure we deliver."
"Relationships are key in any walk of life and in the construction industry, it's no different," Gavin concluded. "With the new offices, The Shore Group has made a commitment to Scotland and they are keen to make their presence felt here. Their intention is to build up the team here in Scotland over the next two or three years and if I'm part of that plan then it'll be good for me as well."
Contact Gavin via LinkedIn with any business enquiries.
---