Gavin Wyatt: Winning CIOB Scotland's Graduate of the Year Award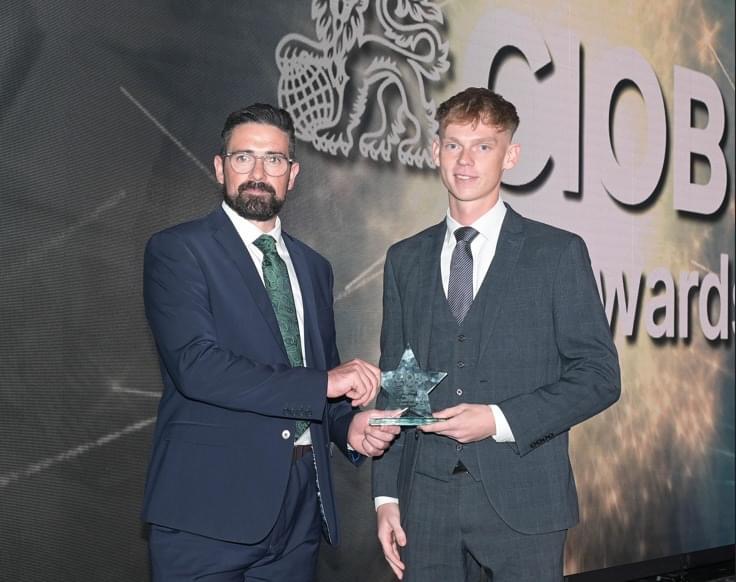 Gavin Wyatt recently graduated from Glasgow Caledonian University with a BSc. Hons in Construction Management and is now an Assistant Project Manager for Thomas Johnstone Ltd. Earlier this month he won the CIOB Scotland Graduate of the Year Award and tells SCN what this recognition means to him.
I can trace my ambition to work in the construction/engineering sector to my early childhood, and long afternoons watching my uncle's small digger track across his croft, while I waited to be offered the chance to drive it home to the shed. This ambition was further fueled during a schoolwork placement with a national civil engineering firm, at a large Highland wind farm, where I was afforded the opportunity to drive a slightly larger piece of plant - an 18-tonne dumper truck!
During school and university summer holidays, my interest was extended beyond "big trucks" to the finer details of construction as I worked for a local joiner/ contractor. Much to my delight, he also undertook some groundwork – which involved more dumper driving, albeit on a much smaller scale.
---
---
On leaving school, I was attracted to the Construction Management course at Glasgow Caledonian University, largely because it offered strong industry links and the opportunity for practical experience in the form of a 6-month construction industry placement. As a result of my placement with Thomas Johnstone Ltd., a leading high-quality fit-out building contractor, I was offered a full-time role with the firm, contingent on successful completion of my degree.
During the final 18 months of my full-time course, I worked with the firm 3-4 days weekly. While sometimes finding this challenging, it enabled me to experience the real-world application of my academic learning. From my own experience, as an operative and as a management trainee, I would suggest that prospective built environment students seek as much practical experience as possible, prior to, or during, their studies, as it gives you a greater appreciation of and respect for the workforce, as well as a practical context for academic study.
On finishing my degree this summer, I expressed an interest in further study to my course leader, Mike Galbraith, who encouraged me to apply for the LLM in Construction Law at Strathclyde. It was during this time that he nominated me for the CIOB Graduate Award. While I had no expectation of being selected, being nominated was itself a pleasant surprise. On beginning to work full time, the nomination was pushed to the back of my mind until I was contacted by the CIOB, who informed me that I had been shortlisted for the award. While again I was very pleased, I attempted to manage expectations by not mentioning it to anyone at work. However, I felt somewhat more pressure on the shortlist being released online and being seen by my colleagues!
I was privileged to attend the awards lunch with my course leader, Mike Galbraith, and two of my university lecturers, Siobhan Morrison and Ian Trushell. I was also encouraged by the attendance of my boss, Campbell Ross. Having been content to reach the finals, I had gone to the event with the aim of simply enjoying the experience. However, as the day progressed, and I became aware of the standard, professionalism and achievements of my fellow nominees and other category winners, the significance of the award really began to sink in, and I felt very honoured to receive it. At the event, I was also very impressed to hear the moving accounts of the work of CIOB Assist - an organisation of which I was previously unaware.
---
---
Gaining the award has given me increased confidence and encouraged me to continue my academic and professional development, alongside my current role. I find one of the most satisfying aspects of my job is the sense of being useful, and being part of a team, which delivers a quality finished product to the end user. While sometimes a challenging process, the sense of achievement and the people you meet along the way make it all worth it.
Being a student member of the CIOB has motivated me to begin considering my professional development while still a student, through attending CIOB events and talks by industry professionals. Going forward, I envisage the CIOB as a valuable platform for driving positive change within the industry, for learning, and networking with like-minded individuals. I see working towards CIOB chartership as providing a valuable framework and benchmarks for self–evaluation as I continue to learn on the job.
---