Glasgow bridge wins prestigious global engineering competition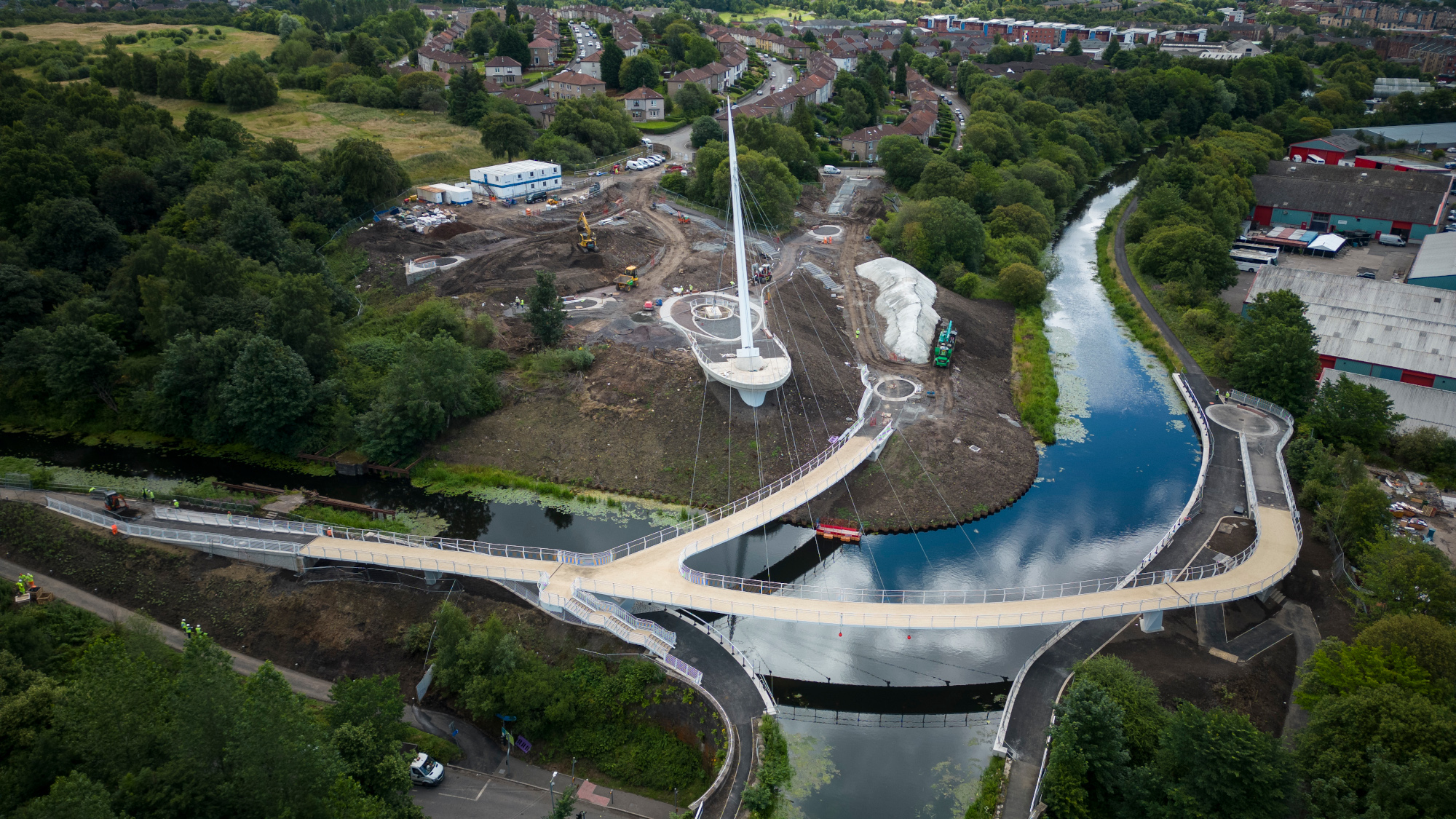 The Stockingfield Bridge in north Glasgow has won the 2022 Institution of Civil Engineers (ICE) People's Choice Award, which recognises civil engineering projects that have made a positive impact on their local communities.
The two-way spanning cable-stayed pedestrian and cycle bridge opened earlier this month and took 21 months to complete at a cost of £14 million. It connects communities of Maryhill, Gilshochill and Ruchill on either side of the Forth & Clyde Canal for the first time since 1790.
It will allow pedestrians and cyclists to cross the canal without leaving the towpath, avoiding a potentially dangerous road tunnel. It also forms the 'missing link' in the National Cycle Network which follows the canal towpath, offering a traffic-free route between Glasgow and Edinburgh.
---
---
ICE Scotland director Ben Westland said: "The ICE People's Choice Award is a great opportunity to showcase outstanding civil engineering projects and for the wider public to learn more about what we do.
"Civil engineers are often the unsung heroes behind schemes that have a positive impact on local communities and Stockingfield Bridge is certainly one of those – linking communities again after more than 200 years. Any of our shortlisted projects would have been worthy winners and thank you to everyone who voted."
The team behind this winning project included Transport Scotland; Sustrans; Scottish Canals; Glasgow City Council; Balfour Beatty; Scape; SH Structures; Jacobs; and Fairhurst.
Richard Millar, Scottish Canals chief operating officer, said: "We are delighted that Stockingfield Bridge has won the ICE People's Choice Award. To win against such a strong field of projects from across the world is a huge honour for everyone involved, but this is even more special to us as it recognises the community impact of this project. We would like to thank everyone who has voted for this inspirational structure.
---
---
"Stockingfield Bridge was created from a shared vision to reconnect three communities divided by the Forth & Clyde Canal for over 200 years, and to deliver the final missing link in the national cycle network, providing a safer off-road route from Glasgow to Edinburgh.
"Not only have we achieved this, but in working closely with the local community we have addressed issues that concerned local people incorporating ideas around lighting, accessibility, and layout.
"We have introduced new, fully accessible, green spaces for people to explore and enjoy, knowing the health benefits safe outdoor places can bring, and we have galvanised a network of community groups and volunteers who are creating eight major public art installations for visitors now and, in the future, to enjoy.
"We would like to thank Transport Scotland, Sustrans and Glasgow City Council for funding this important project and all members of the community, who have and continue to, contribute to Stockingfield Bridge's success."
---
---
Karen McGregor, Sustrans Scotland director, said: "Stockingfield Bridge is a remarkable achievement, and Sustrans is delighted to see the community impact of the project recognised with the People's Choice Award.
"Connecting communities with safe and accessible walking, wheeling, and cycling infrastructure unlocks so many benefits for everyone living and working there.
"Stockingfield Bridge really demonstrates the transformative impact of investing in active travel and the value of working with our communities to make these projects a reality.
"Sustrans would like to thank our funders at Transport Scotland, Scottish Canals, all the project delivery partners and the wonderful communities of Maryhill, Gilshochill and Ruchill; without whom the project would not have been possible."
---