Glasgow makes changes to Avenues programme in light of external pressures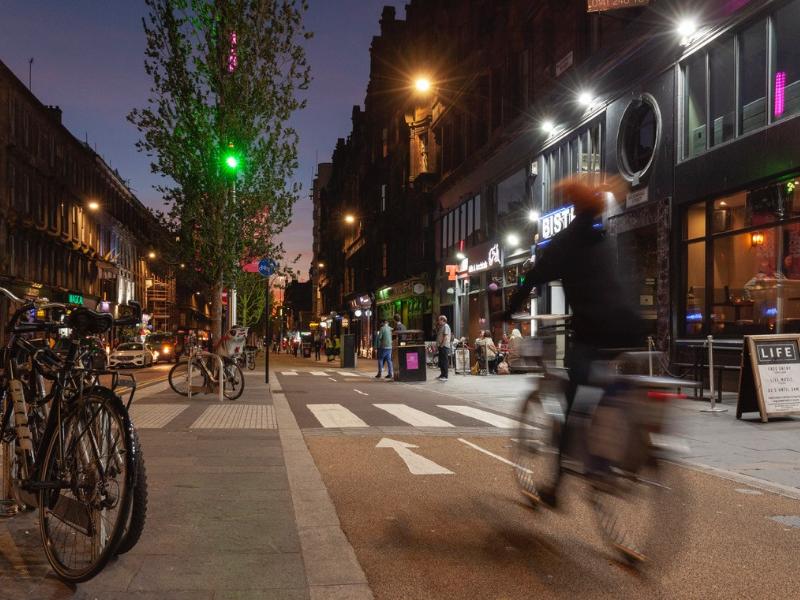 The challenging set of circumstances facing many projects as a result of Brexit, the pandemic and the war in Ukraine has resulted in changes to the Avenues programme in Glasgow, an update to city councillors has revealed.
Funded by the Glasgow City Region City Deal, the Avenues programme aims to transform 17 key streets in Glasgow's city centre, introducing a network of pedestrian and cycle priority routes.
The Avenues Plus programme will see the development of a series of high-quality walking and cycling links with communities on the fringes of the city centre, featuring cycling storage hubs and programmes to encourage the use of these links, bringing health, social and environmental benefits to Glasgow. The Avenues Plus programme is funded by Sustrans.
---
---
The latest detail on the progress of the programme revealed that the challenges have led to increased costs in labour and materials, a shortage of materials and longer delivery times, and a rebalance of risk when developing construction contracts.
Measures are being taken to address these challenges, councillors were told.
The pilot project for the Avenues programme was Sauchiehall Avenue between Charing Cross and Rose Street - completed in 2019 - and the rest of the programme is as follows:
Block A - Argyle Street West, Argyle Street East and Dixon Street/St Enoch Square; Cathedral Street; North Hanover Street; The Underline Phase 1 (Cambridge Street) and The Underline Phase 2 (New City Road); and Sauchiehall Precinct.
Block B - Holland Street/Pitt Street; Elmbank Street/Elmbank Crescent; Stockwell/Glassford Street; Broomielaw/Clyde Street; and High Street.
Block C - George Square; St Vincent Street/St Vincent Place and Cochrane Street; West George Street and George Street; John Street; Hanover/Miller Street; and Dundas Street and Dundas Lane.
Block D - International Financial Services District (IFSD) west; and Hope Street.
Block S (Avenues Plus) - South Portland Street; Dobbie's Loan; Duke Street and John Knox Street; and Cowcaddens Road.
With regard to Block A, the committee was told that The Underline Phase 2 (New City Road) has been placed on hold until the ongoing M8 emergency works are complete, and that Cathedral Street has been placed on hold until the outcomes of the Transport Strategy and subsequent City Centre Transformation Plan (CCTP) have been approved. Design work for Argyle Street West and Argyle Street East is now nearing completion, and it is expected that construction tender packages for both of these projects will be ready for publication around the turn of the year. The Underline Phase 1 (Cambridge Street) and Sauchiehall Precinct have been developed as a single package of works, with design work nearing completion and it is expected that a construction tender package will be ready for publication in late 2022. Design Work remains ongoing for North Hanover Street.
---
---
In Block B, the Holland Street/Pitt Street construction package is currently out to tender, and it is expected that a preferred bidder will be identified late-2022 and that construction will commence in early 2023. The design work for Broomielaw/Clyde Street will start in mid-2023, and in late 2023 for Elmbank Street/Elmbank Crescent and Stockwell/Glassford Street. The design works for High Street have recently been instructed, with the development of a concept design expected in early 2023.
For Block C, design engagement is now complete, and it is expected that a concept design for Phase 1 (George Square, John Street, Hanover and Miller Street, a section of North Hanover Street and Cochrane Street) will be submitted to the Avenues Board for approval in November 2022. Design work on all remaining Block C Avenues will commence in the middle of 2023.
The only other update was related to Block D, with a procurement exercise to secure the services of an external consultant to deliver that block D scheduled to commence in late 2023, subject to a review of the full Avenues Programme to be commenced following the latest tender exercise.
Councillor Susan Aitken, leader of Glasgow City Council and chair of the Glasgow City Region Cabinet, said: "The Avenues and Avenues Plus programmes will transform streets in and around the city centre, making a cleaner, greener and more accessible and attractive environment. The next phase of the programme will see the beginning of design and construction work on a number of Avenues - projects that will bring real benefit to the city centre."
---