Glenigan launches inaugural Sustainable Construction Report
Analysis of how the UK construction industry is responding to the drive towards Net Zero by 2050 has been outlined in the inaugural Sustainable Construction Report by insight and intelligence provider Glenigan.
'Build Back Greener: Challenges & Opportunities for UK Construction' establishes a barometer, indicating positive steps already made and forecasting future progress towards a carbon neutral industry.
Launched against the context of the upcoming COP26 Environmental Summit (31st October – 14th November 2021), the research goes to the heart of the green agenda, not only showing what the industry needs to act upon, but also how much businesses across the sector stand to benefit.
Meeting Demands
---
---
Adopting a root and branch approach to decarbonisation will need to commence with an open and honest audit of current energy generation capacity. Recent shortages have shown the fragility in existing infrastructure, implying a need to redouble efforts to match supply with escalating demand (set to rise 50% by 2035, and double by 2050).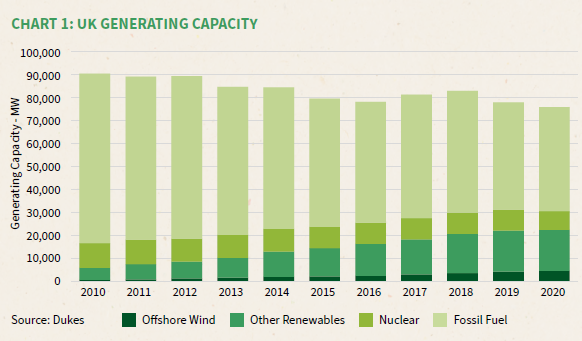 The last decade has seen a rapid growth in green electricity which in 2020, accounted for 30% of the UK's generation capacity. Offshore wind has been the largest beneficiary with capacity rising fivefold since 2010.
Construction data supports this surge in offshore wind, further reflecting UK Government ambition of quadrupling offshore wind capacity to 400w by 2030. Looking at this increase in greater detail, the value of offshore wind projects starting on-site has grown sharply over the last two years. As the chart below illustrates, the number of renewable projects has shot up by 141% in 2021 over 2020, and 583% compared to the start of the decade.
---
---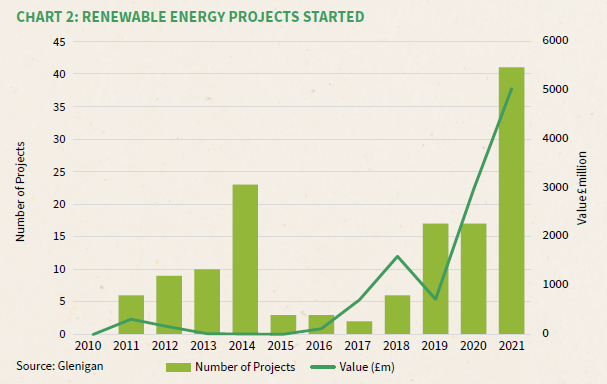 It's big business too, with the value of renewable projects started during 2021 on track to total £5 billion, a 70% rise on last year and six times higher than 2019.
Despite this, other renewable categories such as tidal range and solar PV remain less explored, and it's clear, following recent events, more investment will be needed to improve energy security.
Transforming Task
---
---
An area of demand set to significantly increase over the next decade is electric vehicles, for both business and personal use. This is complemented by a concerted, international drive to phase out ICE transport by 2050. However, there are fears that, as more EVs come online, the grid will struggle to cope and charging infrastructure capacity won't keep pace.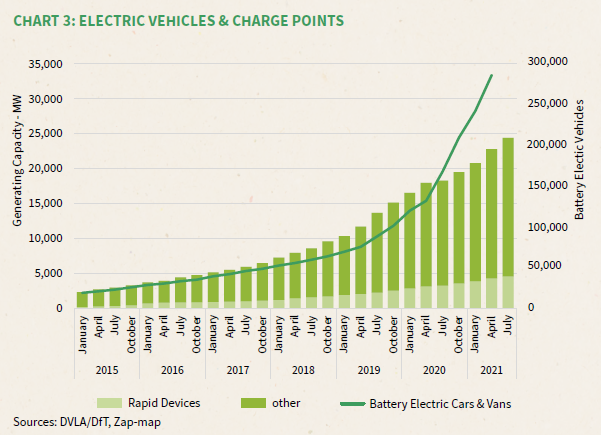 Sales of EVs have spiked since 2019, with sales of 125,000 last year (9% of the total market). With almost 300,000 EVs now on the road, charging point implementation hasn't kept up, with the number of public points only rising by 27% over the last year.
With the upward sales trend of EVs only set to increase in the years to come, a step change in the rollout of publicly accessible charge points is required to encourage and support EV proliferation. Putting this in perspective, Glenigan's data has highlighted a mere 5,000 project starts which include EV charge points. It's a start, but clearly more needs to be done.
---
---
Building Back Greener
BRE's landmark BREEAM accreditation scheme has become a game-changer, encouraging contractors and developers to adopt a greener approach to building. Glenigan's data indicates a traditionally high-emission sector is starting to change its approach, and building in a more eco-friendly way.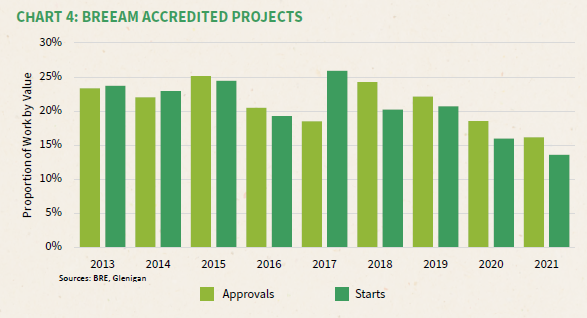 To put current progress in context, since 2016, 8% of construction projects have been BREEAM accredited. In value terms, 21% BREEAM rated projects account for a higher proportion of work started, demonstrating that a higher environmental performance is an increasingly sought-after feature for premium buildings.
Furthermore, over the last four years, the number of higher BREEAM-rated ('Excellent' or 'Outstanding') buildings has grown. By value, half BREEAM-rated projects granted planning consent since 2018 have secured these higher accolades, rising 7% on the preceding four years.
Although this indicates progress has been made, it is at a more gradual pace than many both inside and outside the industry would like. Retrofitting existing stock will present a sizeable challenge, but could potentially be a huge growth area for BREEAM-accredited projects over the next few decades.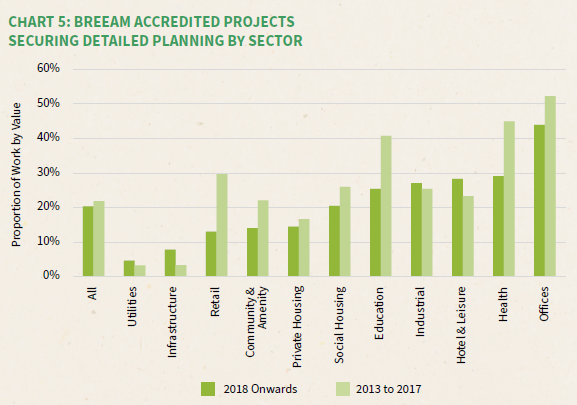 Commenting on the results, Glenigan's economic director, Allan Wilen, said: "There's no doubt construction will have a vital, and central, role to play as we draw nearer to Net Zero 2050, and even closer to the next milestone marker in 2030. No doubt construction and the built environment, as a large carbon emitter, will be a major focus of COP 26 discussions and I'm sure the industry will see some specific green policies coming their way in the aftermath.
"What's abundantly clear is that substantial investment, both public and private, will be needed, particularly in areas such as EV charging infrastructure and driving more BREEAM accredited buildings. Yes it's a big challenge, and we're really only at the start of the journey. However, it presents a welcome opportunity for UK construction, not only to build back greener in terms of new and existing stock, but also establish a new and diverse sector of green-focused built environment professionals, equipped to meet the requirements of a carbon neutral society."