Green belt near Strathblane earmarked for new homes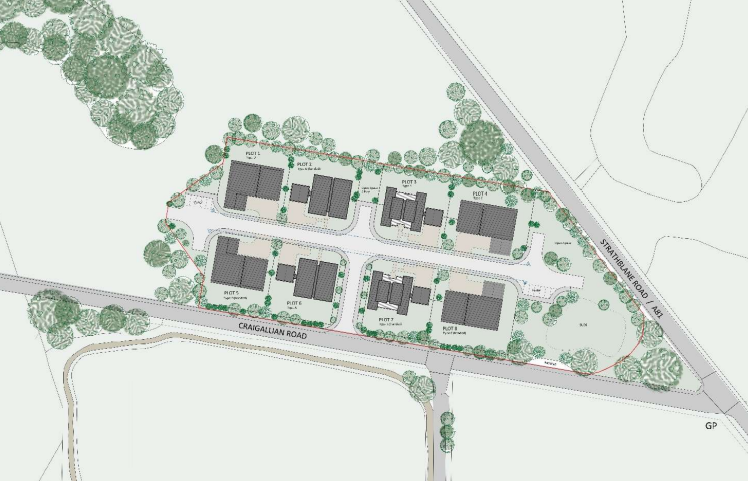 Plans have been revealed to build family homes on green belt land near Strathblane.
The plans lodged with Stirling Council reveal SANDJW Ltd hopes to eight build homes with five and six bedrooms on land 625 metres east of Auchencraig, at the junction of Strathblane Road (A81) and Craigallian Road.
In planning documents, agents for the developers Ninety One Architects said the homes had been "designed to the highest standards achievable with eco credentials and sustainability at its very core" and were intended to "deliver suitable housing to meet the currently unmet local housing demand".
---
---
The plans read: "It is acknowledged the site itself lies within designated Green Belt however, the existing established settlements and housing clusters surrounding the site also lie within the same green belt designation and work harmoniously and sympathetically with the rural area.
"There is an identified shortage of housing within this area, and as such we feel that the land designation should not be viewed as a barrier to positive and sustainable development, but instead be used to set a new baseline such that development of these areas is considered, on the basis of high-quality housing products at a scale and style in keeping with other surrounding dwellings, providing new much needed eco family homes."
The homes would feature a large feature entrance hall, open plan kitchen, living and dining spaces, formal lounges, dedicated home office space and between five and six double bedrooms, as well as a separate self-contained annex to provide additional living space for extended family members, the Stirling Observer reports.
A single site access point is proposed off Craigallian Road, spaced from the junction with Old Mugdock Road and Strathblane Road and a new passing point on the halfway point between the site access and Strathblane Road has also been incorporated in a bid to ease any potential congestion in and out of Strathblane Road.
---
---
The agents said: "The principal function of the green belt is to stop urban sprawl and growth. In this instance this historically identified green belt site has no inherent ecological or agricultural value, nor was it chosen because of its natural beauty or protected wildlife. The land is currently a mixture of poor quality scrub land and grazing for animals including, the horses from the existing adjacent commercially run stables."
---