Morris & Spottiswood maintains commitment to attracting new talent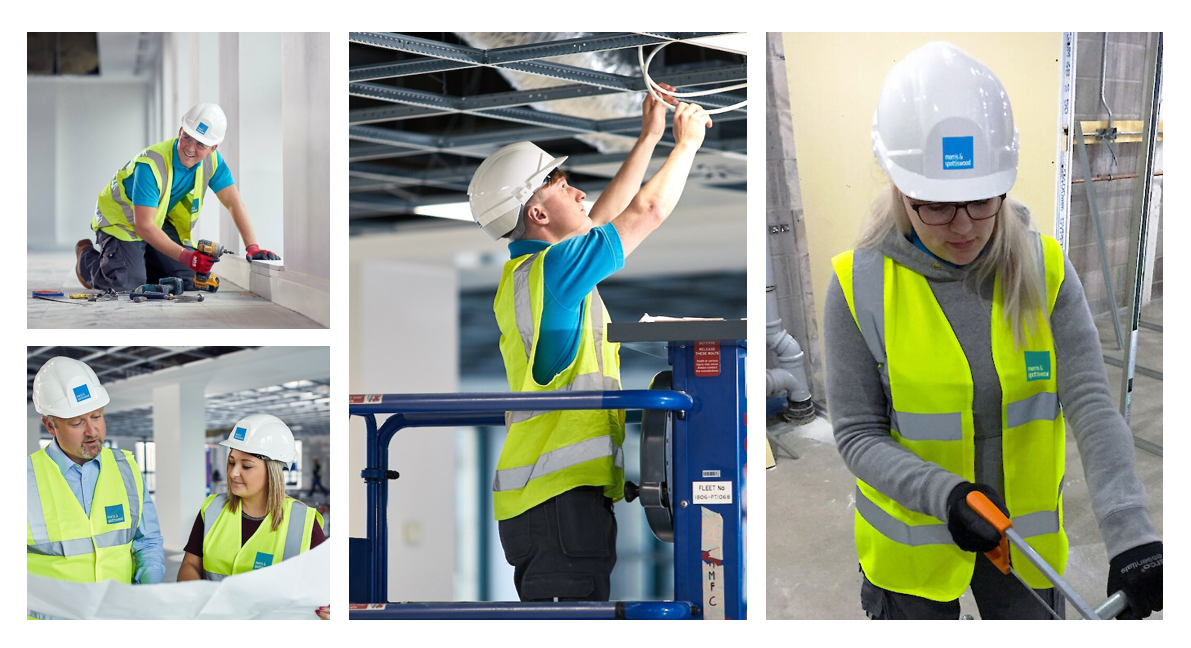 Fit-out, housing and M&E specialist Morris & Spottiswood has illustrated its commitment to providing a launch pad to develop construction skills and grow talent from within with a new cohort of apprentices.
Recognising the importance of providing early career opportunities to attract new talent and to tackle the ongoing skills shortages in the industry, 16 new apprentices are starting in 2022 across Morris & Spottiswood and sister mechanical and electrical company Livingston Building Services.
The learning doesn't stop when trainees reach the end of their apprenticeship. Trainees with aspirations to learn and develop further are offered opportunities to develop through the company's trainee development programmes (including HNC/HND and University qualification routes). 'Thriving People', and 'Providing the Best Employee Experience' are part of the group's strategic blueprint to support the delivery of their corporate objectives and stay true to their vision and values, and is only possible through the ability to provide all employees, at any level, the opportunity to thrive through personal training and development.
---
---
The Learning Academy is the vehicle through which they can develop their people to meet the future needs of the business. It allows the Group to realise their vision of attracting and nurturing the best talent, enjoying the best staff retention rates, and becoming one of the top construction businesses to work for in the UK. It is also a pivotal influencing force behind providing the best employee experience and forges an important part of their sustainability strategy.
The Learning Academy has provided a launchpad for supporting career paths in a number of disciplines including Building Services Engineering, Electrical Engineering, Quantity Surveying, Construction Management and Management together with site-based and vocational training. Over 14% of the group's staff are currently in training programmes, significantly exceeding the 3% benchmark.
This is underpinned by their recent 5% Club Gold accreditation which recognises the Group's significant contribution to the continued development of all Employees through "earn & learn" schemes such as Apprenticeships, Graduate Schemes and Sponsored Students Course Placements. With a membership which now exceeds seven hundred, The 5% Club represents over 1.6 million employees, 93,000 of whom are in "earn and learn" schemes. The Employer Audit is a unique scheme which validates the employers' activities, explores their future plans and commitments, as well as examining their approaches to quality, social mobility, diversity and inclusion.
HR director, Susan Hughes, said: "We have a real passion for creating pathways and driving career development at Morris & Spottiswood. We understand that our team is the backbone of this business and in order to achieve our ambitious 10-year growth plan we need to invest heavily from top to bottom to have the necessary skill and competence.
---
---
"As part of our growth strategy we are aiming for around 70pc of senior managers to have been appointed from within the business, as we continue to invest significantly in management development. It is incredibly rewarding to see our trainees grow and move into a variety of roles in our business from Site Supervision, Project Management and commercial roles."
---