Opinion: Scaling up UK energy storage is vital to securing supply and stabilising the grid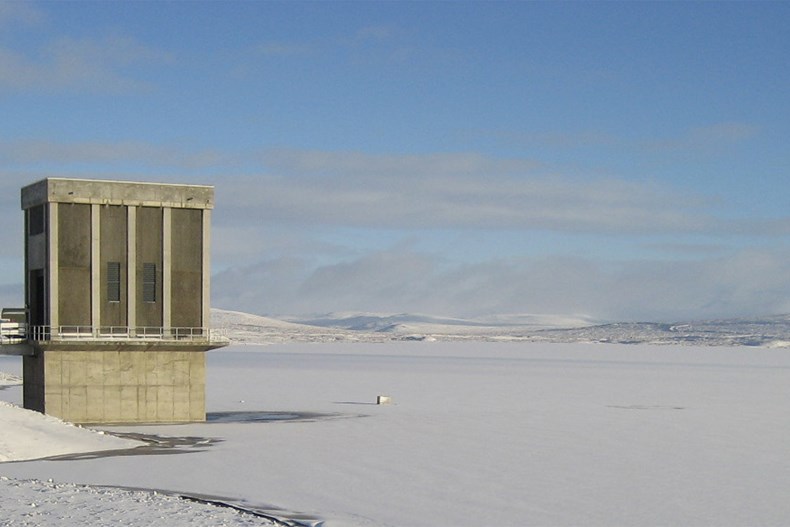 Andy Sloan and John Ord discuss solutions for providing more energy storage in the UK to stabilise the grid while looking at the new Coire Glas project in the Highlands - the first pumped-storage scheme installed in the UK for decades which could double the UK's energy storage capacity.
The government's plan to produce 50GW of electricity from wind power by 2030 could hamper energy security and grid stability without accompanying storage solutions to cushion consumers from variations in supply. The need for a safety net of stored energy was recently illustrated when slower wind speeds forced Europe to top up its electricity with extra gas from Russia, driving up gas prices and jeopardising energy security. Green grids are also more prone to instability because asynchronous renewable generators lack the steadying hand of 'system inertia', the energy stored in synchronously spinning generators which helps maintain grid frequency.
This was demonstrated when a lightning strike caused the biggest blackout in almost a decade and Ofgem found this was partly because the network had insufficient inertia to soften the blow when two generators went offline. Our limited capacity to store surplus energy could even result in a £2.5 billion annual bill for 'constraint payments' to turn off renewable generators during declines in demand, a waste of both energy and money. Cumulatively, this demonstrates the urgent imperative for alternative ways to maintain grid frequency, flexibility and security as the UK becomes more reliant on intermittent energy.
---
---
A mix of solutions
There are several possible ways to store excess wind-power, from utility-scale batteries to hydrogen combined heat and power plants (CHPs). For example, the UK's first grid-scale battery storage system recently came online in Oxford while Glasgow will be home to our first hydrogen storage scheme. These solutions will provide flexible local capacity, but they would need to be widely distributed at great cost to balance the grid on a national scale. Hydrogen powered CHPs may also take many years to implement. And while utility-scale batteries can provide extra capacity, they are asynchronous and therefore cannot provide grid inertia.
As the UK scales up its wind power production, our generating capacity will grow more intermittent and require much larger amounts of storage to balance national supply and demand. There is a compelling case for a method of storing large amounts of wind power for long periods to reduce energy waste and balance grid frequency at source. Just as the government recognises that we need a stable backbone of nuclear power as a backup to local renewable generation, we need large-scale, long-term storage as a backup to local flexibility solutions. Large-scale storage would also progressively reduce the costs of net zero by creating a circular economy of energy recycled back into the grid. As a result, smart storage is projected to produce savings of £10 billion a year. Large-scale long-duration storage could also reduce price volatility by offering a confidence boost to energy traders and calming markets.
A long-lasting solution
---
---
The UK has a chronic shortage of large-scale, long-duration energy storage. Pumped storage involves using excess electricity to pump water from a lower to an upper reservoir where the energy is stored and then released over reversible turbines to convert back into electricity when supply is low. Using wind energy to pump water up and downhill could form a simple and cost-effective large-scale storage solution to reduce waste and integrate more wind power into the grid. It could alleviate fluctuations and balance grid frequency by seamlessly absorbing excess energy or producing extra electricity on-demand. Crucially, we would only need a few sites to provide sufficient large-scale storage for the National Grid.
Yet the UK's four pumped-storage facilities are over 30 years old and designed around a fossil-fuelled grid that needed only short-term storage to satisfy sudden peaks in demand. These assets cannot satisfy the needs of an increasingly renewables powered grid that requires long-term rapid-response storage to flatten out fluctuations in wind or solar supply. A somewhat disjointed energy policy means that renewable generation is being rapidly ramped up without equal policy support for large-scale storage.
We are also failing to balance conflicting demands for renewable energy to provide vital electricity storage for the grid and produce green hydrogen for industrial applications such as manufacturing and shipping. Green hydrogen and pumped-storage could compliment each other to provide mixed methods of storing electricity but only if developed in tandem. Yet, many projects are being developed in isolation without the necessary coordination. There is a similar lack of joined-up planning policies for different electricity storage schemes which means potentially complimentary projects go through separate, lengthy planning processes.
A renaissance in pumped storage hydro
---
---
A recent renaissance in pumped-hydro storage across Scotland could hold valuable lessons for upgrading the UK's energy storage capacity to ensure we balance decarbonisation with energy security and grid stability. For example, the new Coire Glas project in the Highlands represents the first pumped-storage scheme installed in the UK for decades and could double the UK's energy storage capacity. With a fast response time and vast 1500MW storage capacity, the project will provide abundant on-demand energy to stabilise the grid for days during periods of low wind output. By conserving surplus energy, the project will also reduce renewable energy waste and avoid the need for costly 'constraint payments.' Dramatically increasing the UK's domestic energy reserves in this way will also help reduce reliance on Russian gas imports, protecting consumers from global price volatility and geopolitical instability.
The project represents a strong cross-sector partnership between COWI and Stantec for client SSE Renewables, leveraging international engineering expertise and pairing this with strong local experience and knowledge. By combining Stantec's mechanical and electrical engineering expertise in large scale hydro projects with COWI's expertise in developing underground space the project shows how combining cross-sector resources can create cohesive green energy projects. Demonstrating how holistic infrastructure development can deliver cross-sector benefits, the project will simultaneously conserve more offshore wind-power and free up more wind-power for conversion to green hydrogen.
It will involve the first hard-rock tunnelling in the area for decades to create a huge underground cavern the size of Glasgow Cathedral, requiring novel geophysical methods and unprecedented tunnel engineering innovation. This will include boring an exploratory tunnel to the underground power station to analyse the risks around rock conditions and fine-tune designs before construction, a pioneering example of de-risking projects at design stage. This offers a blueprint for extending smart storage capabilities across the UK.
Already, there are plans to upgrade the Ben Cruachan pumped-storage hydro site to create a facility capable of storing and discharging 1GW of power to the grid. Two other projects at Glenmuckloch and Dores, near Loch Ness, have also been approved. Collectively, these projects could drive a renaissance in pumped-storage hydro across the UK and bring hundreds of skilled jobs to regions such as the Highlands.
---
---
With abundant offshore wind resources and potential sites for hydro schemes, the UK has a unique opportunity to create a rich variety of energy storage from pumped-storage and utility-scale batteries to green hydrogen. These solutions could compliment each other to create a smart, adaptable, renewably powered grid. But this will require the UK's storage capacity to be developed holistically as a single cohesive energy ecosystem. The key is to create a joined-up energy policy that coordinates development of everything from offshore wind to pumped-storage hydro and gives equal priority to renewable energy storage and generation.
Andy Sloan is managing director of COWI in the UK and John Ord is business director, energy & resources at Stantec
---