RTPI President visits Taylor Wimpey's Project 2020 at Dargavel Village, Bishopton
News that the Dargavel Village masterplan was a winner at this year's UK Royal Town Planning Awards, signalled a visit to the transformational development in Bishopton by Royal Town Planning Institute (RTPI) President Ian Tant.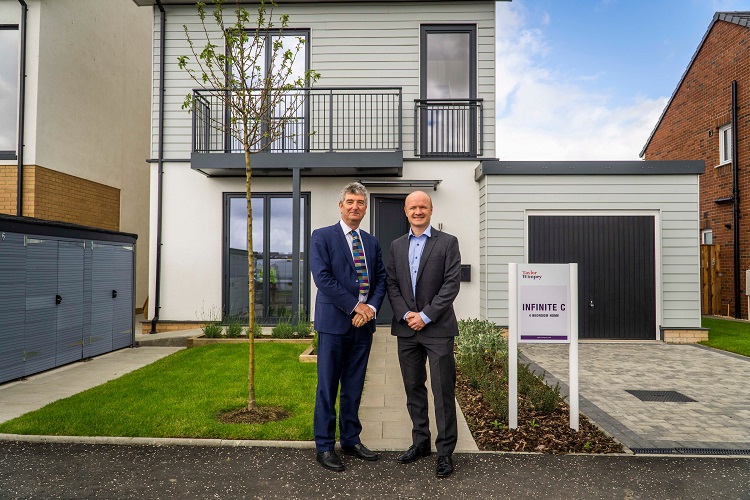 Taylor Wimpey West Scotland facilitated a tour of two prototype homes that form part of a unique trial construction trial, titled Project 2020.
The prototypes are aimed at addressing changing customer needs, including allowing individuals to adapt their homes to their requirements. The homes are also intended to demonstrate greater build efficiency and a specification which makes substantial advances in reducing energy consumption and tackling climate change.
---
---
The new sustainable prototype homes have been developed following a design competition and extensive research from around the world, including Japan, the Netherlands, Finland, France and Germany.
The winning design - the Infinite House - is designed to reflect changing customer lifestyles, expectations and designs, whilst benefiting the environment. In addition to high performance insulation and renewable energy technology, the houses have the potential to suit different demographics, delivering a flexible approach which enables future buyers to customise their home to specific living requirements.
Two 'Infinite House' styles which are on show at Dargavel Village, Bishopton have been designed to offer easy expansions in the roofs, larger windows strategically positioned to increase daylight levels, and are constructed using new innovative materials.
One of the homes has been built to be 'Gold Compliant', meaning that it is significantly more advanced than the current 2015 building standards, promoting innovation and during the research phase of the project Taylor Wimpey have been gauging customer reaction to the enhanced features that each house offers.
---
---
Graeme Oswald, design & planning manager at Taylor Wimpey said: "Over the past few months, we have welcomed a number of key industry groups to our Project 2020 prototype homes, and we have been very encouraged by the reaction and positive feedback that we have received. It was especially pleasing to learn that the overall masterplan at Dargavel Village has itself won industry recognition as this year's UK Royal Town Planning Awards, and of course a real honour to welcome Ian Tant, RTPI President to see our prototype homes for himself.
"These prototypes will prove invaluable in building Taylor Wimpey's future strategies and ensure the homes that are built for the next generation of customers exceed their expectations, suit their changing lifestyles and meet the highest environmental standards."
Commenting on his visit, Ian Tant said: "I was delighted to be shown around the Project 2020 homes at Dargavel Village. It's great to see Taylor Wimpey investing in rethinking the design, energy systems and construction processes of new homes. I look forward with interest to seeing the tried and tested aspects of Project 2020 entering the mainstream of Taylor Wimpey's activities."
---