Scotland's largest modular housing development welcomes housing minister Shona Robison
Shona Robison, cabinet secretary for social justice, housing and local government, visited Scotland's largest modular development of affordable homes, located at Victoria Dock in the heart of Dundee's Waterfront redevelopment, to view progress and find out about the cutting-edge construction methods being utilised.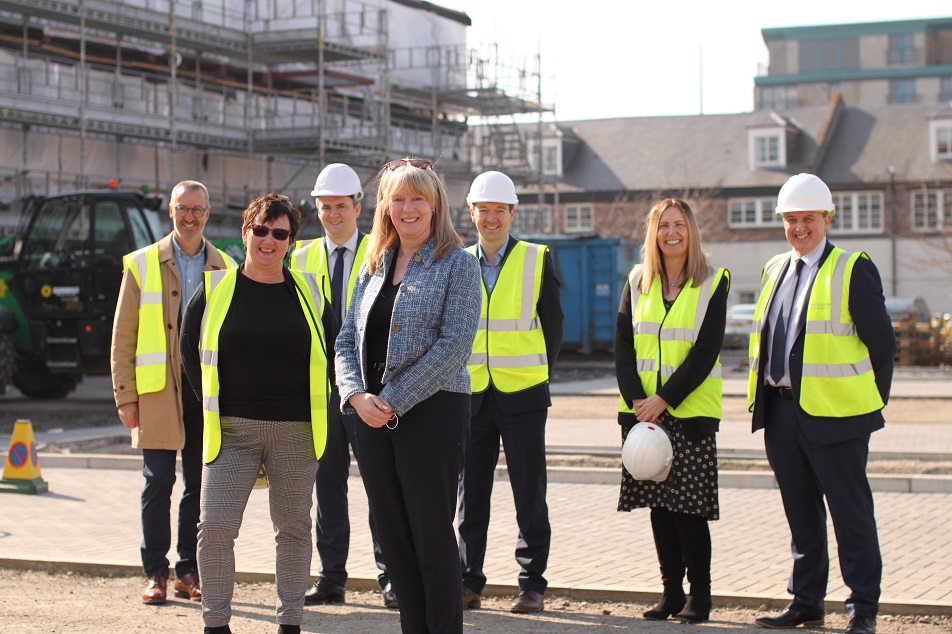 Monday's visit gave Ms Robison the opportunity to view construction of the project in action and speak to key people involved in the next-generation project.
The £13 million development, which is being developed by Cullross Ltd and Enevate Homes on behalf of Hillcrest Homes, will deliver 119 affordable waterfront apartments close to Dundee city centre.
---
---
The development is utilising a specially-developed "off-site modular" construction method, where pods are constructed at Enevate Homes' Wishaw facility as almost fully completed sections of the apartment block, including wiring, plumbing, interior finishing and even some white goods.
The pods are then transported to the Victoria Dock site and lifted by crane in a specific order and position before being secured into place.
This pioneering method of construction has a number of benefits. Construction materials are used much more efficiently, meaning hugely reduced construction waste and less demand on raw materials, with overall construction time also drastically reduced.
In addition, this method also allows for the straightforward installation of additional floors should the need arise.
---
---
The first pods began arriving at the site in December last year, and completion of the two apartment blocks is anticipated to be around early 2023. Completion of the 119 affordable homes will provide Dundee with further high-quality availability for those in housing need, with the Scottish Government providing £7.8m towards the project.
The properties will be spread over two apartment blocks, one consisting of 53 homes for social rent, and one of 66 homes for mid-market rent. The homes will offer a mixture of one and two bedrooms and will have balconies giving outstanding views over the city or the river.
Shona Robison, cabinet secretary for social justice, housing and local government, commented: "This bespoke modular off-site construction method will deliver 119 new affordable energy efficient homes in a prime location at Dundee's waterfront. I am delighted that we have been able to provide over £7.8m in grant funding to support the delivery of these new homes for social and mid-market rent."
Angela Linton, chief executive of Hillcrest Homes, added: "Our Victoria Dock development is a particularly exciting project.
---
---
"Not only do its cutting-edge methods raise the bar and greatly improve upon a number of construction aspects such as time on site, waste and demand on materials, it will also deliver a significant number of quality affordable homes in a fantastic location."
Paul McIntyre, architecture manager at Enevate Homes, said: "The Victoria Dock project offers an opportunity for Hillcrest and Enevate to promote offsite and modern methods of construction in Scotland, and deliver a highly sustainable development collaboration.
"Through its high-quality build, modular projects such as this will help tackle fuel poverty through items such as fabric energy efficiency measures, and provide a safe and quiet environment within which to live through our attention to fire resistance and acoustic attenuation.
"This type of construction has a low environmental impact through the use of localised labour, supply chain hubs and responsibly sourced materials with a very low maintenance requirement, resulting in less cost in the long run."
---
---
Ryan Fletcher, managing director at Cullross Ltd added: "We have a strong track record in social housing having delivered several projects with Hillcrest and are delighted to support Scotland's largest modular development of much needed affordable homes. This approach has massive environmental and economic benefits, as well as delivering and completing the homes efficiently."
---