Stephen Good brings construction expertise to Just Transition Commission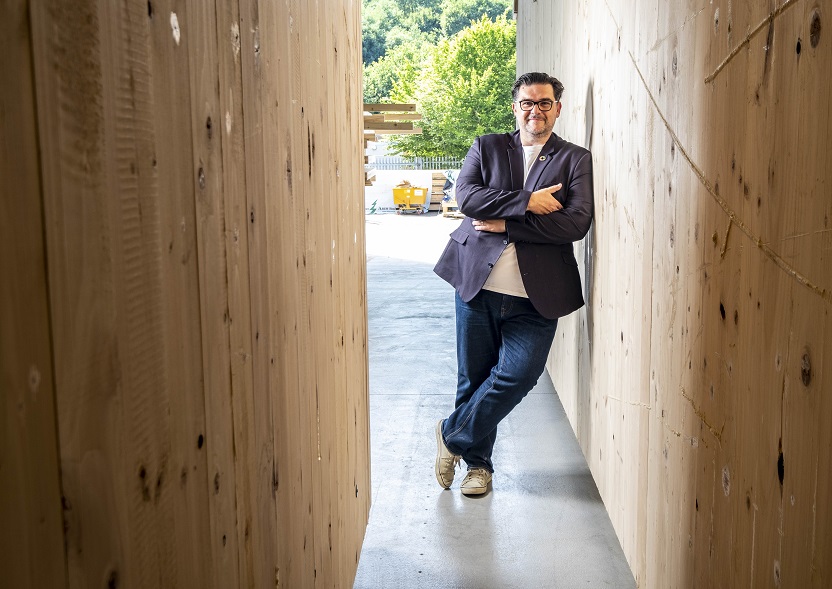 Several new members have been added to Scotland's Just Transition Commission bringing expert knowledge of the big changes underway to reduce carbon emissions in Scotland's transport system, buildings, construction industry, land use, and farming.
The independent expert advisory group advises the Scottish Government on how the country can achieve a carbon neutral economy fairly. It aims to make sure the benefits and burdens caused by major changes are shared as fairly as possible.
Today, the Commission visits Dundee to hear directly from local people about transport issues. They will also engage with local policymakers over how to reduce carbon emissions from the city's transport system in a fair way.
---
---
Members drawn from industry, business and finance, trade unions, environmental and community groups, and academia serve on the Commission. They provide expert scrutiny and advice on a series of just transition plans that cover different regions and sectors of Scotland's economy.
The new Commissioners are Prof. Jillian Anable, a world expert in reducing carbon emissions from transport systems, Stephen Good, CEO at Built Environment - Smarter Transformation, the national centre for innovation in construction and building work, Prof. Steven Thompson of Scotland's Rural College, and Deborah Long, who leads Scottish Environment LINK, the network for environmental non-governmental organisations in Scotland.
Rachel McEwen, chief sustainability officer at the energy company SSE, will now serve for the lifetime of the Commission having initially been appointed to support work on energy.
The Scottish Government is currently developing just transition plans on transport, buildings and construction, and land use and agriculture. A draft just transition plan on the energy sector was published in January and is currently open to public consultation.
---
---
In its first regular report published in July, the Commission said the cost-of-living crisis means major changes need to be made urgently to decarbonise the country's economy, benefit those most in need and secure lots of good jobs.
The Commission is chaired by Prof. Jim Skea CBE, a climate scientist and a member of the Bureau of the Intergovernmental Panel on Climate Change, a United Nations body whose reports have played a key role in shaping global understanding of the climate emergency over the past 30 years.
The Just Transition Commission's remit is to:
Scrutinise the development of just transition plans led by the Scottish Government
Advise on the best approach to monitoring and evaluation of the just transition
Engage with people most likely to be impacted by the transition, hearing from a wide range of representative voices.
The Commission will publish a report each year scrutinising Scotland's progress as well as short reports with findings on specific sectors and issues.
---
---
Prof Jim Skea CBE, JTC chair, said: "I warmly welcome our new Just Transition Commission members and look forward to their contribution to our challenging agenda. They will play an important role in advising and scrutinising the work of the Scottish Government in ensuring we get to Net Zero in a fair way that makes the most of the opportunities of this major economic transformation."
Prof. Jillian Anable, University of Leeds, said: "The Scottish Government have adopted ambitious and robust carbon reduction targets and sectoral strategies. Now is the time for rapid delivery. I see my membership of the Just Transition Commission as an opportunity to help decision makers maintain a high bar when balancing fairness and effectiveness in the design of specific interventions and governance arrangements."
Deborah Long, chief officer at Scottish Environment LINK, said: "Meeting net zero isn't just about climate change. We can't meet net zero without restoring nature. To do both, we need to work together to build the resilience of our natural, cultural and social systems for a better future. Vital to our success will be actions to ensure we hand onto future generations healthier wildlife and habitats that provide essential services like flood protection and pollination as well as the joy of experiencing nature wherever you live in Scotland.
"As a new Just Transition Commissioner, I look forward to contributing to this vital task, protecting what we have and endowing it to future generations, in better condition and accessible to all of Scotland's people."
---
---
Stephen Good, CEO of Built Environment – Smarter Transformation, said: "I'm delighted to have been invited to join Scotland's Just Transition Commission and hope to play a valuable role in helping the Commission achieve its aims. The built environment touches the lives of every person in Scotland, so as we transition as a society towards our net zero carbon future, the role our buildings, infrastructure, places, and spaces will play in ensuring that transition is indeed just and fair, could not be more important.
"A just transition is both a journey and a destination. It requires all voices to be heard so that every decision considers the needs of society. This inclusive approach resonates with our values at BE-ST; being open and collaborative, being a connector and being innovative. I am glad to be able to support the Commission on its journey to a fairer, greener future for all."
Rachel McEwan, chief sustainability officer at SSE, said: "There is nothing more important than achieving net zero greenhouse gas emissions and avoiding the most dangerous global warming. But I don't believe we can achieve net zero unless this almighty transition is fair for working people and their communities. That's why we need a just transition and why the work of Scotland's Just Transition Commission must continue."
Steven Thompson, Scotland's Rural College, said: "It was an honour to be asked to join the Just Transition Commission as the principles and focus of the Commission chime with my work and ethos. My insights on rural and island economies and communities can support scrutiny of a wide range of Just Transition Plans across the Commission's portfolio. Agriculture and land use have a critical role to play in delivering Scotland's ambitions for a net zero economy, but also in restoring nature and delivering against forthcoming biodiversity targets.
---
---
"At the same time, agriculture also remains a foundation industry for the extensive food and drink sector that is vital for Scotland's economy. The Scottish Government and society are expecting significant changes in the behaviours of farmers, crofters and land managers to deliver more for society whilst the agricultural support budget is declining rapidly in real terms – something that should temper expectations on what can be delivered within the existing budget envelope. Farmers, crofters and land managers appear willing to adapt, but many still require clear market and policy signals to help them take their first tentative steps on that journey.
"I hope to be able to provide practical and evidence-based insights to the Commission on policy proposals and Just Transition Plans that affect agriculture and land use as well as the wider rural and island business-base and communities, and use my networks to help the Commission hear first-hand how land managers might be affected."