Stirling builder cements future after business refocus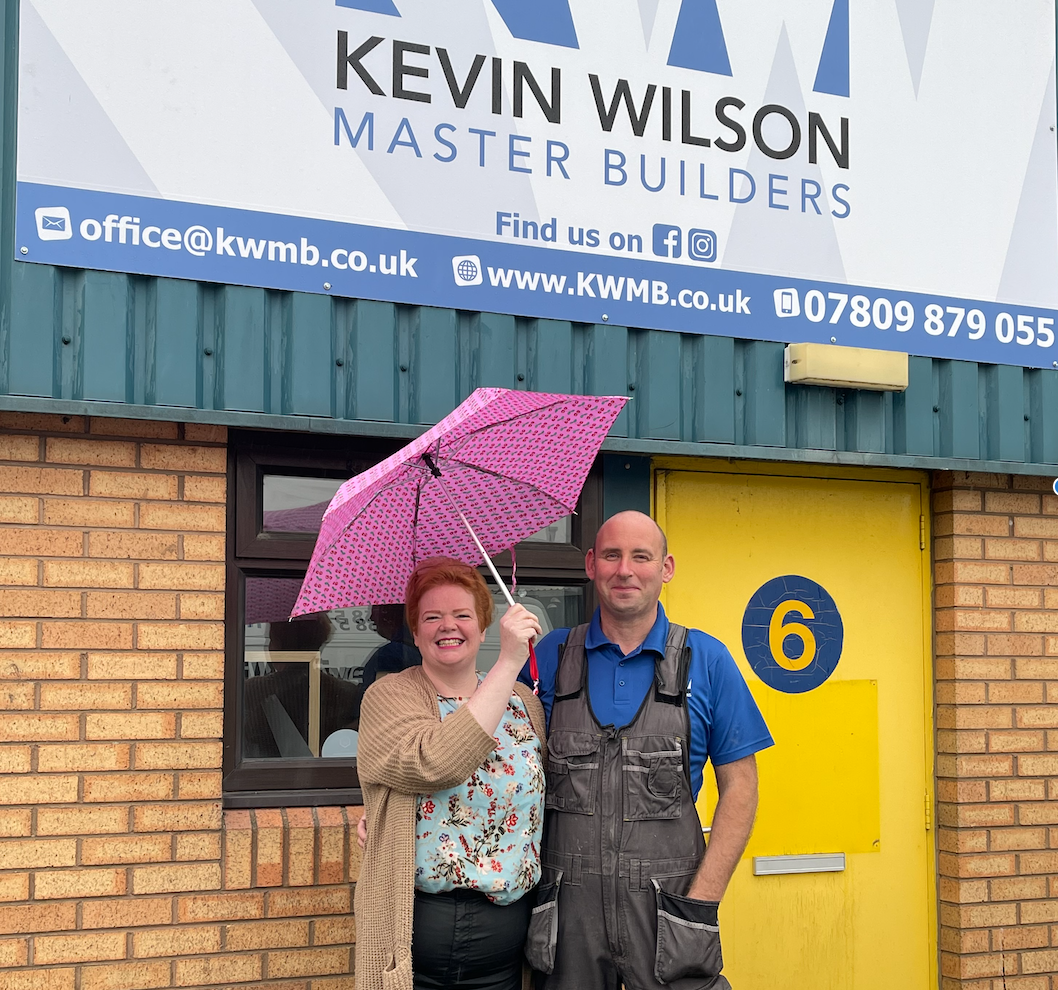 A Stirling-based building firm that nearly closed during the pandemic has increased its turnover by 35% after its managing director enrolled on a Help to Grow: Management Course.
Kevin Wilson Master Builders was founded 16 years ago by husband and wife, Kevin and Pam Wilson. The couple employs a team of five people and hires additional subcontractors to carry out joinery and building works across Central Scotland and with international clients.
The firm boasted a strong reputation and healthy pipeline of work, but when the pandemic forced the business to close its doors for six months, Pam thought the business would collapse.
---
---
Despite the challenging period, Pam decided "to give herself a shake" and focus on getting support to turn around the business. During 2020, the business had a turnover of £175,000 due to the impact of Covid-19. Now, since completing the course, Pam expects turnover for 2023 to more than triple. The business has also moved to larger premises and launched three subdivisions of its business – KW Bathrooms, KW Kitchens, and KW Project Management – to better reflect the specialisms it offers.
Pam discovered the 12-week Help to Grow: Management Course through her membership in the Federation of Master Builders. It is designed to help business leaders and senior managers to increase resilience, innovation, and growth within their organisations.
The course was delivered by the Stirling Management School at the University of Stirling, a recipient of the Small Business Charter accreditation that is awarded to institutions that support small businesses. Pam completed the course equipped with the tools needed to refocus her business and realise her worth.
Pam Wilson, managing director of Kevin Wilson Master Builders, said: "When we started the business, we were wet behind the ears which helped a lot as we took chances and concentrated on a project-to-project basis. We spent years growing the business but didn't have a plan in place to see us through the more challenging times. That's why when the pandemic hit; it nearly ended our business.
---
---
"I spent weeks thinking about our next move, waiting for help, but realised I needed to give myself a shake and find the support myself. That's when I enrolled on the Help to Grow: Management Course.
"At the beginning, I went through a period of having imposter syndrome, but I didn't appreciate how much I already knew. The course taught me to focus on the positives, celebrate our successes, not focus on the struggle and have a business plan in place to keep us on track. It also got my love back for the business.
"I'm a huge advocate for other women in the industry as we're extremely underrepresented. I've recently taken on the role of Vice President of Scotland of the Federation of Master Builders where I can use my voice to champion other women, and of course men working hard in our industry. I wouldn't have put myself forward for something like this if it wasn't for the course and am excited to continue supporting women across the industry."
As part of the Help to Grow: Management Course, which is 90% government-funded, each participant benefits from peer-to-peer networking and is provided with a dedicated mentor to support their learning.
---
---
The confidence and networking skills gained from the course also benefitted Pam's other business interest, Central Property Maintenance Services. Using the course as a guide, Pam has successfully quadrupled the firm's turnover from an initial £5,000 in 2020.
Pam added: "It's never too late to learn something new. Despite owning our business for almost two decades, it's worth its weight in gold to take a step back, ask for help, and refocus. Thanks to the course, my confidence is back, and I've met some brilliant peers along the way that continue to support me to this day."
Michael Hayman, chair of the Small Business Charter, said: "Pam is an incredible example of someone who has discovered the power of asking for support and embracing change to grow her business.
"A prosperous society hinges on small businesses like Kevin Wilson Master Builders having the tools they need. The Help to Grow: Management Course does just that by helping small business leaders like Pam define their strategy and clearly communicate their vision, mission and values to customers and employees.
---
---
"Each business school that delivers the course has a team of experts on hand to share valuable insight into their own journey and inspire participants to think big and then identify how they can deliver on their business goals.
"It's good to see that since completing the course, Pam's confidence has grown immensely which is also helping spread opportunity. She's now using her platform to help other women in construction, and I can't wait to see how both her businesses thrive in the years to come."
Across Scotland, 320 SME leaders had finished the Help to Grow: Management Course by February 2023 across five Scottish business schools at University of Strathclyde, University of the West Scotland, Heriot-Watt University, Robert Gordon University and University of Stirling. Throughout the UK, 3,340 people had completed the course across 52 UK business schools.
Business leaders can find out more about Help to Grow: Management and sign up for the course in their area by visiting here.
---