Trust delivers on promise with 42 affordable homes in Wishaw town centre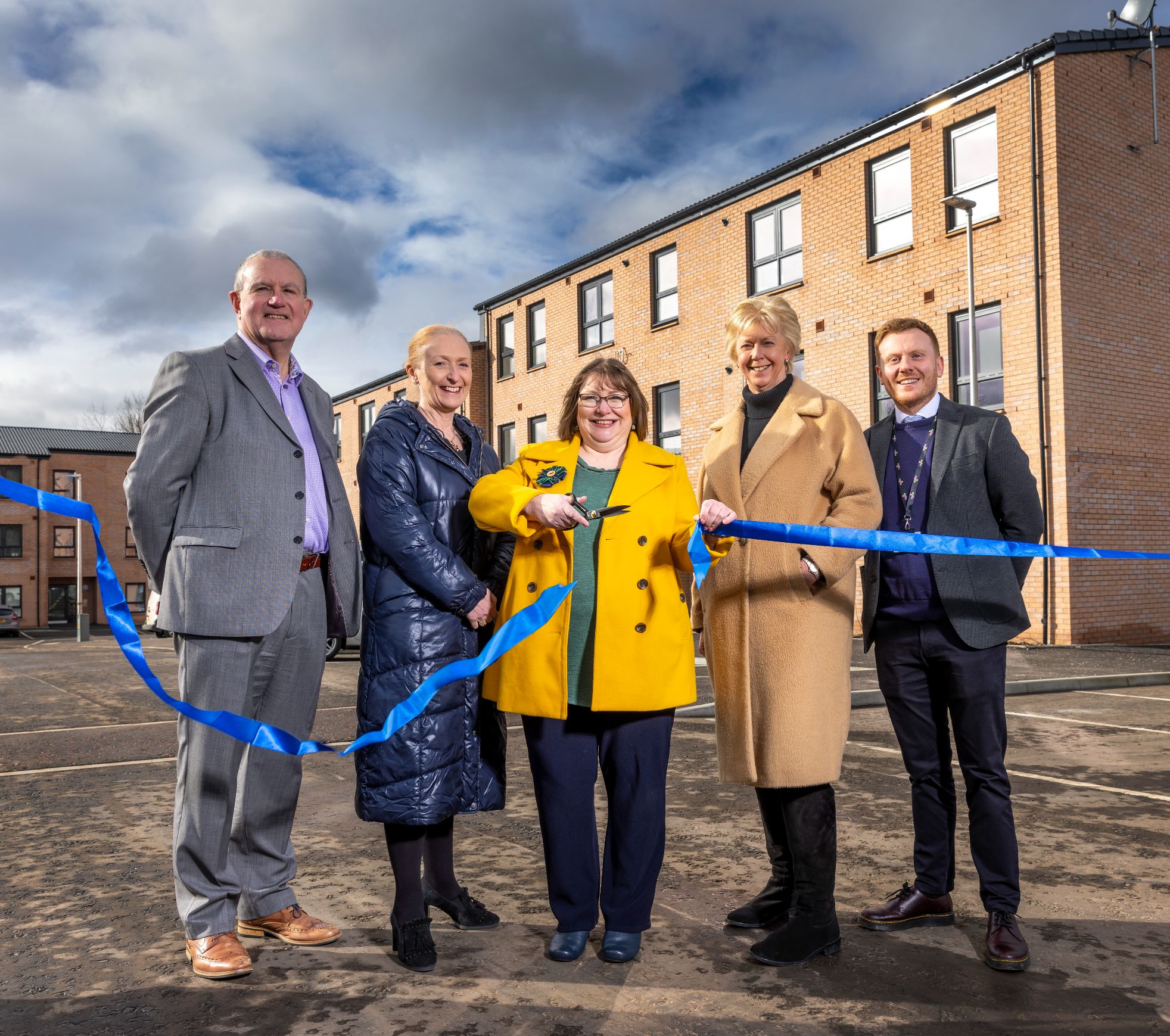 Trust Housing Association formally celebrated the completion of its new build project in Park Place, Wishaw, at an event attended by Claire Adamson MSP, Trust's CEO, Rhona McLeod, and Trust's vice chair, Gordon Laurie, on Wednesday 1st March 2023.
The new build project – delivered in partnership between Trust, the Scottish Government, North Lanarkshire Council and McTaggart Construction - has delivered 42 energy efficient, social rented flats for general needs households in the heart of Wishaw, supporting the regeneration of the Wishaw town centre and contributing towards the supply of affordable housing in North Lanarkshire. Just under £7 million was invested - funded by a Scottish Government grant and Trust finance - with the project delivering to budget.
The 42 new affordable homes mark another tenant promise delivered by Trust following the transfer of engagements from Wishaw & District Housing Association in December 2019. The project brings the former Tesco site, in a prominent town centre location, back into use after lying vacant for more than a decade. The development is a mixture of 1-to-3-bedroom flats (four of which are future wheelchair adaptable) with 63 car parking spaces and 48 spaces for cycle storage.
---
---
The first tenants moved into their new homes in Park Place in January with the contractor handing over the final properties on 14th February, with all 42 flats already let. McTaggart provided each of our new tenants with a £100 Tesco voucher at handover to help with the cost-of-living crisis.
In addition to the new homes, the project has delivered significant community benefits, exceeding pre-agreed targets. The benefits delivered have included nine work placements, six new entrant jobs secured directly with the contractor, three apprenticeships, and 66 hours of local construction curriculum support provided by the contractor through North Lanarkshire schools – helping soon to be school leavers to prepare for a career in the industry.
The homes were built by McTaggart Construction which was procured on a Design & Build basis in the summer of 2019. Planning permission was granted in December 2020 with work starting on site in May 2021. The project was originally expected to complete in November 2022 but was delayed due in part to inclement weather and Covid-19 outbreaks during the build.
---
---
Working alongside McTaggart's were MAST Architects, Reid Associates (employers agent), Ewing Sommerville Partnership (principle designer), G3 Consultant Engineers (engineer) and Smart Inspection (clerk of works).
Claire Adamson, MSP for Motherwell and Wishaw, said: "It is an honour to officially open this new build project for Wishaw. I am delighted that Park Place has 42 affordable homes funded in partnership between the Scottish Government and Trust. This is the start of a brand new community in Wishaw and is another boon for the area alongside the ongoing regeneration of Wishaw town centre.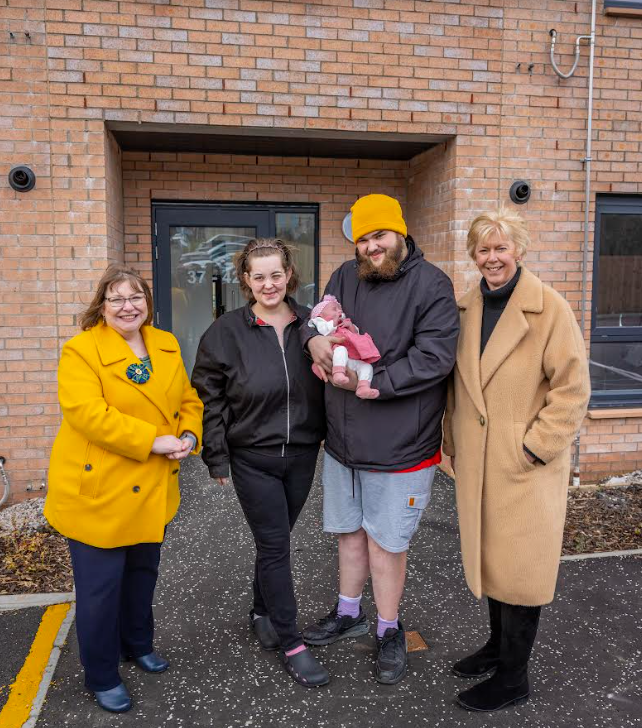 "My thanks to the Scottish Government, Trust, McTaggart Construction, and all of the engineering and architectural firms involved in delivering this exciting project to budget. Homes and jobs in this community are needed to drive investment. Amidst a cost-of-living crisis, our collective focus should be on affordability. People must not be priced out of a home when dealing with rising costs; projects like this can go a long way to addressing that inequity.
---
---
"Housing is a basic right, and I am heartened that this significant funding is being used to realise that right for my constituents in Wishaw."
Rhona McLeod, Trust's CEO, commented: "We are delighted to have worked in partnership with the Scottish Government, North Lanarkshire Council and our contractors, McTaggarts, to meet local housing need and contribute to the Wishaw town centre regeneration. We're also delighted to have delivered on another of the promises we made to tenants in 2019."
Janice Russell, managing director, McTaggart Construction, added: "McTaggart Construction are delighted to have delivered this development of new homes on behalf of Trust and to have played a part in the regeneration of Wishaw Town Centre. We have strengthened our existing relationship with Trust and look forward to future developments."
All photos copyright Trust Housing Association
---