Zero carbon buildings minister checks progress at Scotland's largest Passivhaus development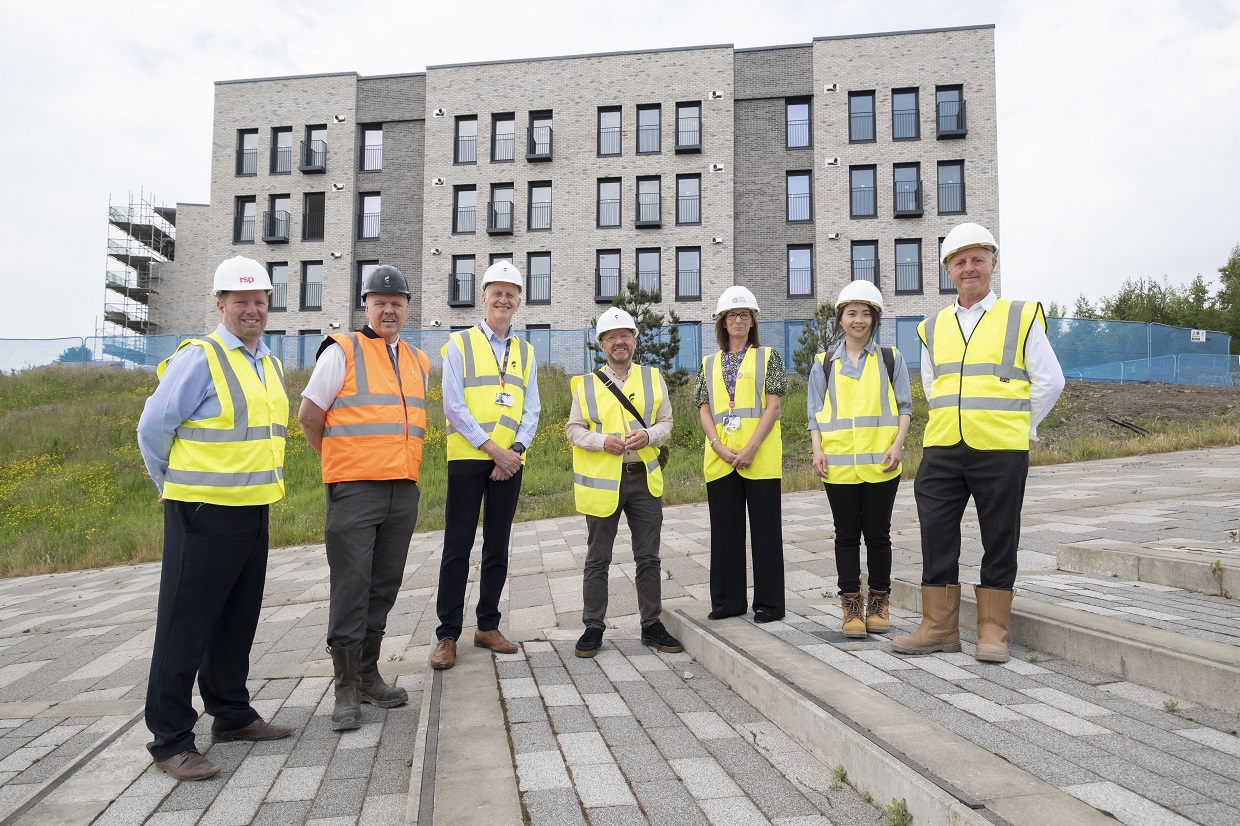 Minister for zero carbon buildings, active travel and tenants' rights Patrick Harvie MSP visited Scotland's largest Passivhaus development in Dundashill with West of Scotland Housing Association (WSHA) and contractor CCG (Scotland) Ltd.
Located on the site of the former Diageo Distillery, the £21 million project is underway to create 90 ultra-low energy one to three-bedroom homes and is a key part of a wider masterplan to regenerate the north of Glasgow city centre.
Passivhaus-accredited standard of build is one of the most rigorous for new homes in the UK. It comprises a super-insulated fabric and the integration of triple-glazed windows and enhanced door sets to drastically minimise heat loss.
---
---
The homes are specially designed to optimise passive solar gain and generate warmth to provide a high degree of thermal comfort year-round. A ventilation system also ensures constant clean air flow for the occupier.
The combination of measures results in a highly efficient home for heating and cooling, reducing the demand for energy and lowering fuel consumption.
The homes at Dundashill also utilise a zero-emissions energy system with Air Source Heat Pumps (ASHPs) and solar PV panel systems servicing each dwelling.
Mr Harvie visited a plot within the development that will be ready for occupants later this summer with the technologies on show set to become normal for new buildings in Scotland from next year.
---
---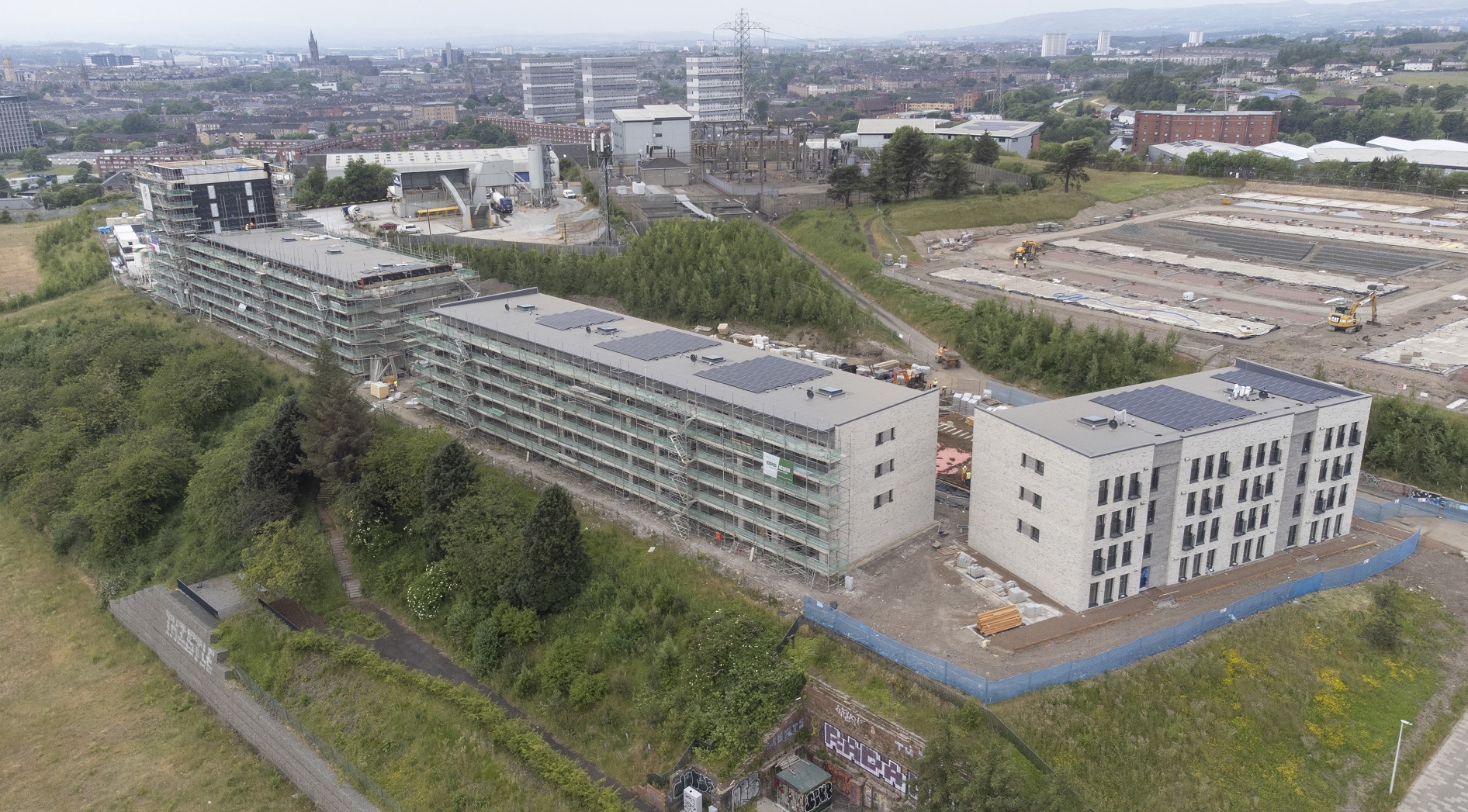 He said: "Along with transport, heating Scotland's homes and buildings is one of the biggest contributors to our carbon emissions and we know we have to take bold action to meet our climate obligations.
"New regulations published by the Scottish Government will mean that direct emissions heating systems - like gas boilers - will no longer be installed in new homes and non-domestic buildings. Instead, they will be replaced by climate-friendly alternatives like heat pumps and heat networks.
"This change is essential to deliver our commitment to make buildings zero carbon by 2045. It will also mean that people who buy new homes will know that their home is future-proofed against the need to have to switch heating systems in the future.
---
---
"The development I saw at Dundashill gave me real confidence that we can achieve great quality affordable homes that help us to cut emissions and cut people's bills at the same time. To see it being done by businesses based right here in Glasgow shows that there will be many high-quality jobs to be had in doing this work too."
West of Scotland Housing Association CEO, Brian Gannon, said: "West of Scotland are delighted to welcome the Minister to our second Passivhaus Development. The building has been designed using a fabric-first approach, focusing on external envelop to reduce the energy demand and associated carbon emissions. This demonstrates our strong commitment to sustainable communities by not only introducing Low carbon heating with no natural gas and renewable technologies but also through our new Sustainability Strategy which will be published at the end of June.
"We see both as crucial in also addressing the cost-of-living crisis and fuel poverty being experienced by our tenants. We are proud that this development will be the largest Passivhaus development built to date in Scotland and thank our development partners for the significant progress and high standards already made on site."
CCG managing director, David Wylie, added: "CCG has been mainstream in the delivery of Passivhaus homes since 2011 and we are very proud to be on-site with Dundashill and West of Scotland Housing Association to deliver Scotland's largest Passivhaus development.
---
---
"Welcoming the minister for zero carbon buildings, active travel and tenants' rights presented a great opportunity to showcase our capabilities in offsite construction and the importance of fabric performance to achieve this rigorous build standard.
"These homes are manufactured just 8 miles away under zero-waste conditions alongside our very own window and door products that are also being utilised to support the build. This ensures the carbon footprint of this development is significantly reduced during every stage of build in addition to the environmental performance of the home itself."
The development has been funded by a £10.1m grant from Glasgow City Council and £11.1m of WSHA's private finance and is set for completion in early-2024.
---