Oban pupils visit Caledonia Water Alliance's tunnelling work
Budding engineers have been learning all about the £4.6 million water network upgrade project by Caledonia Water Alliance (CWA) in Argyll and Bute.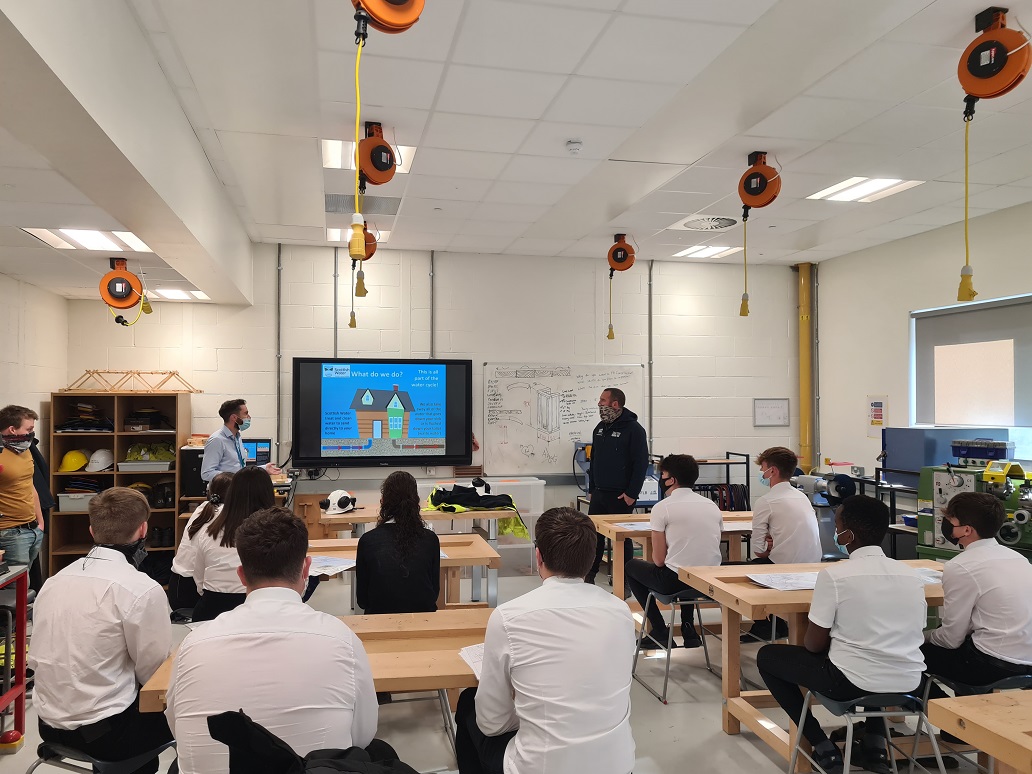 An operation to drill directly under the railway line from the high school's sports pitches has begun to allow the installation of a new water main.
Pupils were VIP guests to find out what is involved in a large, complex operation from the design and planning stage through to the onsite engineering challenges.
---
---
CWA's communications manager, Paul Milligan, and site manager, Mark Batten, presented to three classes demonstrating the importance of Health and Safety around the site. The youngsters were shown the project's technical drawings and heard all about how to deliver a project. They were provided with PPE and were taken to see the drilling machinery in action for themselves.
Mark and project manager, Terry O'Byrne, have been planning this phase of the operation for many months. The project is essential for Scottish Water to help reduce the chance of bursts on our water network.
Sixth Year pupil Mairi Inglis is studying engineering. She said: "I thought it was brilliant - much better than having to sit in class having everything explained. Being able to see the drill parts and all of the materials was really interesting. I liked seeing the application of physics."
---
---
Marcus Lane who is studying electrical engineering has been impressed by the scale of the project and the career opportunities it showcases: "I didn't realise what they were doing at first, so it has given me a great insight into how vast the job is. I'm impressed by how they are drilling under the train track and not affecting the trains at all. It has opened my eyes to the career opportunities CWA offer to young people in Scotland."
Piers Macbeth has embarked on an engineering foundation apprenticeship. He said: "It has made me think about a different career choice. It's good to see there is another path I can follow."
Each pupil from the visit was presented with a refillable water bottle and pens and pencils.
---
---
Head Teacher Peter Bain said: "I really appreciate the fantastic partnership that we have established with CWA. Together we have been able to provide an educational experience that gives our youngsters a real experience of the multitude of jobs that such a mammoth project can offer."
Mark Batten said "It was a real privilege to have the students visit the site. The interaction with the school has been fantastic from day one. It has been good to share knowledge on the proposals and project progress, so a big thank you to the teachers and students.
"I would also like to thank our contractors onsite, AG Wilson and GMac who have been excellent with the customers".
---
---
Paul Milligan said: "This has been a great opportunity for the pupils studying engineering and construction to bring the textbooks to life with an exciting project that is literally on their doorstep.
"I would like to say a big thank you to Terry for facilitating all of this and building up a good relationship with the school. Thanks also to Mark for continuing this positive relationship. Working so close to such a large school could have proved challenging, however, they have turned this into a very positive story and best practice example of how to work and engage with a school."
CWA is an organisation formed by Morrison Water Services and AECOM to deliver water, wastewater and MEICA projects for Scottish Water.